Meet one of the most crucial parts of your bike, the LINK:
Think about the fact that all the force you exert with your legs is transferred through each of these links all the way to the sprockets and to the wheel. This allows you to move forward.
As the chain comes in contact with the sprockets and the links bend at the joints there is friction. The more the friction the harder you need to pedal to move yourself forward, and the sooner your chain and sprockets will wear out. 
This is where chain lube assumes an important role. If you care about your chain at all, you may be wondering what is the best chain oil for your bike chain.
A good chain lube keeps the friction to a minimum and keeps the system running smoothly. It's like… a well-oiled system (excuse the pun). 
Before we dive into the oily part, we should mention that you can also use chain wax on your bike instead of oil. Wax is more time consuming to apply, but it lasts for a long time in a dry climate. Chain oil needs to be applied more often, but lubing your chain with oil is a quick process  and you can use a specific type of oil for your weather conditions.
First, let's understand some terms you will come across when looking at chain lubes, and then we can turn to specific bicycle chain lube recommendations.
Wet, dry, ceramic, Teflon?
Wet and dry chain oil refers to the kind of weather you will be cycling in, and not to the oil itself being wet or dry.
Wet chain oil is thicker, and they stick better to your chain. It isn't washed off easily in rainy conditions, even after longer rides. Because of its sticky nature, wet oil collects more dust and dirt from the road and it can look pretty dirty quite soon. It is therefore best used in wet climates or in wet seasons. Hence the name.
Dry chain oil is a much thinner substance and it doesn't attract too much dirt because it's less sticky. The downside of dry oil is that it doesn't last very long on your chain in wet conditions, which means that you have to lube your chain more often if you use it in the rain. They are perfect for dry climates or in dry seasons of the year. 
Teflon based lubes are the most common type among chain lubes. Teflon, aka PTFE, is not a third type of lube besides wet and dry lubes, but teflon indicates the micro particles that the lube contains, and which act as a surface between the metal parts of your bike. Teflon is a strong material with a very low coefficient of friction when it's placed between two solid objects (this is why flipping a pancake on a frying pan with teflon coating is so easy).
Ceramic lubes form a ceramic coating on the chain, which is an incredibly durable material and has the ability to prevent the moving parts from wearing out too soon. Ceramic also makes the drivetrain very efficient.
Biodegradable chain lubes only contain oil obtained from high quality vegetable oil. Their main advantage is being environmentally friendly.
If you have no time to read the details, here's a summary of what's coming:
Best for rare application: Boeshield T-9 Lube
Best for hassle free application: Finish Line 1-Step
Best teflon based lube for dry conditions: Finish Line Dry
Best lube for performance: Muc Off Ceramic Lube
Best premium all-rounder: Muc Off Hydrodynamic Lube
Best oil for extreme wet: White Lightning Wet Ride
A pro tip before applying any lube…
Best for rare application: Boeshield T-9 Lube
This lube is among the most popular chain lubes not only among cyclists, but also for marine, automotive, tools and even aviation use (it's available on Amazon here). 
What sets it apart from other lubes and makes it special is that instead of a teflon or ceramic coating, it creates a wax film layer on the surface, which has four main advantages:
It prevents your chain (or any metal part) from rusting
It doesn't attract too much dirt, and
Even when dirty, it doesn't turn black.
It is the longest lasting lubing solution, so you don't have to lube your bike chain too often (great for lazy or forgetful people like me).
It is strongly recommended not to ride your bike for at least 2 hours, but preferably 8 hours, after lubing your chain with this oil in order to prevent all the good stuff from flying off.
You also need to be aware that your chain must be as clean as possible before the first application, since this lube traps any dirt in a coat of wax. For subsequent applications, just make sure to wipe off the chain with a clean rag.
This is an amazing chain oil for commuters with an as-hands-off-as-possible approach to bike maintenance. For example, an average commuter can use it once every three to four weeks.
Best for hassle free application: Finish Line 1-Step
If you hate the idea of thoroughly cleaning your chain every time you lube it, and you're looking for an easy to apply solution, you may just be looking for the Finish Line 1-Step, which is a cleaner and a lubricant in one (available on Amazon here).
When you apply this solution, it washes off the dirt from your chain and at the same time it also lubricates it. It is for those looking to take a minimalist approach to drivetrain maintenance. 
This is probably for those who aren't looking for the most heavy duty chain oil. Finish Line advertises it primarily for occasional cyclists and for bikes that spend much time in storage. 
It provides not only cleaning and lubrication, but also creates a coating that prevents the chain and metal parts from rusting as long as the product is on the parts. It needs to be applied more frequently because it wears off sooner than most chain oils.
Best teflon based lube for dry conditions: Finish Line Dry
If you live in a dry climate or you're looking for a lube for the dry season, the Finish Line Dry is an excellent option (it's available on Amazon here). As mentioned earlier, you'll want to opt for a dry lube for dry riding conditions because it attracts less dirt than wet lube. This could be an excellent option for road- riding, off-roading or commuting in the Summer.
Finish line recommends to apply the lube after every 100 miles, but many people use it for 200-300 miles before they apply it again. If you're a commuter you can ride your bike for two-three weeks before you have to apply it again. In case you ride it in the rain it washes off more quickly and has to be applied sooner.
Keep in mind that this isn't a cleaner and a lubricant, but only a lubricant. This means that you'll need to remove oil residue and dirt from the chain before applying it using some degreaser and some chain cleaning tools. 
Best lube for performance: Muc Off Ceramic Lube
If you want your drivetrain to be as efficient as possible you can opt for the Muc Off Ceramic Lube (available on Amazon). It is a go-to chain oil of performance athletes, who have taken their ride to the next level.
This lube is amazing for five main reasons:
Ceramic reduces friction super efficiently
It doesn't attract dirt
As long as the weather is dry, you can forget about lubing your chain for 300-400 miles 
The lube lights up under UV light and it comes with an UV flashlight. You can use it to check if you've missed any spots and to know when it has worn off and to know EXACTLY WHEN TO APPLY it again.
Do keep in mind that rain and wet weather can wash this lube off quite easily and you need to remove it with a degreaser before you apply the lube again.
Best premium all-rounder: Muc Off Hydrodynamic Lube
Muc Off's Hydrodynamic Lube is a great choice if you are a heavy duty user riding long distances in all kinds of weather conditions ranging from dry to wet and anything in between (you can find it on Amazon here). 
For the premium price tag you get a premium riding experience and superior chain protection. 
If you live in a wet climate or if you want something for the wet season and you don't feel like lubing your chain too often (I hate freezing hands in the cold garage or garden too), this lube will take care of your needs. Since it is a thicker type of lube, it will shine in a special way in wet conditions. 
Like its ceramic brother, this oil also comes with an UV flashlight, which you can shine on your chain to see if you have missed any part or want to know when it has worn off and be CERTAIN when it needs to be reapplied.
Best oil for extreme wet: White Lightning Wet Ride
When it comes to riding in extreme wet weather, the White Lighting Wet Ride is one of the gold standards of chain protection and lubrication (check price and availability on Amazon). This is a premium quality synthetic chain oil that will protect your bike chain in the harshest of weather conditions: rain, snow, slush, mud… you name it.
This oil makes your chain totally waterproof and ensures that you can ride for a long time without worrying that shifting becomes unreliable or without having to replace your damaged chain because of lack of lubrication.
Keep in mind that since this is a very thick oil it's only recommended for wet and extreme wet conditions, because it attracts grime and dirt. 
A pro tip before applying any lube…
Maybe you've experienced the frustration of knocking over your bike while you were lubing your chain or doing other repairs to your bike. It's not impossible to do them bike without a bike stand, but boy, does it help if you have one! Even simple tasks, such as cleaning and oiling your chain or adjusting cables or brakes are SOO MUCH EASIER if you have a bike stand! You can actually see what you're doing close up.
It can be a very basic one, such as this one available for less than 50 dollars on Amazon.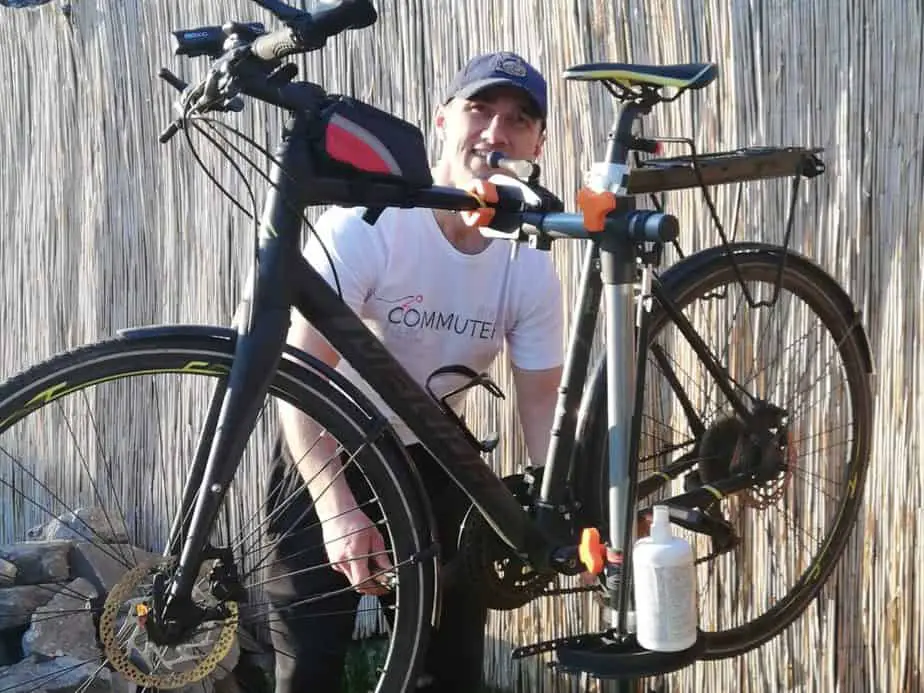 It's usually not the first thing you think of getting, but anyone who's serious about cycling should have a stand to do some basic maintenance.
Happy Riding!