When a folding bike is unfolded, you ride it. What about when it's folded? If your answer is "carry it," you might be surprised to learn that foldable bicycles can weigh up to 30 lbs (13 kg) when they're folded, and that's without accessories.
Sure, your bike can get small enough to fit into a backpack, but if you're going to be walking around all day, you'll probably be better off rolling it on the sidewalk.
Luckily, there are some folding bikes manufactured with this in mind. The folding mechanisms and split frame keep these bikes from being as light as the lightest road bikes, they're still quite a bit less heavy than your standard foldable bike.
With weights ranging from 16 to 24 lbs, these bikes will be easier to fold, carry, and ride. Remember, less weight from the bike means you'll be able to zip around town a bit more easily, as you'll be pushing less weight with each pedal stroke.
Electric bikes built for everything and priced for everyone. Shop Rad Power Bikes, America's #1 electric bike brand. Get out. Go further. Ride Rad.
Without further ado, here's a quick rundown on the 8 lightest folding bikes you should check out in 2022.
| | | |
| --- | --- | --- |
| Brompton T Line | 16.4 lbs | 7.45 kg |
| Hummingbird (multi-speed) | 18 lbs | 8.2 kg |
| Bike Friday PakiT | 20 lbs | 9.1 kg |
| Brompton P Line | 20.8 lbs | 9.45 kg |
| Dahon Mu LX | 21 lbs | 9.56 kg |
| Tern Verge x11 | 22.4 lbs | 10.2 kg |
| FabricBike folding | 24 lbs | 10.9 kg |
| Euromini Zizzo Urbano | 24 lbs | 10.9 kg |
Brompton T Line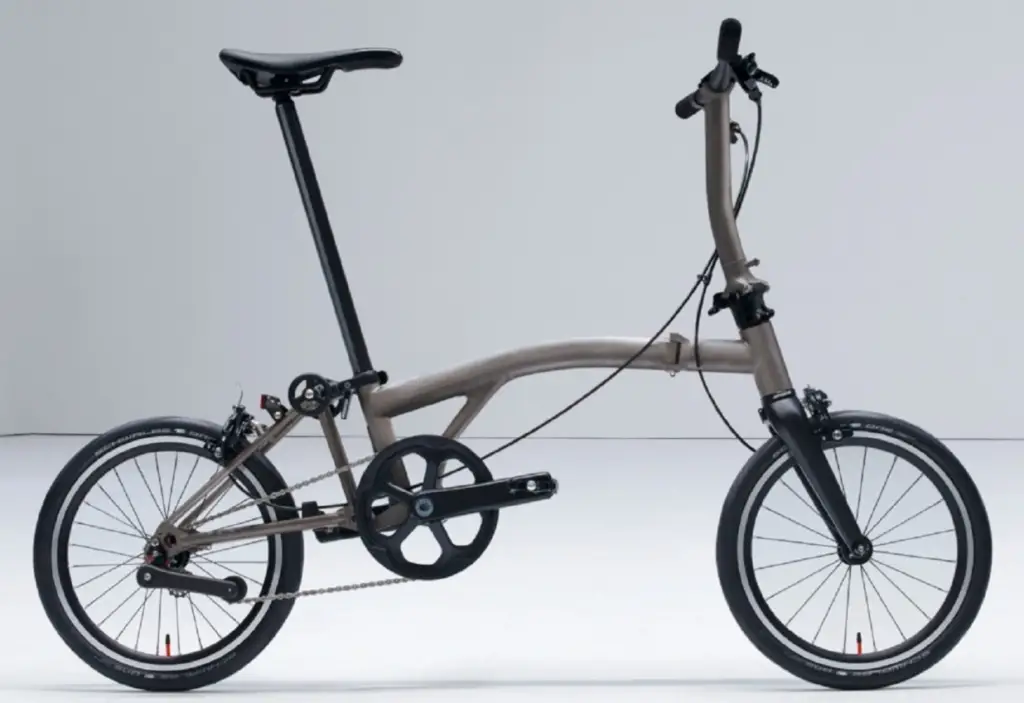 Brompton is one of the biggest names in folding bikes, and for good reason. Their bikes aren't cheap, but they take advantage of a unique folding mechanism that allows them to fold up smaller and deliver a smoother ride on mid-sized 16″ wheels.
Bromptons have an incredibly long lifespan, which has caused the company to continue to make parts for models that are 2 decades old.
A plethora of small refinements to the folding bike paradigm, like cargo racks with luggage wheels to roll around bikes while they're folded, help make Bromptons sit a cut above the rest of the competition.
The T Line is Brompton's brand new ultra-light titanium offering. It's still a Brompton at heart, but it's made from the space-age metal and has some engineering quirks that help shave weight and compensate for titanium's relative bendiness.
Weighing 16.4 pounds (7.45kg) with mudguards and a 4-speed gearing system, it's one of the lightest bikes around, period. It folds to 25″ by 23″ by 10″.
There are a few differences between the T Line and a standard Brompton. The seat post was redesigned to be sturdy while conforming to the material and weight requirements of the T Line.
The drivetrain is entirely new, allows the bike to be folded in any gear, and sits between the wheels when the bike is folded, and the folding mechanism itself has been modified with new hinges, springs, and catches to make the folding and unfolding process faster. Considering how fast a practiced Brompton owner is already, this is pretty impressive.
The downside here is the price and availability. If you can find a T Line for sale, it's likely to be the price of a used car. That can be a big if. The new model is only available from a small number of retailers, including Brompton's online store, and stock is very limited.
It might be a few months or more before the T Line becomes easy to purchase. Even when it does, the materials and engineering involved will keep the price fairly high.
Hummingbird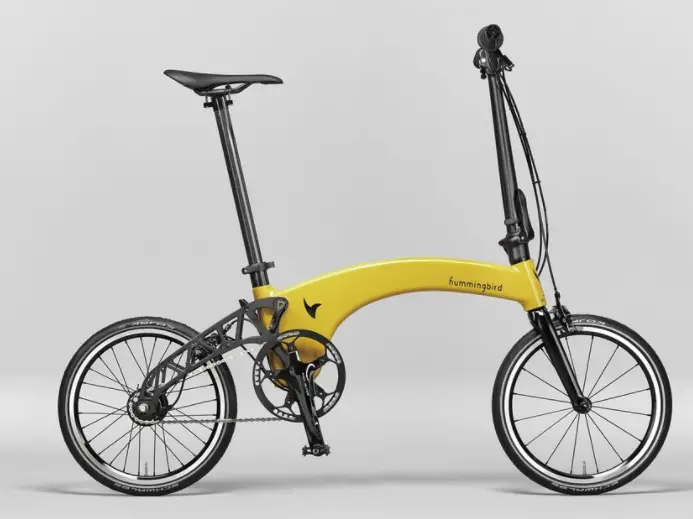 If weight is your primary concern, look no further. The single-speed variant of the Hummingbird is 15.2 lbs (6.9kg), while the internal-hub 3-speed is 18 lbs (8.2kg).
These impressive numbers are achieved by a carbon fiber frame, clever engineering, and a minimalist design. You won't find accessories like mudguards or cargo racks on a Hummingbird. Those things add weight.
The Hummingbird is most definitely not a Brompton, but it folds in a somewhat unique way. Rather than having a hinge in the middle, the back wheel folds vertically under the frame, which has an almost Nike-swoop-like design with a well to accommodate the wheel.
The overall package is small but has an odd form factor. It's 46″ x 23″ x 8″ when folded, which is far longer and thinner than most folding bikes. Still, for a 16″ folding bike, it's quite easy to carry.
If a Brompton is a folding bike meant for day-to-day city riding, the Hummingbird almost seems like a folding road bike. Its collection of high-spec parts, the daring, lightweight frame, and the total lack of accessories help it stay light and go fast.
If these are your goals, it's an amazing bike. It's in the same general cost ballpark as the Brompton P Line below, and while it definitely is a bit less convenient, it's lighter and incredibly fun to ride.
Bike Friday PakiT
Bike Friday's custom, made-to-order bikes are perfect for riders with unique demands who know what they're looking for. The PakiT is Bike Friday's compact model, with 16″ wheels and weight as low as 16 lbs (9.1kg).
Bike Friday's plethora of customization options gives you the ability to add some weight to the bike with things like racks, an electric motor, a belt drive to reduce maintenance, and multiple handlebar options. The geared model comes with 9 speeds, making it better than most folding bikes at tackling hilly areas.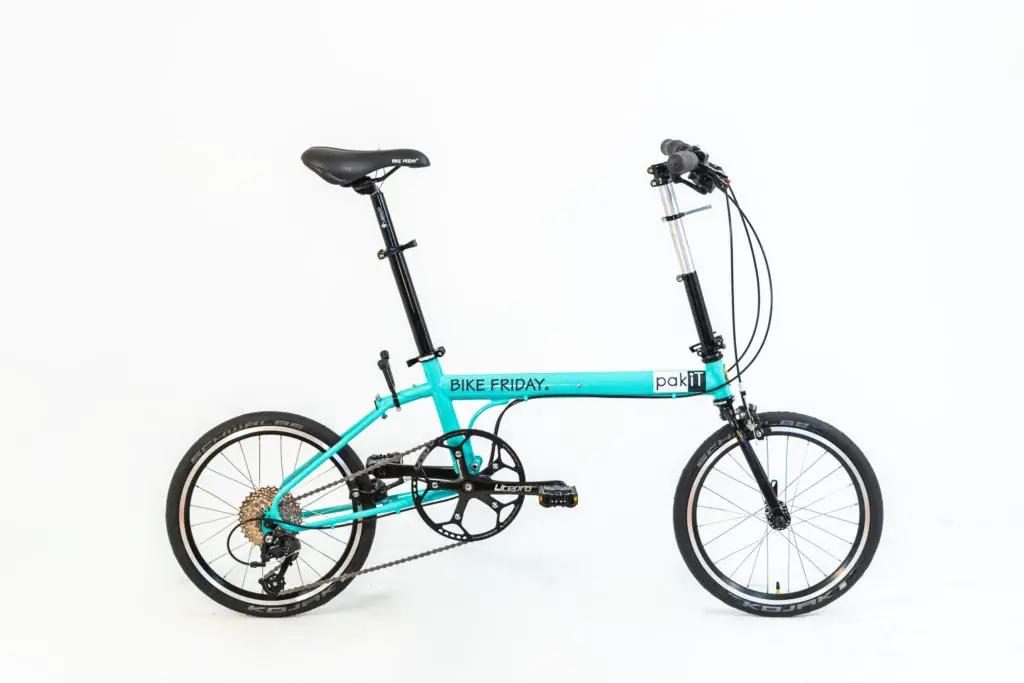 The PakiT is a dream to ride, but it's not the most innovative folder. It's 28″ x 17″ x 8″ when folded, making it a fair bit smaller than the Hummingbird and about the same size as a Brompton.
It's arguably less convenient, although this doesn't matter if you throw it in a bag and carry it around that way. It's clear that this bike was designed by a team of folding bike enthusiasts who wanted a bike they'd be happy to ride.
The PakiT is definitely worth a look, even if it's just to check out all of the options. The folks at Bike Friday really know their stuff and are working hard to make foldable bikes accessible to just about anyone. The customization options for the PakiT ensure that you'll get a bike that suits your riding style and budget.
In many cases, you can get a PakiT for a bit cheaper than a model with similar options from other brands. Be sure to check out some of their other models, too, as they've got some of the most unique and innovative foldable bikes around.
Brompton P Line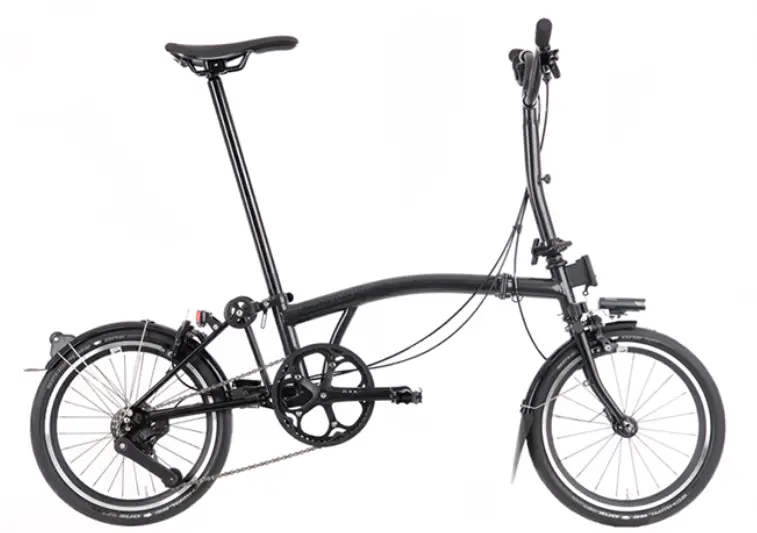 If you'd like an extra-light Brompton while you wait for your T Line model, the P Line might be the next best choice. This titanium bike is a fair bit heavier than the T Line at 21 lbs (9.45 kg), but it's still 1.5 lbs (0.7kg) lighter than a standard all-steel Brompton.
It's got many of the same design innovations as the T Line, including the new drivetrain, keeping grease from your chain from getting on your pants or bag when you fold the bike. Brompton's iterations in the rear suspension block help make city riding even more pleasant, making this bike an excellent choice for city commuters and downtown dwellers.
Like the T Line above, the P Line is quite new. It's not quite as expensive, but you may still have trouble finding one for the first few weeks of 2022. So far, it seems to be a slightly better bike than the Superlight series it's replacing.
While it's definitely heavier than the T Line, If you're after a more budget-friendly Brompton, the P Line is definitely the better choice.
Dahon Mu LX
While the Dahon Mu LX isn't the lightest ultralight folding bike, it's got a great blend of features to help keep riding fun. At 22 lbs (10.2 kg), it's 4 lbs heavier than the Hummingbird, but its 11-speed transmission helps it conquer both uphill and downhill sections with ease.
20″ wheels give you more stability as you ride in exchange for folded size, but the bike still somehow folds down to 26″ x 11″ x 34″. This means it's a bit thicker than the Hummingbird while folded, but it's nowhere near as long.
Between the wide gear range, the large wheels, and the ultralight parts, this bike handles more like a road bike than something you'd use for touring or grocery shopping. It's fast, nimble, and a fun bike.
While it's not the most expensive model, it's definitely not cheap, either, and the lack of accessories like racks and mudguards clearly signal that this is a for-fun machine, not something you're supposed to commute on.
You can, though, especially if you pick up a few of those missing accessories yourself. If you're willing to trade off a bit of weight and size for stability and gearing, the Mu LX is a great pick.
Tern Verge x11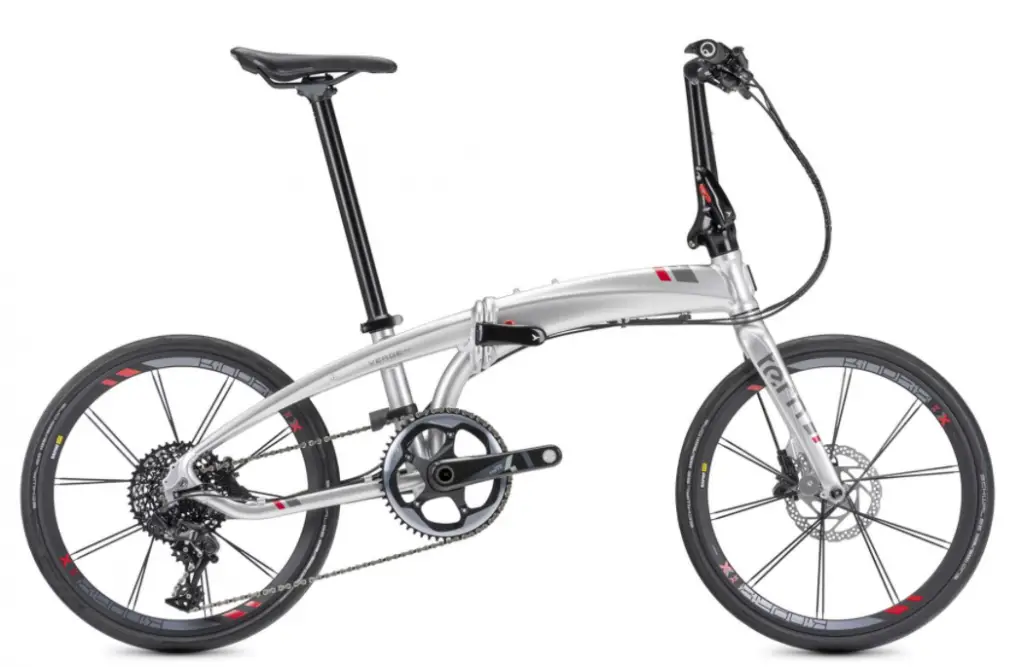 The Tern Verge x11 is a slightly heavier, slightly nicer version of the Mu LX. With 20″ wheels, a total weight of 22.5 lbs (10.2 kg), and an 11-speed gearing system, it's equally fun, if not more fun, to ride. While the Mu LX is fairly standard as far as parts go, the Tern Verge x11 has brand-name disc brakes, an adjustable stem, and hand-tuned wheels.
There's some amount of a tradeoff for all of these fancy parts. The Verge x11 folds to 15″ x 31.5″ x 29.1″, making it a bit bigger than most of the other bikes so far. Still, its simpler folding mechanism makes it faster to fold than other bikes, enabling you to stick it in a car trunk slightly faster than a Brompton, assuming you're equally practiced with both bikes.
Just like with the Mu LX and the Hummingbird, you'll have to figure out your own cargo racks if that's your thing. This bike continues with the same trend of sacrificing folded size and weight for improved ride quality and power.
If your goal is to get a bike that can fit in a trunk, this is definitely one of the nicest ones to ride. It's a bit more expensive than the Mu LX, but the nicer parts mean it's probably worth the extra money if you can afford it.
FabricBike folding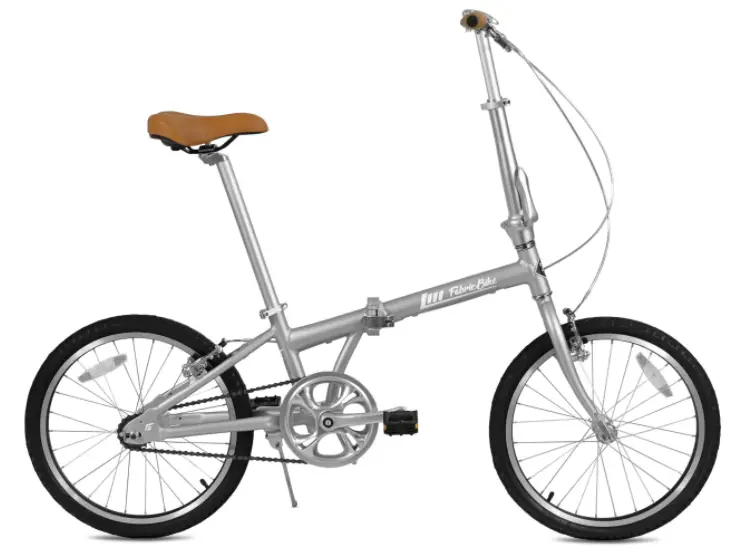 Another folder with 20″ wheels, the FabricBike folding bike comes in a 24 lb (10.9 kg) single speed and a 25.5 lb (11.55 kg) 7-speed. It's pretty bog-standard when folded, fitting in a 31″ by 14″ by 24″ package.
This is definitely not a Brompton, and while it's a fairly nice bike, it's not quite as nice as the Tern Verge above.
So why choose the FabricBike folding bike? Price. While it's not going to compete with the other light folding bikes on this list for features, this is one of the lightest entry-level folding bikes around.
It's a great way to try out the idea of a folding bike without spending a lot of money, and it's cheap enough that you won't feel forced into trying to resell it when you decide to upgrade later. It's simple, fun to ride, and uncomplicated, making it a wonderful starter option.
Euromini Zizzo Urbano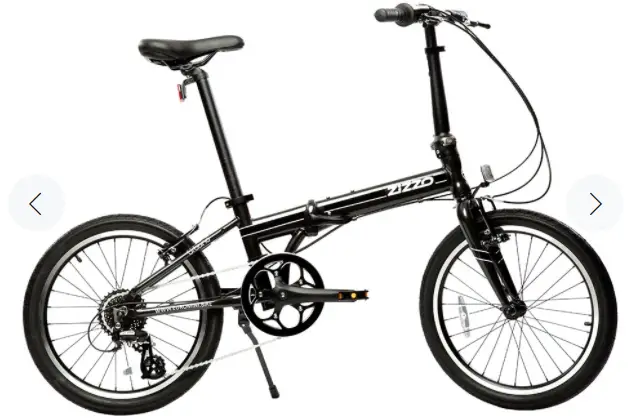 Weighing 24 lbs and folding to 27″ x 31.5″ x 13″, the Zizzo Urbano is a solid alternative to the FabricBike folding. Affordable, basic, and reliable, this 20″-wheeled 8-speed folding bike feels stable and fun to ride.
While it's devoid of the accessories you'd want for a daily commute, its low price gives you plenty of room to pick those options up later.
Just like the FabricBike folding, this is definitely a starter bike. If you've got the budget, the Verge x11 or one of the Brompton options above will be lighter, nimbler, and probably a bit more fun to ride.
That isn't to say that you won't have fun on this bike, but rather that this is very much a normal entry-level folding bike that happens to be light, not a fancy bike that's been designed to be as light as possible with amazing parts.
The Zizzo Urbano is a bit more conventional-looking (or blander) than the FabricBike folding, but it's got more gears and might be cheaper or easier to acquire. If it's more in line with your tastes or it's cheaper, you should totally go for this bike over the option above.
If it's a toss-up, the Zizzo Urbano is lighter than the geared FabricBike, so it's probably the better choice. If the FabricBike is cheaper or easier to get, however, you'll have to make a decision about how much you're willing to pay for the 1.3 lb weight reduction the Zizzo Urbano offers.