There's something about a steel bike that's just right for adventure. The Surly Straggler, Kona Sutra, and the Soma Wolverine are three steel bikes fit for adventure, commuting, and joyriding. 
The Surly Straggler is recognized as a gravel commuter because it will take you from the office to the long weekend ride. The Kona Sutra is the queen of versatility, taking you on bike tours and errands, too. And the Soma Wolverine frameset can be set up however you dream – for off-road, on-road, and everything in between. All of them offer a comfortable steel frame. But which one is right for your type of ride? 
In this article, we'll look at the difference between the Surly Straggler, the Kona Sutra, and the Soma Wolverine. We'll talk about the frame material, geometry, gearing, brakes, and wheels. Of course, we'll also take a look at the price points, too.
The most obvious difference is that the Soma Wolverine isn't a fully built bike but rather a frame waiting to be built according to your liking, while the Straggler and the Sutra are ready to ride. This isn't a bad thing, but it definitely limits the type of riders Soma wants to appeal to.
Electric bikes built for everything and priced for everyone. Shop Rad Power Bikes, America's #1 electric bike brand. Get out. Go further. Ride Rad.
First, let's look at some of the different models available. 
Surly Straggler 
| | | | | | | | |
| --- | --- | --- | --- | --- | --- | --- | --- |
| Bike | Price | Frame | Fork | Gearing | Brakes | Wheels | Purpose |
| Surly Straggler | $1799 | Steel | Steel | SRAM 1 x 1142T | Mechanical Disc | Tubeless-ready 700 x 41 or 650 x 41 | Commuting and Road, Gravel, and Trail |
Soma Wolverine
| | | | | | | | |
| --- | --- | --- | --- | --- | --- | --- | --- |
| Bike | Price | Frame | Fork | Gearing | Brakes | Wheels | Purpose |
| Soma Wolverine | $919.99 Frame only | Steel | N/A | Sliding dropouts allow for 1x, 2x, or single speed | Disc brake compatible only | Clearance for 700 x 45 with fenders | Off-road, touring, cyclocross, tracklocross |
Kona Sutra
| | | | | | | | |
| --- | --- | --- | --- | --- | --- | --- | --- |
| Bike | Price | Frame | Fork | Gearing | Brakes | Wheels | Purpose |
| Kona Sutra | $2099 | Steel | Steel | Shimano GRX 600 | Mechanical Disc | 700 x 40 | Entry-level gravel and touring |
| Kona Sutra LE | $1599 | Steel | Steel | Shimano Sora | Mechanical Disc | 650 x 47 | Commute, gravel, trail |
| Kona Sutra LTD | $2599 | Steel | Carbon | Shimano GRX810 | Hyrdraulic Disc | 650 x 47 | Adventure bike |
Common characteristics
The Surly Straggler, the Soma Wolverine, and the Kona Sutra are all steel-framed, versatile bikes. The Kona and the Surly are drop bar bikes with disc brakes and gearing that fits off-road adventures. The Wolverine frameset can be set up with whatever bars you prefer, although drop bars are generally selected for a gravel bike.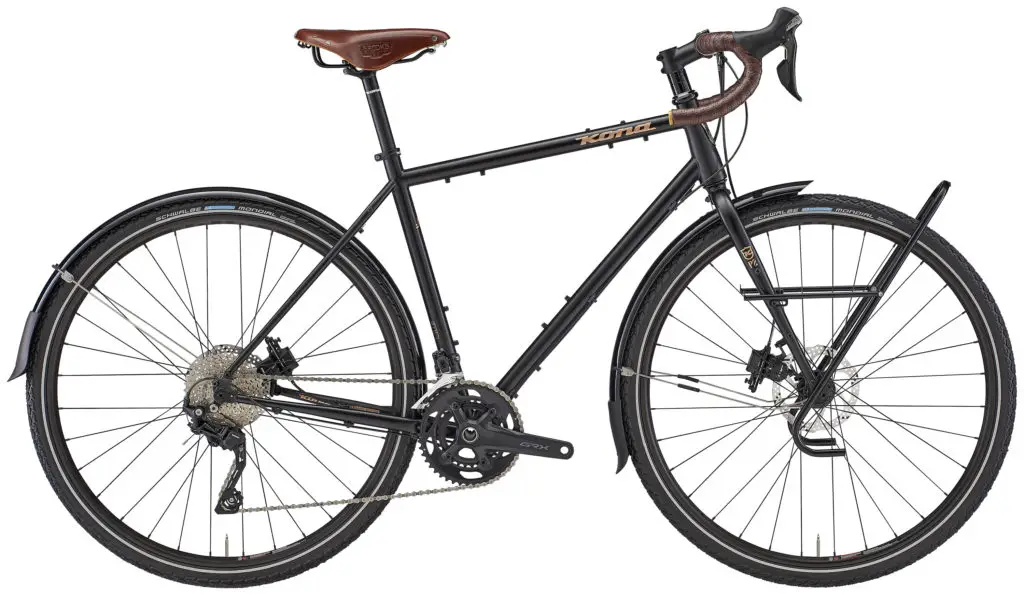 All of these bikes are compatible with extra-wide tires that will give you plenty of grip on gravelly roads, while the steel frames save a bit of money over carbon, and mechanical disc brakes on some models will also save you a bit of cash over hydraulic. 
The entry-level models are comparably priced around $1599 to $1799, and once you add entry-level components to the Wolverine frameset, you'll probably be in the same ballpark, as well. The Kona Sutra has higher-end models that give you a carbon fork for added comfort and hydraulic disc brakes for added stopping power. 
Budget and Price 
With a steel frame, your dollars stretch a little bit farther. And if you are looking for an entry-level bike, you can't go wrong with the Sutra or the Straggler between $1599 and $1799.
They have quality components at a great price. The Wolverine is a little more complicated because you'll need someone to build it up – if you need a bike shop or bike mechanic to put the components on for you, the price will go up significantly. 
The Kona Sutra has higher-end models that range in price from $2099 for Shimano GRX components and $2599 for Shimano GRX, hydraulic brakes for better stopping power, and a carbon fork to absorb some of the bumps.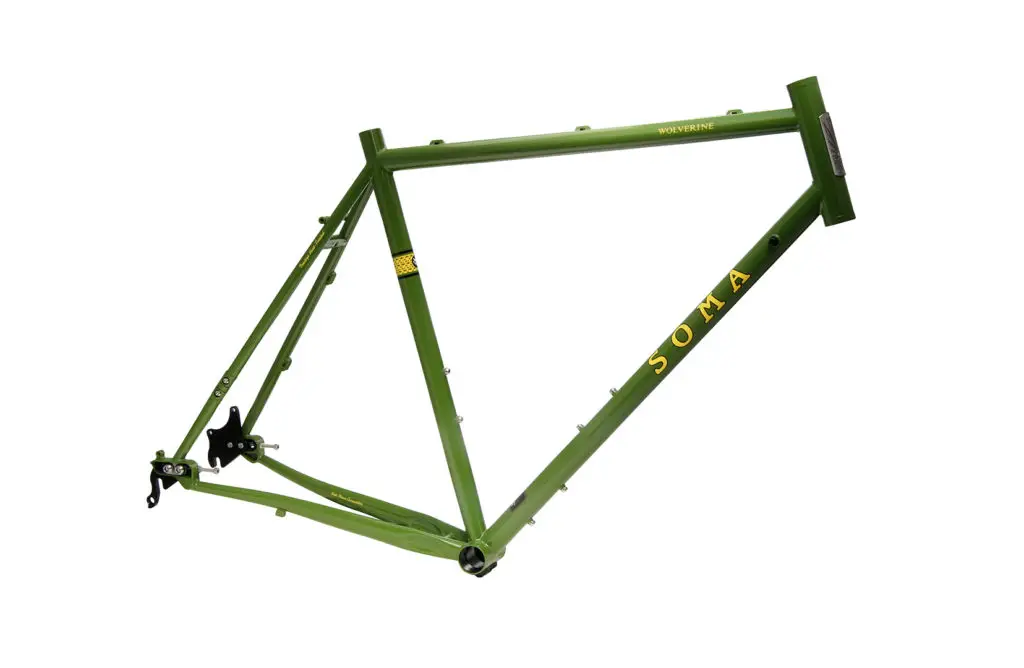 Geometry 
The geometry of the bikes is essential. For gravel, you need a bike that is stable in rough conditions. You might want a bike with a more upright, comfortable position for commuting and touring. And if you are racing, you want a more aggressive position, although most people don't race on a steel bike. 
Gravel bikes tend to have lower bottom brackets and longer wheelbase and chainstay, which makes them feel a little more stable. 
The Sutra has the longest wheelbase and the most upright bars, making it more relaxed and comfortable for long rides and more stable. The Straggler, on the other hand, has a shorter wheelbase and a longer, lower reach for a slightly more aggressive position. Finally, the Wolverine falls right in the middle but has a slightly lower bottom bracket, giving it a little better standover height. 
Frame Material 
All three bikes have steel frames, although the Sutra's highest-end model has a carbon fork, which will make it a little bit lighter and a little bit more comfortable to ride. Unfortunately, it's also the most expensive of this group of bikes.  
The type of frame will have a large effect on the price of the bike. You'll often find lower-priced, entry-level bikes made with cost-saving aluminum. It's just as safe as other types of frame, but you'll have a little bit of a rougher ride since you feel every bump. On the other hand, carbon frames are much more expensive but will soften up every rough spot.
Steel is a very comfortable, sturdy frame material, but is caveat is that it is heavier than the other two.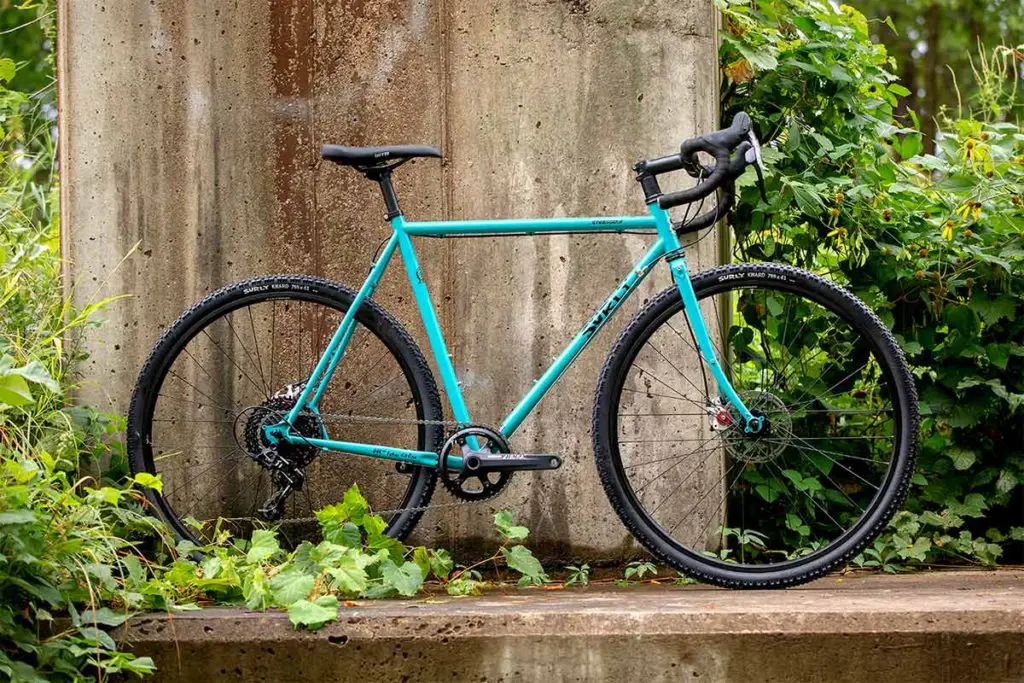 Gearing
The Surly Straggler has a 1x SRAM chainring, which makes shifting easier. 
The Kona Sutra SE has dedicated touring gears, with a Shimano triple chainring to give you lots of options for hauling heavy gear. The LTD, on the other hand, has a 1x SRAM groupset. And the Kona Sutra has a standard 30/46 T chainring with an 11/36T cassette. 
Interestingly, the Wolverine is capable of handling everything from a 2x, 1x, and even a single-speed, if that's what you desire.   
Many gravel bikes are equipped with 1x or 2x gearing, just depending on the purpose. For an entry-level rider, a 1x is just fine. However, if you come from a mountain bike background, will also use your bike for cyclocross, or don't want to think about shifting, you might love the 1x groupset. 
On the other hand, if you are going to be climbing lots of hills and flying down descents or you come from a road bike background, you might prefer a 2x groupset. It just depends on which you like better and what type of terrain you'll be doing. 
Brakes  
The Surly Straggler and the Kona Sutra, and the Kona Sutra SE have mechanical disc brakes. Unfortunately, the Wolverine is only compatible with disc brakes. And the Kona Sutra LTD has hydraulic disc brakes. 
Hydraulic disc brakes will give you the best stopping power for gravel, rough terrain, and messy conditions.  Many entry-level gravel bikes will provide you with mechanical disc brakes, which make the bike less expensive. But mechanical disc brakes just don't have the same stopping power as hydraulic disc brakes do. 
Keep in mind the kind of riding you'll be doing. If you are going to be doing lots of slower touring on flatter roads or short commutes over easier terrain, you'll probably be just fine with mechanical disc brakes. But if you are going to be descending quickly or in rough conditions, you will probably feel more comfortable riding a bike that has hydraulic disc brakes. 
Wheels 
The Surly Straggler comes with tubeless-ready tires in either 650 x 41 or 700 x 41, depending on the size of your bike. The Kona Sutra is available in 700 x 40, while the other two Sutras are available in 650 x 47. TheWolverine gives you clearance for up to 700 x 45 with the fenders on. 
The wheels on your bike are the contact point between your bike and the ground. They'll determine your speed, handling, and comfort as you ride.
Many gravel riders use forties on their bike for the balance of comfort and grip. However, racers usually prefer a slightly quicker 38. But the wider the tire, the more comfortable the ride and the better grip you have on the road. Wide tires roll more slowly, though, so you'll give up speed for comfort and grip.
Appearance 
The Kona Sutra and the Kona Sutra SE have an old-school look with brown leather seats and matching bar tape. You'll instantly think of touring and commuting just by the look of these two bikes. The Kona Stura LTD, on the other hand, has more of a traditional gravel bike look with drop bars and chunky tires. 
The Surly Straggler looks like an all-around adventure bike with drop bars, chunky tires, and cool colors. And the Wolverine has cool colored frames that you can deck out any way you choose. 
 Final Thoughts
All three bikes – the Kona Sutra, the Surly Straggler, and the Wolverine will get the job done! They'll take you on your commute, crush some light gravel, or go bike touring. 
The Wolverine can be set up for whatever you like, whether that's cyclocross, bike touring, or gravel riding, depending on the type of bars, wheels, and gearing you choose to build it up with. 
The Surly Straggler is an excellent commuter–go–anywhere bike, but it's more set up for bike touring than harsh gravel. The Kona Sutra and the Kona Sutra SE are more touring/commuting bikes with their cargo racks and old-school appearance, but the Kona Sutra LTD is the most gravelly of the bunch with its hydraulic disc brakes, drop bars, and extra-wide tires.