Gravel bikes are becoming increasingly popular, with major bike manufacturers offering several versions of their own adventure bikes. It might be challenging to choose just what bike you want, especially when you are comparing models. Maybe you are wondering which is better, the Specialized Diverge or the Trek Checkpoint. 
The Trek Checkpoint is more race-oriented while the Specialized Diverge is slightly more adventure-oriented. The entry-level model specifications of the Diverge are lower than the Checkpoint, which is also reflected in its lower price-point. Both models have several variants ranging from lower to the highest spec component brakes, gearing, and frame materials. 
For an entry-level bike, the Checkpoint ALR 4 has higher-level components than the Diverge E5. As a result, you'll find higher-quality shifting and better brakes on the Checkpoint. However, as you move up through the price points, the difference lessens, and you'll find amazing high-end bikes from both brands. 
In this article, we'll look at the difference between the Trek Checkpoint and the Specialized Diverge. We'll examine the geometry, frame material, gearing, brakes, wheels, and price points of different models to help you choose which one suits your needs best. 
First, let's take a look at some of the model variants available from each manufacturer.
Trek Checkpoint
| | | | | | | | |
| --- | --- | --- | --- | --- | --- | --- | --- |
| Bike | Price  | Frame | Fork  | Gearing | Brakes | Wheels | Purpose |
| Checkpoint ALR 4 | $1699.99 | Aluminum  | Carbon | Shimano Tiagra 2x | Hydraulic Disc | 700 x 40 | Entry Level Gravel and Commuting |
| Checkpoint ALR 5 | $2429.99 | Aluminum | Carbon | Shimano GRX 2x | Hydraulic Disc | 700 x 40 Tubeless Ready, up to 45 | Great Value gravel bike  |
| Checkpoint SL 5 | $3,229.99 | Carbon | Carbon | Shimano GRX 2x | Hydraulic Disc | 700 x 40 Tubeless Ready, up to 45 | All road |
| Checkpoint SL 6 | $3999.99 | Carbon | Carbon | Shimano Ultegra 11 Speed 2x  | Hydraulic Disc | 700 x 40, Tubeless Ready | All road |
| Checkpoint SLR7 Etap | $8349.99 | Carbon  | Carbon | SRAM 12 Speed 1x  | Hydraulic Disc | 700 x 40 Tubeless Ready  | Gravel Racing |
Specialized Diverge 
| | | | | | | | |
| --- | --- | --- | --- | --- | --- | --- | --- |
| Bike | Price  | Frame | Fork | Gearing  | Brakes  | Wheels  | Best for  |
| Diverge E5 | $1300 | Aluminum | Carbon | 8 Speed Shimano Claris  | Mechanical Disc | 700X 38 | Entry-level gravel  |
| Diverge Elite E5 | $1900 | Aluminum | Carbon | Shimano GRX10 Speed, 2x  | Hydraulic Disc | 700x 38 | Off-Road and Adventure  |
| Diverge Base Carbon | $2800 | Carbon | Carbon | Sram11 Speed,1x | Hydraulic Disc | 700 x 38 | All road, gravel,  or race |
| Diverge Comp Carbon | $4200 | Carbon | Carbon | Shimano Ultegrea GRX 11 Speed 2x | Hydraulic Disc | 700×38 tubeless ready  | All road, gravel, or race |
| Diverge Pro Carbon | $7500 | Carbon | Carbon | SRAM1x | Hydraulic Disc | 700 x 38 Carbon Rims | All road, gravel, or race |
Common characteristics
Most gravel bikes have drop bars like you would find on a road bike, but with tires and gears suitable for various terrain. Wider tires give you more grip and a cushier ride. The longer, more slack geometry gives you a more stable and more comfortable ride for long days. In addition, most gravel bikes will have disc brakes to provide you with extra braking power for loose terrain. 
Both the Trek Checkpoint and the Specialized Diverge are well-known for their models of gravel bikes. Both have flared drop bars, wider tires, and mounts for water bottles and gear. In addition, both brands have a variety of model variants with varying components at various price points, so you can choose a bike that best suits your needs. In this article, we picked a few of them from each brand to compare. 
Price Points 
One of the first things you might want to examine when searching for a new gravel bike is the price. 
Naturally, everyone has a different budget for their new bike. However, both the Diverge and the Checkpoint come in various model variants to fit your budget and your abilities. 
If you are new to gravel riding, you might not want to invest in a top-of-the-line model until you know whether you like it. On the other hand, if you love gravel, maybe you are looking for the best bike you can get. 
The Specialized Diverge comes in a range of prices, from around $1300 for an entry-level bike to about $7500, depending on the features you want. On the other hand, the Trek Checkpoint starts at about $1700 for the entry-level model and continues up to over $8000 for their high-end models. 
Although the Trek's base model is more expensive than the Specialized, it has more features, such as hydraulic disc brakes rather than mechanical. 
Checkpoint ALR 4
This is Trek's entry-level gravel bike. It's a solid choice for all beginners and most enthusiasts. It has reliable shifting and powerful brakes.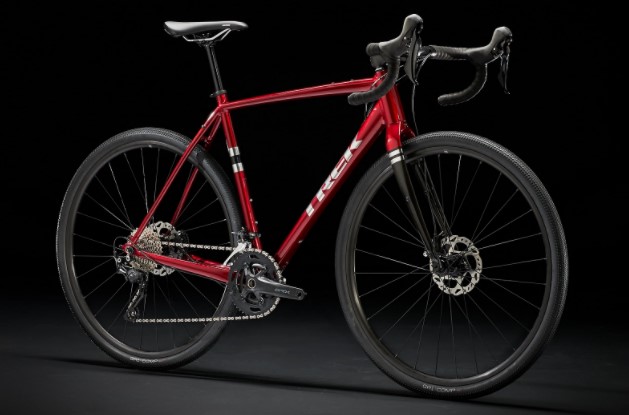 We earn a commission if you click this link and make a purchase at no additional cost to you.
Geometry 
Geometry is one of the most important aspects of a gravel bike because it determines the riding characteristics of the bike and thus the type of riding it's best suited for. 
Lower bottom brackets with a longer chainstay and wheelbase will make the bike feel more stable, while a more upright position will make it more comfortable for long days. On the other hand, a more aggressive position makes your gravel bike more of a race bike than an all-day adventure bike.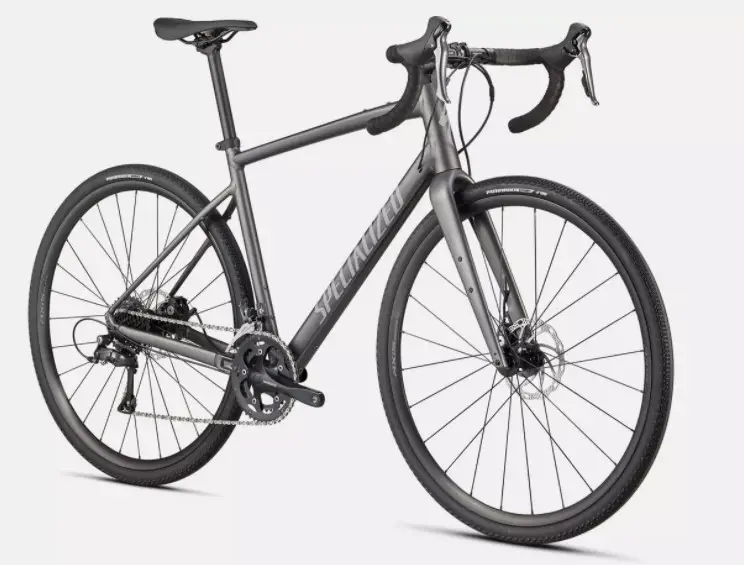 The Diverge models come with a longer frame and slightly more relaxed geometry. This geometry will give you more comfort for long days and rough roads. On the other hand, the Checkpoint is slightly more aggressive with a lower stack and shorter reach. This type of geometry will make it more nimble and quick, which is excellent if you are into fast rides and even gravel racing. 
Frame Material 
Once you know what type of riding you'll be doing, you can start to look at the frame material. 
Entry-level bikes are generally made up of aluminum, which lowers the price. An aluminum bike will give you a snappy feel but a harsher ride. On the other hand, Carbon is lighter, more agile, more comfortable, but definitely more expensive. Both types are suitable for gravel, so this comes down to budget and preference. 
Both the Checkpoint and the Diverge come in aluminum and carbon models. However, the aluminum models also have carbon forks to reduce road chatter and add comfort to the ride. 
Full carbon frames are available in both models, and the most affordable version is the Diverge Base Carbon, starting at $2,800. The cheapest fully carbon Checkpoint is the SL 5, which comes in at $3,300.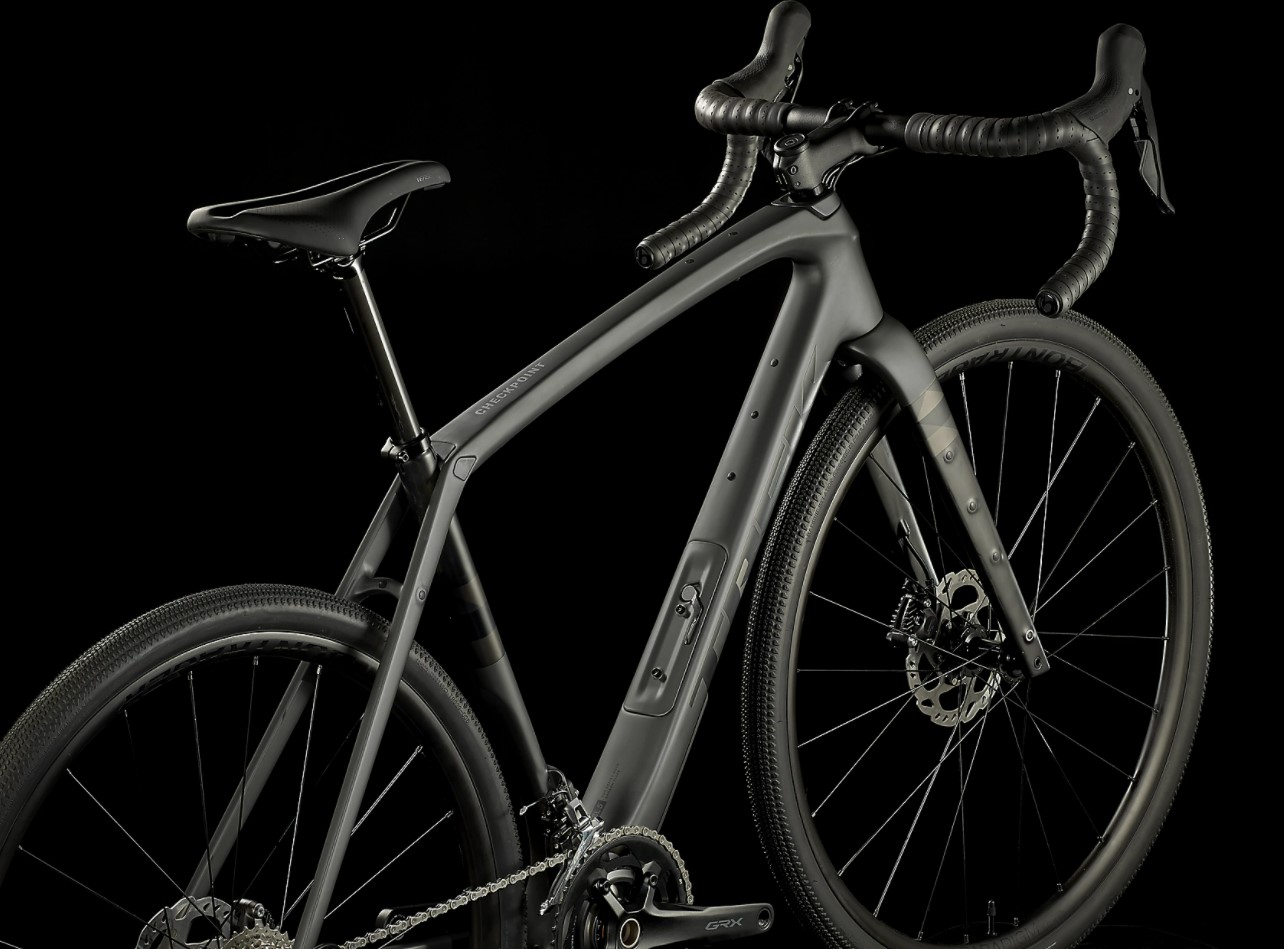 Gearing
Both the Checkpoint and the Diverge base models come with 2x setups, and the 1x variants are only available at higher price points. 
If you are coming into gravel riding from a mountain bike background, you might be more comfortable with 1x gearing. On the other hand, if you are coming from a roadie background, you might prefer the 2x. 
A 1x setup will be slightly lighter and probably better for very muddy conditions because it doesn't have a front derailleur to get jammed up with mud. If you are riding or racing on flatter trails, a 1x will work great and save you a bit of bike weight. 
On the other hand, if you'll be doing lots of climbing or racing up and down hills, you'll probably want the broader range of gear ratios that are available with a 2x setup. Both brands here lean towards a 2x setup, but you will find that some models (as you can see in the chart) are available in a 1x setup. 
Brakes  
This is a crucial part of your bike, and in a special way on a gravel bike, which is designed to go off track in wet and mud, where many other bikes don't.
The best brakes for gravel and mixed terrain riding are hydraulic disc brakes. They'll give you the best stopping power in poor conditions. 
All of the Checkpoint models are available with hydraulic disc brakes, while the Diverge E5 comes with mechanical disc brakes. All the model variants above the base model are equipped with hydraulic disc brakes. 
So while this lowers the price point significantly, it also lessens your stopping power. For that reason, the E5 might be better off for easy gravel and commuting than for serious gravel racing. 
Wheels 
Forties are the gold standard for serious gravel riding. However, many gravel racers swear by 38s for speed and handling. 
To be honest, the difference between 38 and 40 tires is very minimal. The 40s may have slightly more comfort and marginally less speed. 
The Diverge comes standard in 700 x 38s, while the Checkpoint boasts 700 x 40s. Entry-level bikes come standard with tubes, while the higher-end carbon models are tubeless-ready and can be set up to be tubeless by your local bike shop. 
Final Thoughts
Both the Specialized Diverge and the Trek Checkpoint can be used for all road, gravel, and bike packing. However, the checkpoint has just slightly racier geometry with a shorter reach and stack, putting you in a more aggressive position on the bike. This geometry makes the Checkpoint a bit more race-ready. On the other hand, the Diverge may be a bit more suited to long days of adventure with its slightly more upright position and lower bottom bracket. 
Ideally, you'll know what type of riding you want to do the most and choose your components from there. Once you know the components you want most, you can find a great bike that will fit both your needs and your budget.