The Ride1Up Roadster, KBO Hurricane, and Aventon Soltera are affordable, lightweight e-bikes that help bridge the gap between fixie messenger bikes and bulky commuter e-bikes. 
Priced at around $1000, all three bikes weigh just over half as much as some of the heavier e-bikes on the market and deliver terrific performance for their cost. While you're not going to win any hill climbing competitions on these bikes, they're perfect for short city rides on fairly flat ground.
But which one should you choose? Let's go over the differences between the Ride1Up Roadster, the KBO Hurricane, and the Aventon Soltera to try to break down which bike is best for which type of rider.
Overview Of Bikes
Ride1Up Roadster v2
The Roadster is a simple, inspired city bike with one gear. It's a Class 3 e-bike, available in 52cm and 58cm frames with fairly aggressive geometry. Low, narrow handlebars and a fairly high seat keep you aerodynamic as you weave in and out of traffic. 
The Roadster sports a 350w motor, goes between 20 and 30 miles on a single charge, and weighs an incredible 33 lbs.
Roadster v2
 Simple, fast, and fun, this electric bike is as clean as it gets. With a completely concealed battery and quiet motor, onlookers aren't going to understand how you pedal so fast.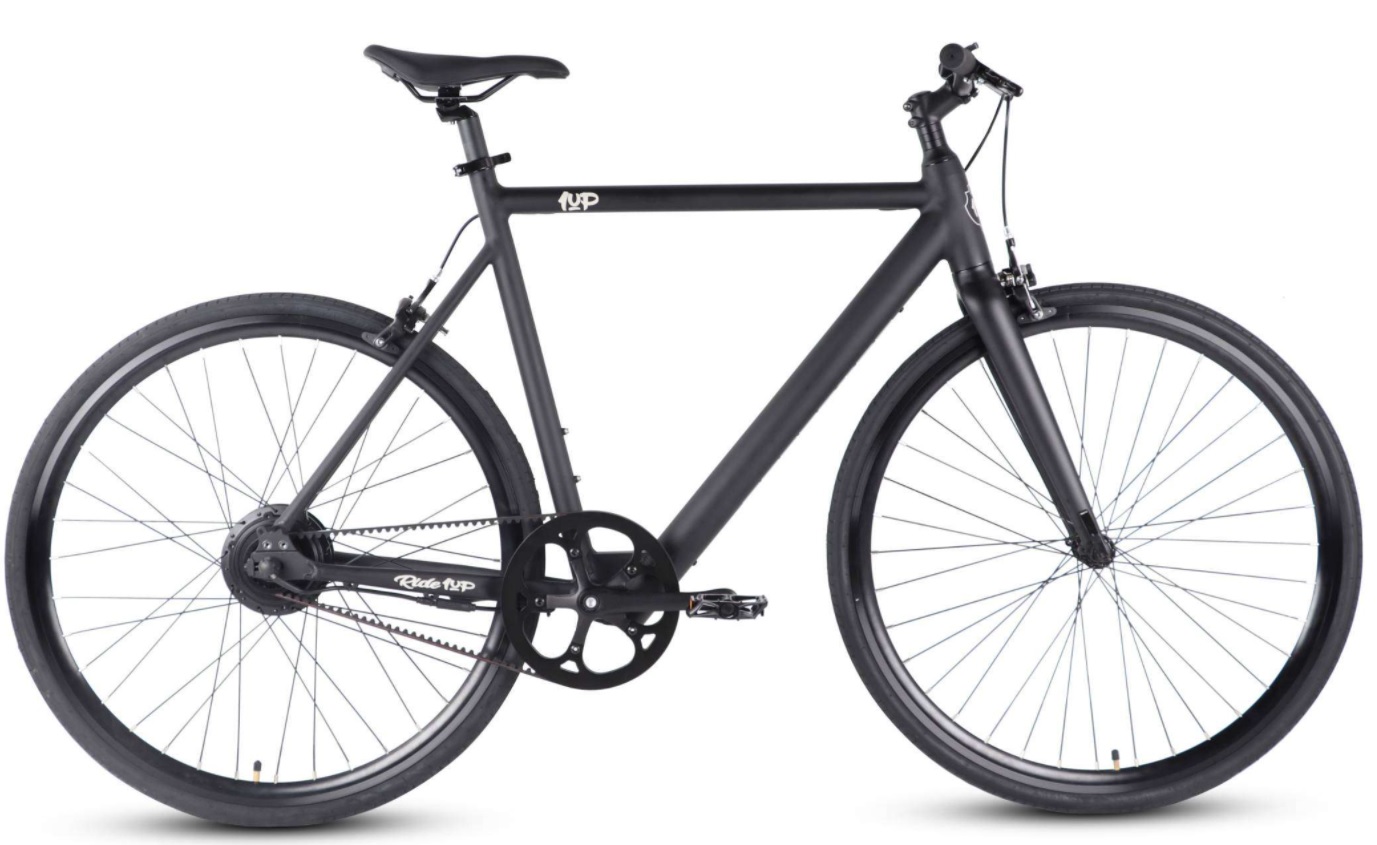 We earn a commission if you click this link and make a purchase at no additional cost to you.
KBO Hurricane
An eye-catching class 3 fixie, the Hurricane manages to be nimble thanks to its 350w motor and light 36 lb weight. 
A modern belt drive ensures that you won't get your pants dirty and reduces maintenance costs, while the impressive 45 mile top range lets you do a lot of riding on a single charge. 
Despite its modern design and impressively low weight, the Hurricane is just as affordable as the Roadster.
KBO Hurricane
An eye-catching class 3 fixie, the Hurricane manages to be nimble thanks to its 350w motor and light 36 lb weight. 
We earn a commission if you click this link and make a purchase at no additional cost to you.
Aventon Soltera
A class 2 e-bike out of the box, the Soltera is the luxury option here, although you wouldn't guess it from the cost. 
Available as a 41 lb fixie and a 43 lb 7 speed, the Soltera is a bit heavier, but it's notably faster than the other two under motor power and has an impressive real-world range of 63 miles on the lowest assist.
Soltera Ebike by Aventon
A sleek, single-speed electric bike (also available in a 7 speed) that is nimble and powerful enough to weave through the jungles of the city yet lightweight enough to carry up a flight of stairs after a day's work.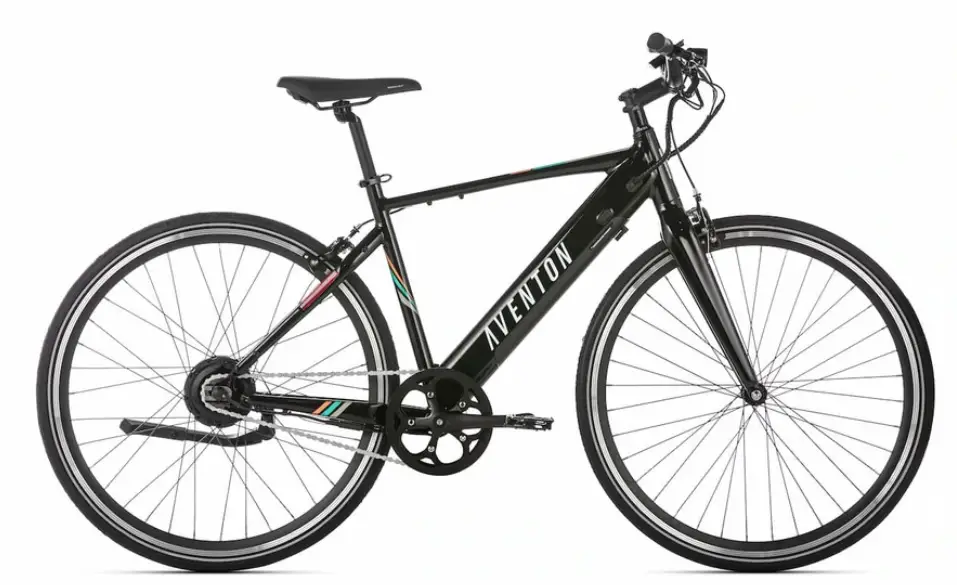 We earn a commission if you click this link and make a purchase at no additional cost to you.
Weight, Design, and Build Quality
While all three bikes are very light for e-bikes of any type, the Ride1Up Roadster leads the pack here with a low weight of 33 lbs. The KBO Hurricane is 3 lbs heavier at 36 lbs, while the Aventon Soltera is a bit heavier than both at 41 or 43 lbs, respectively. 
With similar frames, accessories, and gearing, the big difference in weight here comes from the batteries and the motors. The Roadster has the smallest battery, with only 7 Amp-hours of 36-volt power compared to the Hurricane's 9.6 Amp-hours and the Soltera's 10 Amp-hours. 
While the Roadster and the Soltera have 350W motors, the Hurricane saves weight by dropping to a smaller 250W.
As far as design goes, the Roadster feels a bit more aggressive than the other two. The handlebars are quite low, with a width of only 550mm (or 21″). It's got a very modern, minimalistic frame, accented by the somewhat unusual profile of the belt drive. 
The KBO Hurricane has a more relaxed, but still somewhat aggressive geometry, with a wider 24″ handlebar and a similar belt drive. The lines on the Hurricane's frame are quite bold, making it seem like a high-end road bike more than an e-bike. 
Finally, the Soltera manages to seem quite unremarkable, with a fairly comfortable riding position, 24″ handlebars, and a standard chain. Despite its bland appearance, it feels incredibly responsive and nimble on the road, putting the other two bikes through their paces despite the heavier weight.
It's tough to give a long-term analysis of the build quality of three very new e-bikes, but all three seem amazing out-of-the-box. 
The belt drives on two of the bikes promise to reduce long-term maintenance costs, arguably beating out the standard chain on the Aventon Soltera, but it's easier to replace a chain than it is to replace a belt. 
Standard 6061 aluminum frames should be similar in durability in practice, meaning there's no reason to think any of the bikes should last longer than the other two. 
If I had to guess, I'd wager that the Aventon will hold up slightly better than the other two, but that's based on brand reputation more than anything else.
Components
The big talking point here is the brakes. The Ride1Up Roadster saves weight with old-school Tektro R315 v-brakes. The Soltera 1-speed uses Aventon-branded v-brakes as well, but the Soltera 7-Speed and the KBO Hurricane use mechanical disc brakes. 
Honestly, the low weight of these bikes makes caliper brakes totally acceptable, offering fairly short stopping distances despite the relative mechanical disadvantage of the design. You may find yourself replacing brake pads a bit more often, however.
With no shifters, gears, or suspension on the Roadster and the Hurricane, there's not much to talk about in terms of other components. 
It may be worth noting that you get a lot of mileage out of the gears on the Soltera for hilly riding, as we'll discuss below. While you've got a big motor adding some extra power on all three bikes, it's still a pain to go up long hills at high speeds. Gearing helps.
As far as base gearing goes, it's worth mentioning that all three bikes here are fairly aggressively geared, meaning you'll go quite fast on straights. 
The motors put in a lot of work to compensate for the extra pedaling effort from a stopped position, but hub motors aren't always instant. You'll get a leg workout when you're starting off, especially uphill.
Range and Speed
The biggest difference between these three bikes comes down to their batteries and motors. The Aventon Soltera and the Ride1Up Roadster have big motors. 
The Soltera and the KBO Hurricane have big batteries. The Roadster and the Hurricane have lower weights as a result of sacrificing one of these two categories. 
While the Soltera is a few pounds heavier, it more than makes up for it in terms of speed and range.
Aventon gives ridiculously accurate numbers when it comes to range, when they say '20 miles no pedaling' they mean it. 
With pedal assist on at level 2 of 5, the Soltera goes 41 miles on a charge, averaging 10 miles per hour. At pedal assist 5 of 5, the Soltera goes 22 miles on a single charge, averaging 20 miles per hour. 
All of these numbers should hold up very closely to real-life testing, as they're generated by riding the bikes in real-world conditions and measuring the results.
The Roadster, by contrast, goes something like 16 miles on the highest pedal assist. On the lowest pedal assist, you can get a bit more than 30 miles out of a single charge, but you'll have to put in quite a lot more work with your legs. 
Again, the Roadster is the bike with the smallest battery, so these numbers shouldn't be too surprising.
Despite its larger battery, the Hurricane doesn't go as much farther as you might think. On the lowest pedal assist, expect to get about 36 miles out of a charge, and expect about 23 miles out of a charge on the highest assist level. These numbers will definitely vary based on how much work you put in with your legs, but in general, expect to go farther on the Soltera than the Hurricane.
As far as speed and power go, the Soltera wins by a mile. It's faster, it climbs better, and it seems to deliver noticeably more torque than the other two bikes. 
The Roadster is a distant second, with a motor that's powerful enough to drive the bike up hills without too much work from you, despite the single gear. Still, don't expect to be blasting at 20 mph at all times. 
The Hurricane, unfortunately, lags somewhat far behind. While it's not designed for going up long hills, the 250W motor feels woefully inadequate when combined with the speed-oriented gearing when you do encounter one. It's totally fine for city riding, but don't expect to see speeds of 20 miles per hour or more consistently on most rides.
Final Verdict
While it's a bit more expensive, the Aventon Soltera is the best bike of the three in many metrics, especially if you're willing to shell out a bit more for the 7-speed version. 
A big battery, a more powerful motor, and Aventon's experience in the e-bike market make it totally worth the extra price. You can go faster and farther on this bike than you can on the other two, and while it's slightly heavier, it's still incredibly light for an e-bike.
If you're after a light, nimble bike, the Ride1Up Roadster v2 is definitely a solid choice, especially if you're trying to save money. The aggressive geometry and narrow handlebars give it a very urban feel, and the motor is powerful enough to keep the single-speed feeling great on hills. 
The bike is incredibly light, and while that comes at the cost of disc brakes and battery life, you'll have huge amounts of fun on this bike for rides up to 16 miles round-trip.
Finally, the KBO Hurricane is a more than an acceptable option if you're in a flat area and on a budget. 
While it's arguably outclassed by the other two bikes in terms of power, it's got a bit more range than the Roadster, comes standard with disc brakes and is priced quite similarly. 
The more conventional geometry and killer "stealth" aesthetic might make it more fun to ride for some cyclists. If the Roadster and the Soltera don't sound like your jam, try the Hurricane instead!