Lectric's innovative folding e-bikes are fantastically affordable options for both people with limited storage space and people who just want budget-friendly, well-featured e-bikes. With three great models to choose from, however, it can be a bit daunting to start the shopping process.
Here's everything you need to know about these bikes so that you can make a decision about which bike is best for you.
Overview
The XP Lite is an inexpensive folding electric bike. The Lite's design focuses on reducing weight, ensuring that the bike is easier to transport when folded. It's still 46 lbs, but it's a lot lighter than the other two models.
In order to keep the XP Lite's weight down, Lectric has chosen to include a smaller, less powerful motor on this single-speed e-bike.
Lightest fat tire bike
Lectric XP Lite
A fun, foldable, fat tire, single-speed electric bike to get you around and in the suburbs.
This is a great choice if you have limited space or you don't want to lift a heavy, bulky bike when you want to take it with you in the car.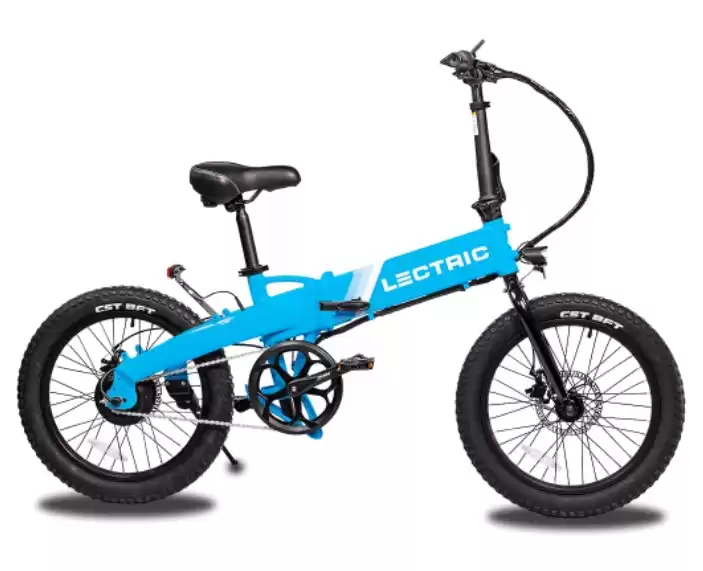 We earn a commission if you click this link and make a purchase at no additional cost to you.
The XP 2.0 is a simple, budget-friendly folding electric bike. Not only does this bike have a bigger rear hub motor than the XP Lite, but it's also got an entry-level 7-speed drivetrain that helps you leverage your legs more.
It's 18 pounds heavier, however, weighing in at 64 lbs. This means that while this bike folds, it's not easy to carry in a bag.
Lectric XP Step-Thru 2.0
This fat tire folding e-bike offers a lot of adventure at a very appealing price point. It's a great first e-bike for people with limited mobility, recovering from injuries or for anyone who wants to have some fun.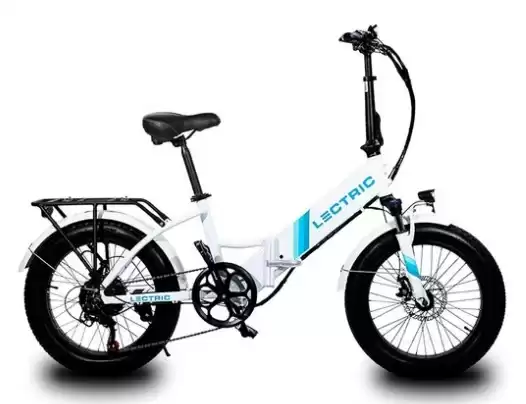 We earn a commission if you click this link and make a purchase at no additional cost to you.
The XPremium is a big upgrade over the XP 2.0 in terms of components. Instead of the normal hub motor that budget-friendly e-bikes use, the XPremium has a 500W nominal power mid-drive motor.
Because this motor turns your front crank instead of your rear wheel, the motor gets to take advantage of the 7-speed Shimano drivetrain.
Lectric XPremium
This is the ultimate long-range, mid-drive, fat tire folding e-bike! It comes with a ton of accessories out of the box and several optional accessories for maximum comfort!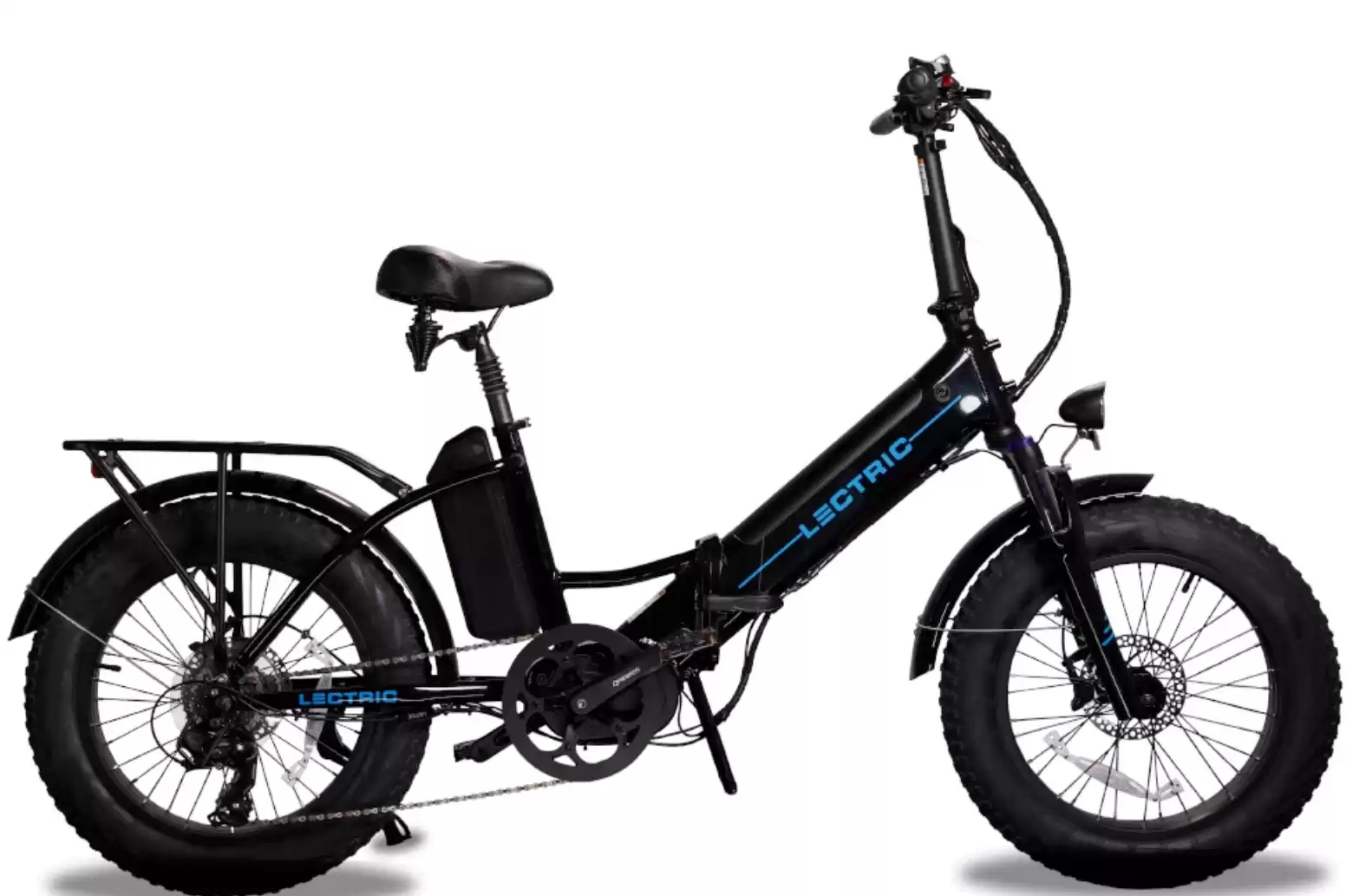 We earn a commission if you click this link and make a purchase at no additional cost to you.
The XPremium also features hydraulic disc brakes and an unusual dual-battery setup that gives it nearly four times the range of the other two models. It's more expensive, however, and it weighs 11 lbs more than the XP 2.0, weighing in at 75 lbs.
Weight, Design, and Build Quality
The XP Lite, XP 2.0, and XPremium are all very similarly designed bikes. 
All three bikes fold lengthwise about halfway down the top tube and have simple designs without a lot of fluff. The bikes have big, thick top tubes, fatter-than-normal tires, and no down tubes. 
Instead of the traditional triangle frame, the crank lives on a mount that extends past the bottom of the seat tube.
All three Lectric bikes fold into similarly sized packages, although the XPremium is a smidge bigger than the other two when folded. All three are also fairly heavy. The XP Lite weighs 46 lbs, the XP 2.0 weighs 64 lbs, and the XPremium weighs 75 lbs. 
This means that the folding nature of these bikes won't allow you to stow them in a backpack or throw them in an overhead bin on a plane. Instead, it's ideal for putting them into the trunk of a car, storing them in your RV, or fitting them under a cupboard in your house. In other words, it's for storage more than portability.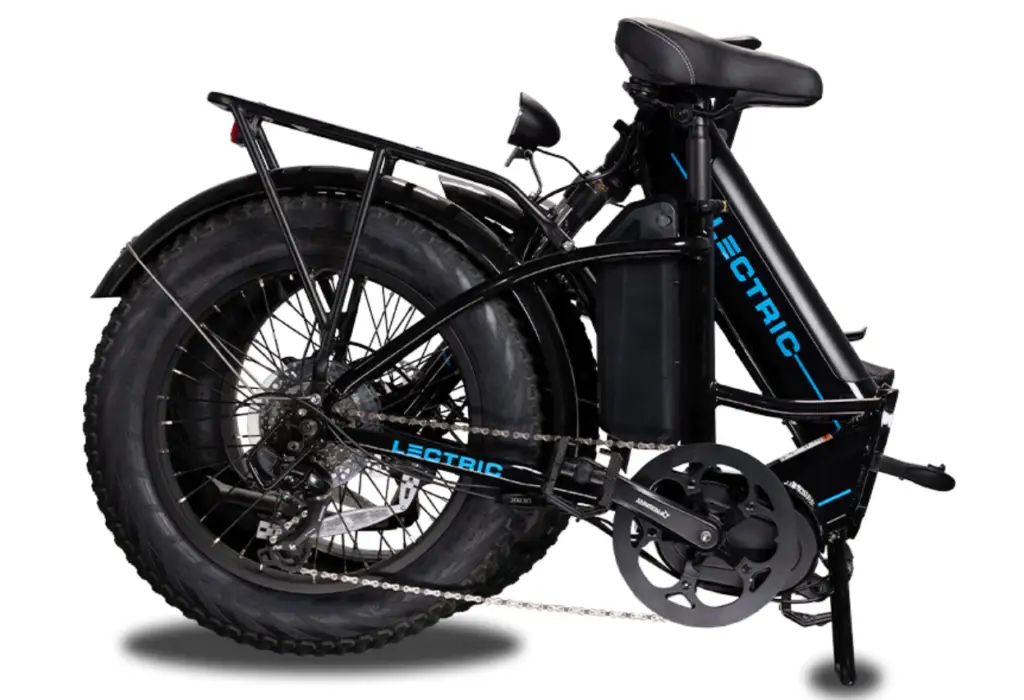 The tires on these three bikes are not identical. The XP Lite utilizes 2.4″ wide tires, the XP 2.0 has 3″ wide tires, and the XPremium has 4″ wide tires. In general, wider tires help absorb bumps in the road and make your riding experience smoother. 
They provide more traction, enabling you to stop faster, and you can underinflate them more, enabling you to up their shock absorption factor even more and get a great grip on very uneven surfaces. 
This comes at a cost, however, as wide tires (and underinflated tires) take more energy to roll. They're also heavier. 
It makes a lot of sense for the light XP Lite to use small tires to save weight and get the most out of its smaller motor and battery, while the XPremium's gearing and double batteries enable it to overcome the downsides of the bigger tires.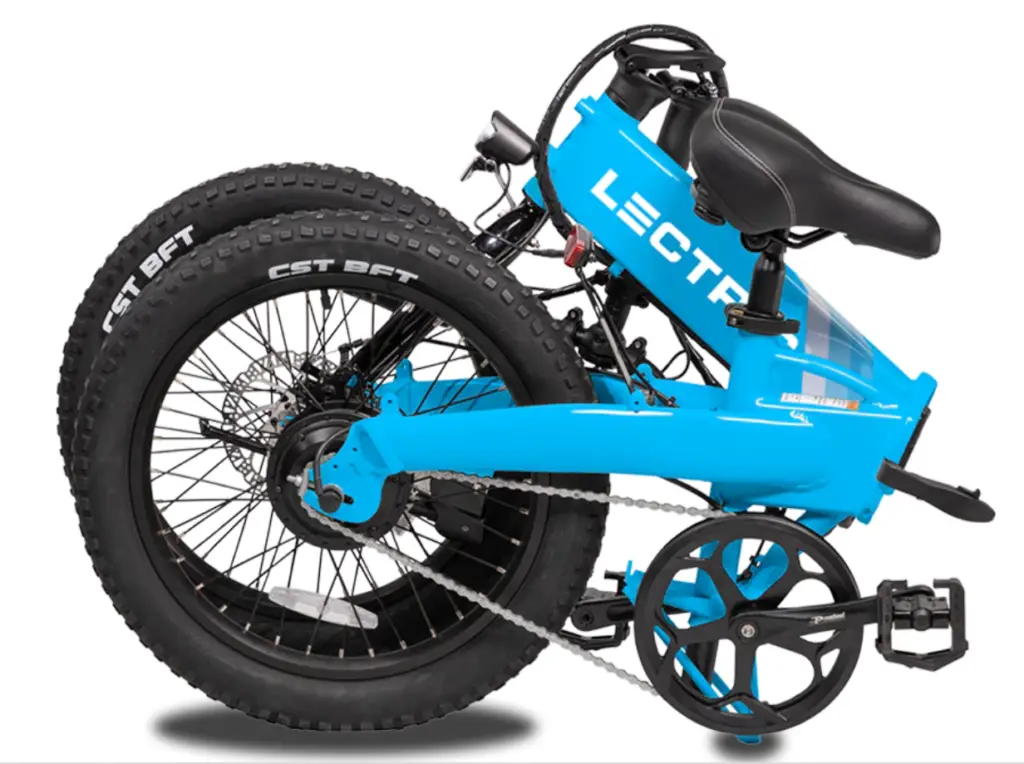 All of the Lectric bikes have plenty of optional add-ons, but you don't get the full kit without paying extra. The XP 2.0 and XPremium come with a basic rear rack and fenders, making them a lot easier to use for commuting than the cheaper XP Lite.
In terms of build quality, Lectric has a pretty good track record so far, but these are very new bikes. The evidence so far suggests that these bikes are quite reliable and will stand the test of time, but it's too early to say for certain. 
Still, Lectric's customer service tends to be incredible, so you can be confident that should anything bad happen with your bike, you'll be taken care of.
Components
The XP lite is a very basic, simple bike. It's got a single gear, mechanical disc brakes, and no suspension. This helps make the bike simple and fun to ride.
The XP 2.0 has an adjustable front suspension fork with 40mm of travel. The 7-speed drivetrain uses Shimano Tourney parts, which means it's got the same shifters and derailleurs that you'd find on entry-level mountain bikes.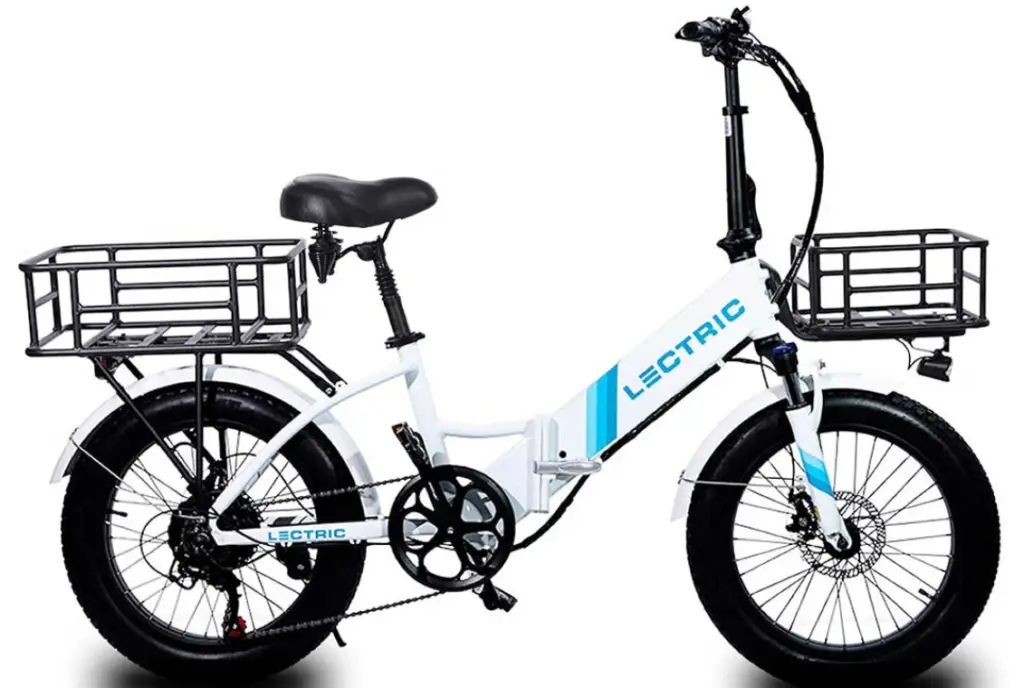 Tourney systems aren't the nicest by any means, but they are incredibly common, making parts and repair incredibly accessible. It has mechanical disc brakes that are quite helpful in stopping the bike quickly from the higher speeds that its 500w motor can achieve.
The XPremium has hydraulic disc brakes, helping to amplify your braking force compared to the mechanical options on the other two models. 
It's very capable of speeds of up to 28 miles per hour with some adjustments to the controller, meaning you'll get a lot of use out of the nicer brakes. 
While it utilizes the same Tourney shifter and derailleur as the XP 2.0, the mid-engine design allows this shifter to work double duty, controlling the torque of both the motor and your legs.
The XPremium also has a larger fork, with 80mm of travel and similar lockout and preload adjustment features. 
This is a very welcome feature on any folding bike, as the small 20″ wheels tend to transfer more of the road's bumpiness to the rider. The combination of 4″ tires and an 80mm fork on the XPremium helps offset this universal folding bike downside.
Range, Speed, and Power
The XP Lite has a small motor and a small battery. Its 300-watt rear hub motor can do 20 miles per hour in good conditions, but you'll likely only get around 15 miles of throttle use per charge. 
Remember, this bike is a single speed. While it's lighter than the other two, it's still not fun to pedal up hills when you're out of batteries.
The XP 2.0 has a bigger motor by a good amount. With 500 watts of nominal output and 850 watts of peak power in critical conditions, the XP 2.0 can be tweaked into a class 3 e-bike, capable of 28 miles per hour. 
Its range is not great, with about 20 miles of throttle per charge, but it's got a fairly small battery in its folding frame. Gears ensure that the bike remains sane to pedal when you're trying to save battery on lower assist modes.
The XPremium utilizes a clever combination of two batteries that drain at the same time, giving you double the range without the hassle of managing or switching batteries. 
Not only does it have twice as many batteries as the XP 2.0, but both batteries have more capacity individually. The 500-watt nominal mid-drive is more efficient, too, as you have the ability to control the gearing directly while you're riding the bike. 
The torque sensor keeps the bike feeling like a bike on pedal assist, while using the throttle in conjunction with the shifter lets you modulate torque, efficiency, and speed. 
While the XPremium isn't the only mid-motor e-bike, it's pretty much the only one in its price bracket. Almost every other e-bike with a mid-drive is much, much more expensive.
The XPremium gets up to 60 miles of range out of a single charge on throttle alone. Charging both batteries at the same time will require two chargers, but it takes the same amount of power to charge two 10.4 aH batteries as it does to charge one 20.8 aH battery. 
As long as you're willing to devote two wall sockets, there's not much of a downside.
Final Thoughts
All three of Lectric's folding e-bikes are great options. 
The XP Lite is a brilliant choice for someone who wants a light single-speed bike that's incredibly inexpensive and the XP 2.0 is great for people who want to keep the affordability of the XP Lite while adding features like a rear rack, fenders, a more powerful motor, and a 7-speed transmission.
The XPremium is something a little bit different. It's not just a small upgrade to the XP 2.0 with slightly nicer parts, although it certainly has fatter tires, more than twice as much battery, and hydraulic disc brakes. 
Instead, it's probably the cheapest mid-drive e-bike on the market by a long shot. The fact that it's also a reliable, well-designed folding bike that comes with the racks and fenders you'd want for commuting is just a bonus.
There's a big cost jump between the XP 2.0 and the XPremium. If you're just after a cheap e-bike that's easy to store, you can definitely get away without the mid-drive, the fancy brakes, and the nicer tires and suspension. 
If you're looking for a folding bike with great range that's comfortable to ride over rough roads, however, or you'd like to experience the advantages of a mid-motor e-bike without paying a fortune, the XPremium is your best option by a long shot.