I'm not a pro athlete. I'm a bike commuter. And still, I love seeing my stats! Even though I could guess with a high accuracy how much I ride each month, reading those numbers on the screen of my bike computer gives me satisfaction. 
If you're a casual cyclist, a commuter or an enthusiast like me, and you don't need many fancy advanced options in a bike computer, you've come to the right place. 
If you are looking for the cheapest bike computer ever produced, please STOP READING and go to Aliexpress to buy the cheapest junk you can find. Just make sure you buy 3 or 4 of them because you get what you pay for. However, there are some really interesting options in the 30-100 dollar price range. If you are looking for affordable bike computer options that will serve you for years to come, this is the article for you.
Model
Outstanding feature(s)
Technology
Cateye Velo 7
Wired
Long battery life
All the basics, and nothing more
Sensor, wired
Cateye Padrone
Data in multiple break-downs
Time, distance countdown
Sensor, wireless
Garmin Forerunner 35
Portable (Wristwatch)
Loads of features
GPS
Bryton Rider 15
Sensor connectivity
Built-in compass
Measures ascent, descent 
GPS
CYCPLUS M2
Large screen
Cadence sensor and power meter connectivity 
30 hours runtime
GPS
Lezyne Macro Easy
Breadcrumb trail
Lots of data fields displayed
GPS
Best Large Screen Option: CYCPLUS M2
I've used this model for a while and I'm quite happy with its performance. It strikes a good price to features ratio. It's one of the most affordable GPS units you can buy, and you get a reliable, durable bike computer for your money.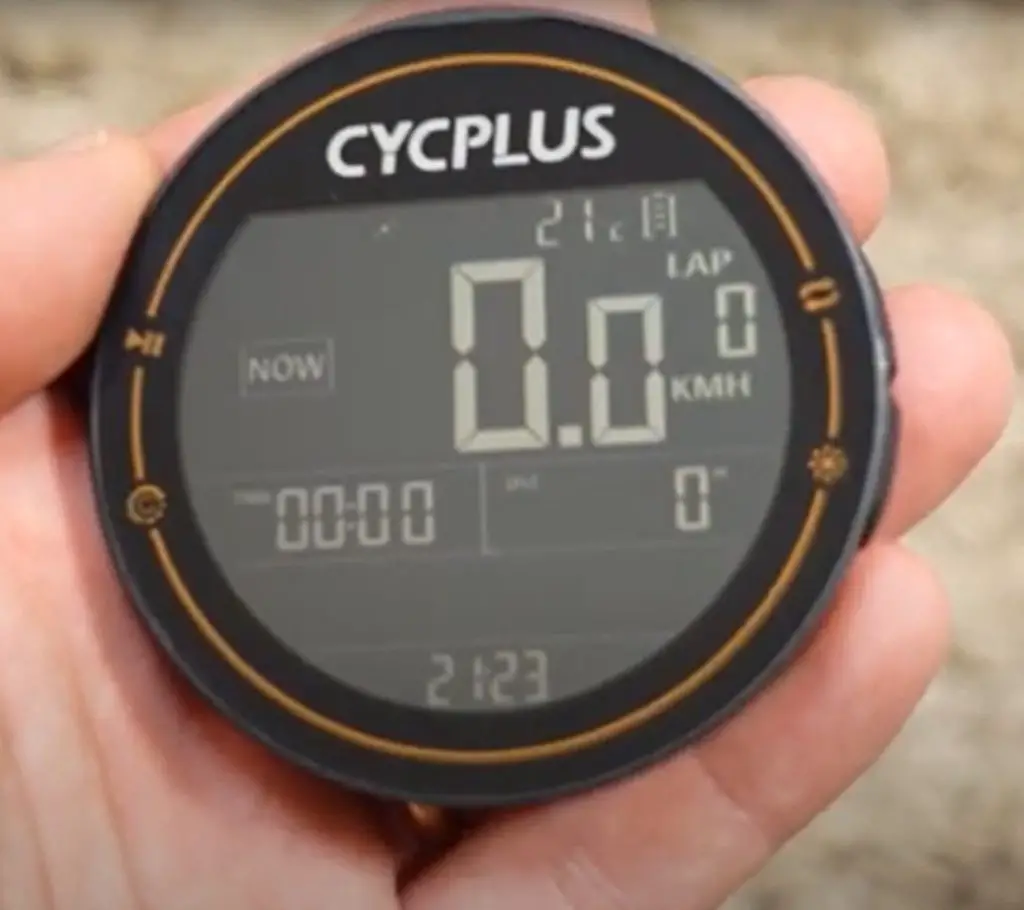 I like that it has a large easy-to-read screen that can display quite a lot of data at a time. It is highly waterproof, I used mine in the pouring rain and had no problem with it.
The battery has a really impressive 30 hours runtime even if you use backlight mode in the dark. You can use it for weeks for your daily commute with a single charge. 
Aside from all the basic features, it shows you the temperature, the ascent, and gradient, you can connect multiple sensors to it: heart rate and cadence sensors, and a power meter.
I had so far no issues with it. It is easy to sync it with my phone. Syncing to the phone is a manual process, but everything can be automatically uploaded to Strava once synched to the phone app.
If you are looking for an affordable and reliable option with a nice large screen, you should check out the Cycplus M2.
You can pick one up on the Cycplus website and use promocode "HERO" to get 5% off.
Most Portable Budget GPS Option: Garmin Forerunner 35
Garmin Forerunner 35
Easy-to-Use GPS Running Watch that displays your incoming calls and monitors your activity throughout the day.
We earn a commission if you click this link and make a purchase at no additional cost to you.
Technically speaking this is not a cycle computer, but it is one of the most affordable GPS watches that has a dedicated cycling mode. 
Wearing your bike computer on your wrist has the benefit of not having to worry about whether or not you should leave it on your bike when you park it. Also, since you don't mount it and put it on again, you avoid the possibility of dropping it. I'm pretty happy that my bike computer still works since I have dropped three times within the first month of buying it. If you're as clumsy as I am, you will appreciate this feature.
Garmin built a solid unit here, which keeps track of all your riding stats, such as distance, speed, average speed, etc, and it also has a built-in heart-rate monitor, which is an added bonus. It also has the capacity to connect to your smartphone, if you so desire, and gives you notifications.
This is a solid option for those who also want to track their running miles as well as cycling stats all in one device. It also acts as an activity tracker.
Best Budget Wired Option: CAT EYE – Velo 7
Cat Eye is known for producing quality cycling accessories that are outstanding in value. The Velo 7 is one of their entry-level cycle computers, which you can find on Amazon. 
Best Budget Option
We earn a commission if you click this link and make a purchase at no additional cost to you.
If you want to own the simplest, easy-to-read, reliable wired bicycle computer, look no further. The only skill required here is that of installing the sensor with a cable tie to the fork and the magnet to one of the spokes, and you're off. A single-button operation makes this device SUPER easy to operate. 
This computer does only a few things, but it does them well. It displays your current speed, average speed, max speed, total distance, trip distance, elapsed time. It has also an up and down arrow, which indicates if your current riding speed is higher or lower than your average speed, which they call a pace arrow. 
Since the entire system operates on a single battery, which can run up to 3 years if you use it for an hour each day, this is truly the most hassle and maintenance-free option you can find. 
Best Budget Wireless Option: CAT EYE – Padrone
We earn a commission if you click this link and make a purchase at no additional cost to you.
ATTENTION CABLE-FOBES! If you feel like a cable on your fork is going to ruin the aesthetics of your bike or you're just concerned that it may get caught in something while you're riding, the CAT EYE  Padrone may just be what you're looking for.
This cycle computer is just as simple to use as its previously presented little brother. In fact, it is even simpler because instead of having a single button to scroll through the different menus the base of the screen acts as one giant button which is touch-sensitive. Just touch the bottom chin of the screen anywhere to jump to the next menu.
By the way, speaking of the screen, this screen is BIG and easy to read: nearly twice the size of the Velo 7.
Not having a button on top of the device also means superior waterproofing. You can ride this in hail, rain or storm without worrying that water will seep through. It's among the more durable bike computers available.
You get all the same basic functions you get with its wired little brother (rent speed, average speed, max speed, total distance, trip distance, elapsed time, pace arrow), plus additionally, you also get a stopwatch. 
The only downside of this setup is that it requires two batteries to operate, and needs replacing every year if you're a regular rider.
Best Budget GPS Dedicated Bike Computer: BRYTON RIDER 15
My Pick
Bryton Rider 15 GPS Cycle Computer
The Bryton Rider is a simple to use bike computer with a GPS unit. It allows you to connect a cadence sensor as well as a heart rate sensor.
We earn a commission if you click this link and make a purchase at no additional cost to you.
If you're only interested in your cycling stats, you should seriously consider the Bryton Rider 15. I have personally used this for some time now, and I think this is a remarkably simple, but very good option.
Besides all the standard basic features you can expect in a GPS bike computer, it also boasts some additional features, including the possibility of connecting a cadence sensor, a heart rate monitor, it has a built-in thermometer and compass. It displays your calories as well as the total ascent and descent of your ride.
Two features I really love about this computer are the large, easy-to-read screen, which lights up in the dark, and the long, 16-hour battery life. This battery life falls short of the sensor-based units, but it is truly outstanding among GPS computers, especially considering the compact size.
The Rider 15 is compact enough to fit in your pocket, yet tough enough to withstand all kinds of severe weathers and even the occasional dropping (I've tested this without even wanting it).
It has a simple operation with three buttons, and it connects to your smartphone to download the data. 
Acquiring a GPS signal upon startup is fast enough: it takes about 10-30 seconds. 
Originally I used a bike computer from Decathlon's own brand, and when it stopped working I upgraded to the Bryton Rider (you can check it out on Amazon here), which I consider an underrated hidden gem in the world of fancy and expensive GPS computers.
Best Compact Option: Lezyne Macro Easy GPS
This is a great, extremely durable, and very compact model. If you would like a sturdy option that gives you plenty of data of your ride and you want all that from a nicely compact design, the Lezyne Macro Easy GPS might be your best bet. 
Although the $85 is on the pricier end of the spectrum, you will get plenty of features in exchange.
Like all the other options it will give you the basics stats about your speed and distance, and in addition, it has a breadcrumb trail feature that will give you a basic outline of your rides. It has a nice backlight for the dark and you can set it up so that it turns off after 10 seconds. 
Although the screen is pretty compact it can display quite a lot of data at a time. The battery has a 28 hours runtime, which is quite impressive. 
Similarly to the Cycplus M2, the Lezyne Macro displays your calories as well as the total ascent and descent of your ride. In addition to the thermometer, the Lezyne Macro has a compass built-in. 
GPS vs. sensor-based
The biggest dividing line among bike computers is whether they measure your speed and distance based on GPS data or data collected from your bicycle wheel.
GPS bike computers
GPS technology has become very affordable in recent years, so some of them are very strong contenders in what may be the best bike computer for you. Some GPS computers come with basic features such as recording data, while others are equipped with more advanced ones, such as navigation, training plans etc. Usually, the more you pay the more features you get.
All GPS bike computers collect data from satellites, which has several advantages.
They give you very accurate data of your rides.
They record your speed, distance and EXACT ROUTE, so you know where you were riding.
They don't require calibration.
They don't require installation other than mounting on your handlebar.
GPS bike computers are not without disadvantages, however. Here are some points where they fall behind traditional bike-mounted sensor counterparts:
Acquiring a GPS signal takes time, which can range from a couple of seconds to a minute depending on your device and on weather conditions.
You need to start recording your ride every time you set out
You can lose signal when riding through deep forests, under bridges or in tunnels. When there is no signal, no data is recorded.
Using GPS drains the battery pretty fast, which means that you will need to charge them pretty often. Every 5-16 hours depending on the model.
Sensor-based computers
Sensor-based computers, on the other hand, collect data from the sensor mounted on the fork and the spoke. Since we know exactly how much distance the bike moves forward with each wheel revolution, it's easy to calculate the speed and the distance from the data received. 
Some sensors transmit the signal to the main unit through a wire, while others wirelessly. Having a wire means a visible wire running on the fork to the computer, but in return, it's a more reliable way of transmitting the impulse, and the sensor doesn't require a battery. A wireless sensor is neater, but it runs with a battery, which means two batteries in the system (one in the computer and another one in the sensor). 
There are some awesome benefits of sensor-based bike computers that make them appealing:
They are generally speaking less expensive than GPS computers
Batteries don't need to be recharged or changed very often. They can last for months or years.
Data is recorded automatically without having to start the computer
Data is collected even in tunnels, dark forests etc., since you're not relying on a clear GPS signal
There are some reasons why you may consider that a sensor-based bike computer is not the best option for you:
They collect some data about your ride, but they don't show you exact locations and exact routes. When it comes to checking terrain, this may be something important to you.
Sensor-based bike computers require calibration before they can be used. This can be done with high accuracy, but GPS coordinates give you a more reliable reading of your ride (unless you're riding through many tunnels).
Even the most advanced models can't do navigation.
Let's dive into the world of the best budget bicycle computers you can buy.
Conclusion
Wanting to keep track of your miles means that you care about the amount of physical activity you do. A bike computer can be a great companion in this because it can inspire you to go further and faster.
Hopefully, you can find something that fits your budget and needs. 
Happy Riding!