A lot of people haven't heard of cycling jeans, and the thought of cycling in those old boot-cut denim jeans is enough to make any self-respecting cyclist wince. But there ARE cycling jeans out there, specifically designed to be worn whilst cycling. Don't worry if you've never even heard of them, because today we'll clear it all up for you. 
So, how do cycling jeans differ from regular jeans? 
Well, the main difference is the design. You won't notice it in the way they look, but you will in the way they feel. It'll feel much more comfortable when on your bike compared to regular jeans, they won't wear down as easily or feel as uncomfortable as you ride. 
If you want to learn about how cycling jeans can make a difference to your rides, and you're interested in knowing the best jeans for cycling, then stick around. Today's post is perfect for you!
What Are Cycling Jeans And How Do They Differ From Regular Jeans?
As we touched on above, cycling jeans are jeans that have been specifically designed for cycling. To look at them, you probably wouldn't be able to tell them apart from regular jeans. But when you try them on, the differences are obvious because of the way they fit.
Everything fits slightly looser, and that's to allow for more comfort whilst sitting and moving for extended periods of time. 
Think about it, when you're riding along your legs are moving constantly whilst you're sitting down. Wearing regular jeans for this is so much more uncomfortable because they're designed to be a little bit more form-fitting.
Regular jeans are a working person's trouser choice, and all they need to be is durable and to stay up all day. At work, you don't sit down and move your legs constantly, so there is no need to factor this into the design. 
With cycling jeans, there is, and they have a number of key features that support that.
Key Features Of Cycling Jeans
Seat: reinforced to allow for constant movement and to keep it durable – also designed to sit a little looser to be more comfortable
Waist: designed for comfort, so are looser fitting to allow for your constantly rotating hips when cycling
Denim blends: most cycling jeans will use denim blends for stretchier materials that allow for better movement and breathability
Cut: rather than being boot cut or cowboy cut, most of these are 'cycling cut' meaning it sits lower in the front and higher in the back for comfort
Reinforced: These jeans are usually reinforced in key areas (like the right knee by the drivetrain to prevent tears, etc.)
With these key differences, cycling jeans prioritize comfort and durability, whilst still remaining stylish enough to jump right off your bike, go out to eat with friends, and then cycle home again comfortably!
Best Jeans For Cycling
To help you decide which jeans for cycling are the best for you, we've put together a brief list of 5 of the best jeans for cycling where we'll talk a little about the best parts of each pair so you can decide if any of them would work for you! Ready? Then here they come:
DUER All-Weather Denim
DU/ER All-Weather Denim
Any time, any place, any weather*. DUER All-Weather Denim has a wind and waterproof membrane, and tons of other tech features to keep you safe, warm and dry.
We earn a commission if you click this link and make a purchase at no additional cost to you.
The name kind of gives away the most exciting feature about these jeans, but DUER All-Weather Denim jeans are THE jeans to buy if you're somebody who likes to cycle no matter the weather. 
Breathable in the heat, and waterproof in the wet, these jeans really do cover all the bases. They're super comfortable too, and here are just some of their best bits:
70% cotton denim, 28% Coolmax all season polyester, 2% lycra spandex – waterproof, breathable, and stretching for maximum comfort
Deep pockets for carrying valuables that won't fall out when riding
Polyester membrane sewn inside – making riding even more comfortable
Reflective logos – at the back and on the trouser leg – small enough not to cramp your style, but large enough to be seen
Osloh Denim Traffic Jeans
Osloh Traffic Jean
A modern jean in a slim fit that offers bicyclists the best details and feature set available in a 5-pocket style that moves effortlessly from the bike to the destination.
We earn a commission if you click this link and make a purchase at no additional cost to you.
Osloh denim traffic jeans are some of the most comfortable cycling jeans you'll find anywhere, and some of the most stylish too. Osloh jeans were specifically designed to be comfortable whilst riding, but look great when you make it to your destination. And they definitely do that. 
There are so many features to love, but here are a few:
Reinforced seat and crotch with quilted poly chamois for added comfort and durability
98% cotton, 2% spandex – look just like regular jeans but with the stretch you need for a comfortable ride
Turning wheel embroidery – designed to withstand constant cycling, so less chance of rips and tears
Adjustable snap waistband side tabs – so you can adjust the fit as you sit!
Swrve Cycling Jeans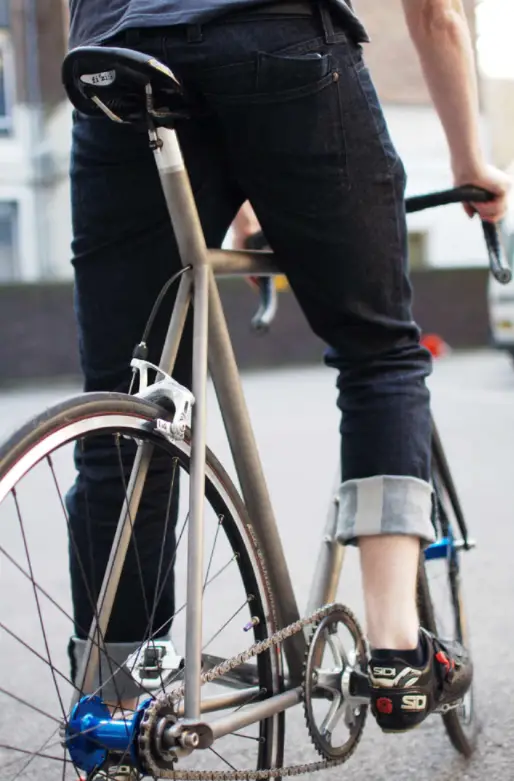 Swrve cycling jeans come in a range of fits to suit your style, but all of them are perfect cycling jeans because of their innovative and ergonomic design. 
They're all designed to sit lower at the front (to avoid belts digging into your gut as your ride) and higher at the back (to cover skin as you ride). And there's even more to love:
Rivets along the jeans for added durability to keep you riding as often as you need to
Seamless diamond gusset – to allow for even more comfort as you cycle along
4 way stretch – allowing for full 360 degree movement without chafing or waistbands digging into you
Triple chain-stitch on all the key parts that wear down the most whilst riding to reinforce these areas
Rapha Cycling Jeans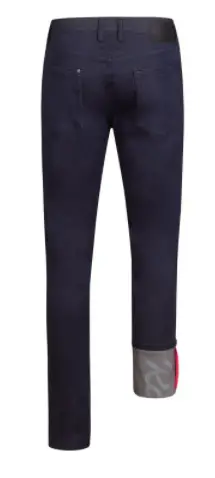 The best thing about Rapha cycling jeans has to be that it's designed with city commuters in mind. That means, if you're somebody who casually rides bikes around cities, you'll want to pay closer attention to these jeans, because their design and style constantly keep city cyclists in mind. 
Here are some of their best features:
Material is stain-resistant and fast-drying for safer use in cities
Hi-vis logo on the inside of jeans – meaning you can roll them up to be seen on your bike, and roll them down so they don't cramp your style
High stretch 11.4 oz denim specifically designed for comfort when cycling
Stylish, yet comfortable cut, tapering at the knee
Levi's 511 Flex Jeans
Levis 511 Flex Jeans
A modern slim with room to move, the 511 Slim Fit Stretch Jeans are a classic since right now. These jeans sit below the waist with a slim fit from hip to ankle. 
We earn a commission if you click this link and make a purchase at no additional cost to you.
Levi's jeans are known for their durability and high quality, so it's no wonder people use their 511 Flex jeans as part of their cycling attire. 
You can trust in a name like Levi's and know for certain that the jeans will be fit for purpose. But to prove just how well suited this particular pair of Levi's is to cycling, here are some of the key things you need to know:
99% cotton, 1% elastane – giving brilliant stretch whilst still looking like authentic Levi's
Designed for flexibility whilst the high quality denim still holds its shape even after continued use
Classic fit, so incredibly stylish when off the bike too
Range of color options available to suit your style, though it's worth noting that these jeans aren't 'cycling jeans', rather 'jeans that are good for cycling'…
Round-Up
Cycling jeans will change the way you use your bike, there's no doubt about that. No longer will you have to make a choice between cycling comfortably or cycling stylishly, because all 5 of these jeans have that sorted. So, think about which of these 5 best jeans for cycling is best for you, and then pick up a pair! You won't regret it.