If I could only ever have one bike, I would easily choose a gravel bike. Gravel bikes can do it all (almost). With just a simple swap of tires, you can go from road to trail, from commuting in the urban jungle to day-long treks in the mountains. And if you're going to commute, a gravel bike is a great choice for a number of reasons. 
Gravel bikes make great commuter bikes with comfortable geometry, lots of mounts to carry your gear, and nice wide tires. However, if you are looking for a high-quality entry-level gravel bike, consider bikes such as the State AllRoad, Trek Domane, LIV Devote, Jamis Renegade, a Diverge, Salsaman, and even the Canyon Grizl AL. 
In this article, we'll talk about the best entry-level gravel bikes for commuting and what makes them unique. You'll get an overview of some great bikes for both adventure riding and daily commuting. But first, we'll talk about what makes a great commuter bike and why gravel bikes are great for commuting. 
What Makes a Great Commuter Bike 
Before you run out and purchase your first commuter bike, you might want to have an idea of what makes a great commuter bike. Let's take a look at a few things you might want to consider when commuting. 
Comfortable position. Do you have the need for speed on your way to work? Or would you prefer a more relaxed riding position, so you have a little more comfort on the bike? Many gravel bikes offer a more upright position for comfort during long rides, but a few will have an aggressive, racy position that gives you more speed. 
Terrain, weather, and tires. What kind of terrain will you be riding on to get to work? Will you be riding through nicely paved neighborhoods? Or a trail through the woods? Or a little bit of both? If you aren't on perfectly smooth tarmac all the time, you'll want to consider a bike that can accommodate wider tires that have more grip. Similarly, if you'll be riding in less than optimum conditions (like rain or snow), you'll want wider, grippier tires to help you stay safe when it's slippery. 
Rack mounts. A good commuter bike will have rack mounts so you can carry all of your gear. Many gavel bikes come standard with bottle cage mounts as well as top tube and fork mounts to give you extra spots for accessories. 
Fender mounts. If you are riding to work in muddy conditions, you'll want to be able to install some fenders to help keep you from getting muddy on the way there. 
Lights. Will you be riding after dark? Your bike will need a spot to hold lights. 
Gearing. Again, what kind of terrain will you be covering? Is your ride to work flat and easy, or is it hilly and hard? You may want lots of gears to manage hilly terrain with ease, but if you're only riding flat roads, you might want the simplicity of a fixed-gear bike. 
Easy Shifting. You don't want to have to worry about shifting on your commute, so you might want to consider the simplicity of a 1x setup. A 1x setup gives you a single chainring in the front and a standard cassette in the rear. As a result, you'll have fewer gears to worry about and less chance of chain drop. 
Standard and Sturdy Components. If you depend on your bike to get to work, the last thing you want is to have to take it to the bike shop all the time. Most gravel bikes are meant for rough roads and messy conditions, so they'll be sturdier when compared to a lot of other bikes since they're meant to take a bit of a beating. Also, look for bikes with standard components, like standard handlebars and Shimano or SRAM components – so you don't have to spend weeks waiting on bike parts if you do need to have something replaced. 
Multiple Disciplines. Commuting is a great way to stay fit, but you might want to ride your bike in other ways, too. Perhaps you want to hit the gravel trails, try a little bit of cyclocross, or even hop on a road race. So when you choose your commuting bike, consider other ways you might want to use it. A gravel bike can cover a lot of ground and different types of riding. 
Why Are Gravel Bikes Good for Commuting 
Gravel bikes make great commuting bikes because of their versatility. Most gravel bikes can easily accommodate racks and fenders, so you can carry all your gear without getting messy. 
They usually can accept wider tires as well as skinny slicks, so you can easily switch your gravel bike from off-road adventures to urban rides, as well. Gravel bikes typically have a wide range of gears for a variety of terrain and are made to take a bit of a beating. 
Best Gravel Bikes for Commuting 
If you need a little direction in finding a great gravel bike for commuting, you'll want to consider these amazing bikes. These bikes lean towards entry-level type bikes but don't worry, you'll get a lot of great components for your investment.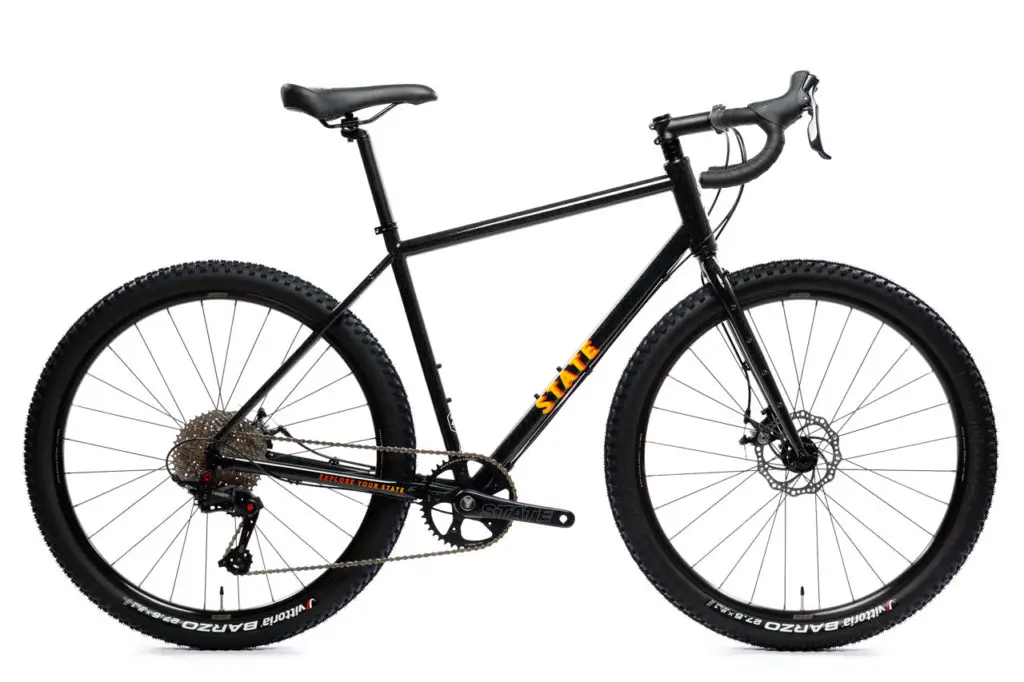 The 4130 All Road, as it's called, is probably the most bang for your buck as far as a crossover commuter and gravel bike. This bike is extremely affordable at under $1000, and you can choose 650b tires for graveling or 700c for on-road. Better yet, get both sets for flexibility so you can take your All Road on all the roads! The All Road boasts a comfortable steel frame, drop bars, 1x gearing, and mounts for fenders and racks. For a bit more, upgrade to a carbon fork for an even more comfortable and slightly lighter ride.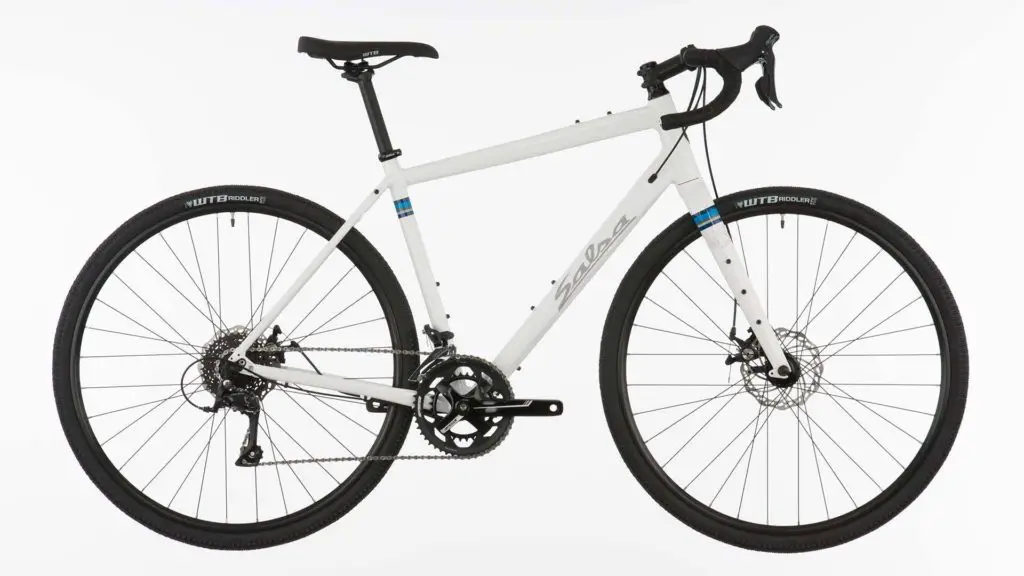 If you want gears, you've got them with the Salsa Journeyman's 11/34 cassette and 46/30t chainring. 700c x 37 tires will give you grip on rough roads but still give you some nimble responsiveness on smoother tarmac. There are plenty of mounts for your rack and fenders, too.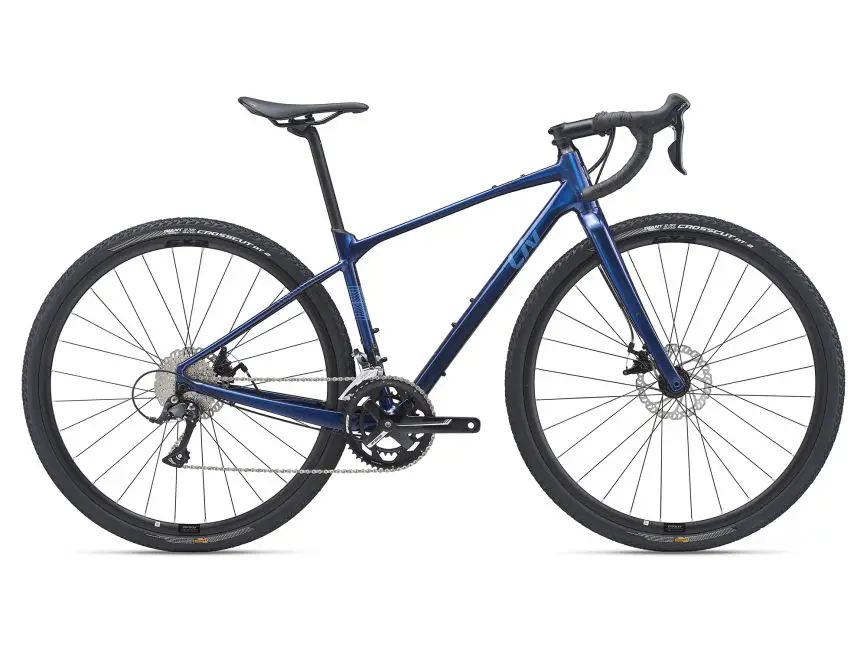 The LIV devote was carefully designed for all-weather performance. A specialized seatpost and headtube smooth on the road to keep you more comfortable when the terrain is rough. Beefy tires give you lots of grip on the road, too. The aluminum frame is light and snappy and has plenty of mounts for all of your necessary accessories, like work bags and water bottles.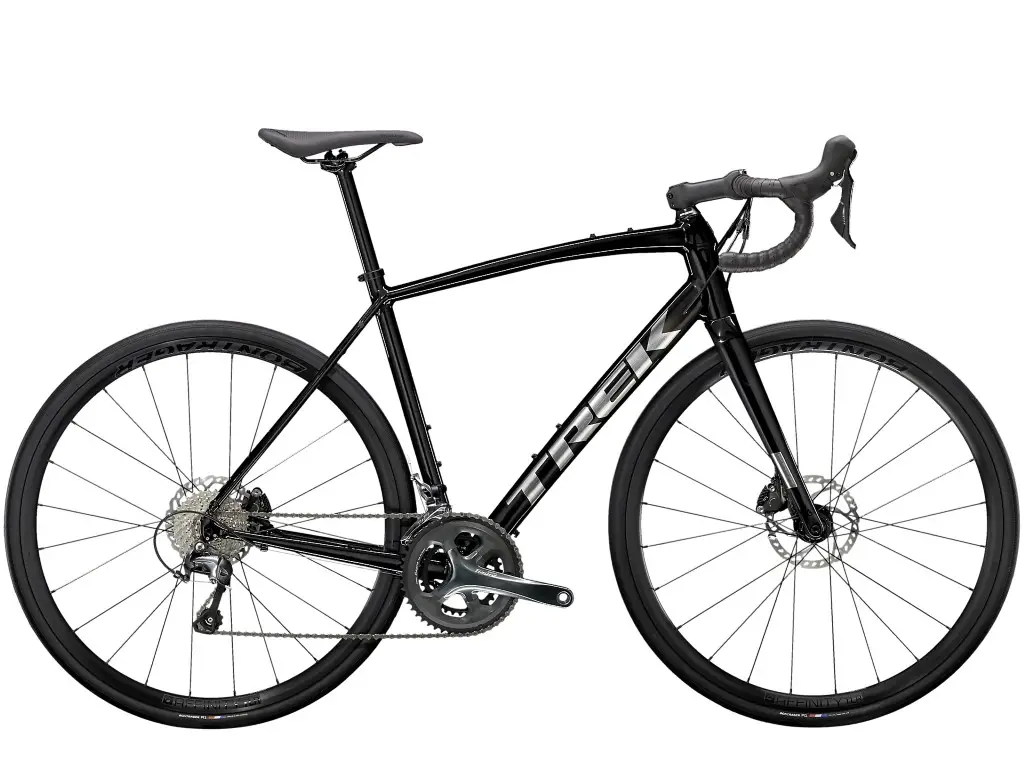 The Trek Domane is not the cheapest gravel bike out there, but it's still a reasonably priced bike. Some call it a road bike; others call it a gravel bike. I say it falls perfectly in-between the two, making it an excellent bike for commuting, racing, and off-roading. I love the Trek Domane because the quality aluminum frame keeps the costs lower but still offers the impressive stopping power of hydraulic disc brakes. In addition, with wide tire clearance, you can switch out your slicks for a pair of chunkier tires to hit the trails or keep the slicks for your commute in the city.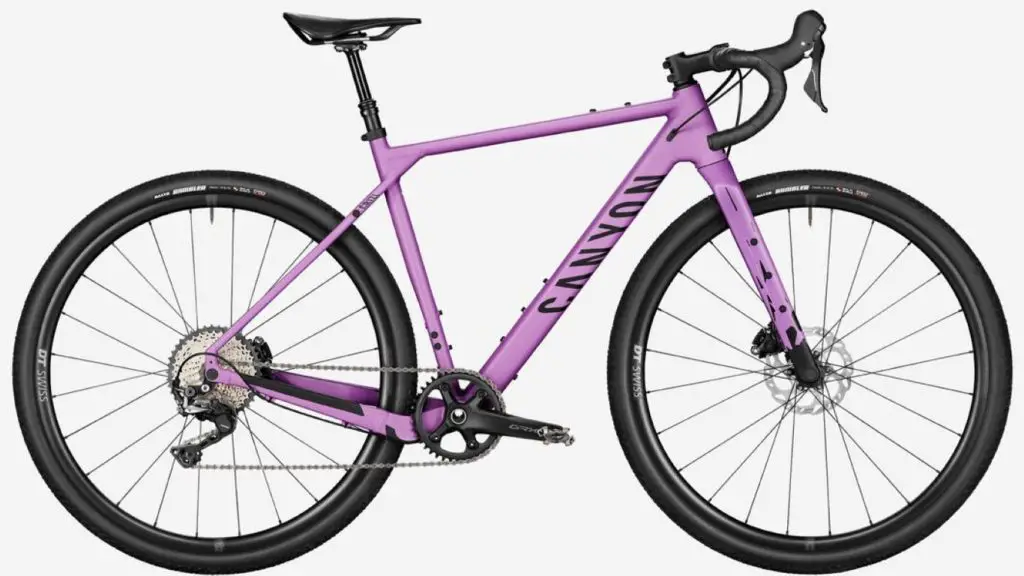 A sleek aluminum frame with a carbon fork provides a comfortable ride over all types of terrain. You'll get standard mounts and loads of extra mounts on the top tube and front fork for all of your work or travel gear. The Grizl provides a standard-sized cockpit, so it is ready for your bags, computers, bells, and lights, too. A 1x drivetrain gives you a range of gears and simplified shifting. And with extra-wide tire clearance, you'll be able to put on the grippiest tires to help you commute in just about any weather.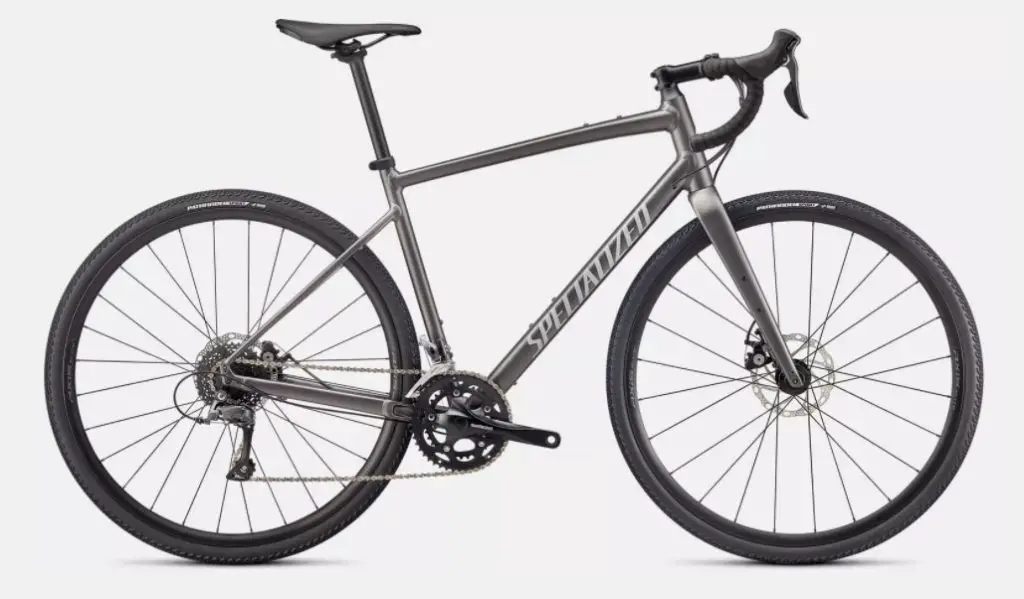 The E5 is a highly capable, extremely versatile entry-level gravel bike. This bike was designed for speed but on and off-road! It sports a lightweight aluminum frame with a chatter-absorbing carbon fork. A drive-side chainstay gives the bike oodles of tire clearance so you can pick wheels as wide as you need for the terrain you commute over. And there are plenty of mounts for you to bring your work bags or your camping bags, whichever suits your day. Shimano Claris 2x drivetrain and mechanical disc brakes give you a lot of bang for your buck, making this a great bike at a great price.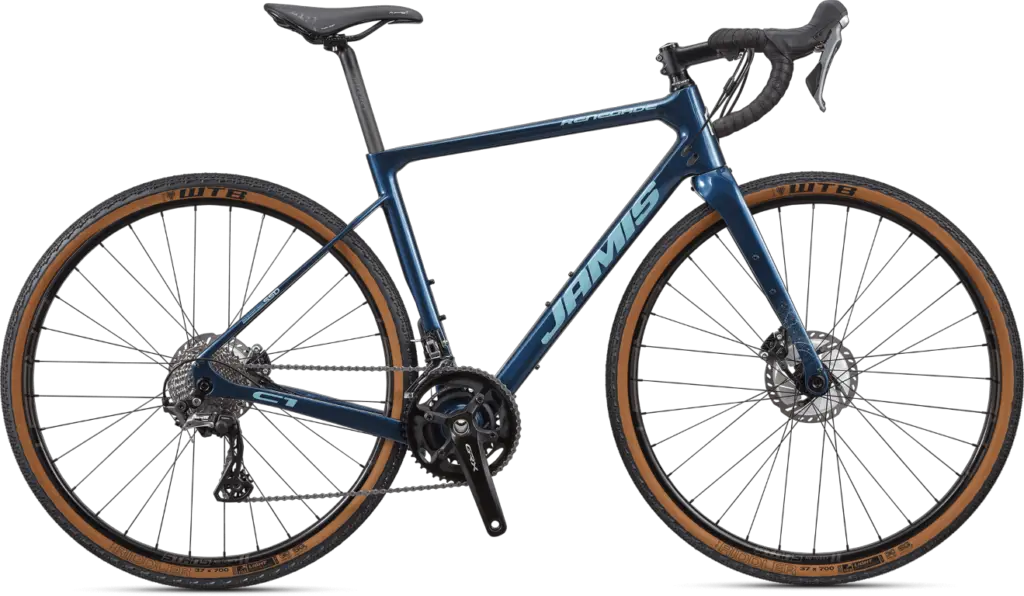 Jamis makes a well-rounded, entry-level aluminum frame. But what makes it extra special is its size-specific design. They adjust the geometry of the bike for smaller riders. In addition, Shimano Claris 50/34 crankset gives you an excellent wide range of gears for all kinds of terrain. Your A1 will take anywhere from 700cx37c tires to 650c x 40x tires, so you can choose what suits you for road or rougher terrain. And of course, it has racks on the forks, top tube, down tube and will hold plenty of gear.