Just because you commute on your bike doesn't mean it can't be fun. The Aventon Pace 500, Ride1Up 500, and KBO Breeze all split the difference between a fun, relaxed city cruiser and a workhorse commuter e-bike. 
Their upright geometry and swept-back bars help keep you comfortable while you ride, and the powerful hub motors and large lithium batteries ensure that your bike has plenty of speed and range for medium-distance commutes. 
If you're looking to do a lot of riding and you prefer a more upright, relaxed style, one of these bikes will be perfect for you.
Overview of the Bikes
Before we start, it's worth noting that these bikes are VERY similar. While there are certainly a handful of differences that distinguish them, they're all fairly small and have a lot to do with personal preference. 
Electric bikes built for everything and priced for everyone. Shop Rad Power Bikes, America's #1 electric bike brand. Get out. Go further. Ride Rad.
If one of these bikes is on a particularly good deal when you're reading this, you'll almost certainly want to choose that bike over the other two.
Aventon Pace 500
The Pace 500 ebike provides the rider with ultimate balance of comfort and power. With an upright cruiser frame and a cushy saddle, you'll have excellent riding posture and will not want to stop the fun!
We earn a commission if you click this link and make a purchase at no additional cost to you.
The Aventon Pace 500 is a comfortable commuter/cruiser hybrid that's built for a blend of range and speed. Of the three bikes here, it's the most powerful in practice, making it a solid first choice in the absence of other preferences. 
It does not come with fenders or racks, however, making it more expensive than the others if you plan to carry things while you commute.
500 Series - Ride1UP
The 500 Series, our original best selling model. One of the most popular eBikes available in 2020; an all-surface performing lightweight and uniquely agile bike designed for comfortable touring over long-distances.
We earn a commission if you click this link and make a purchase at no additional cost to you.
The Ride1Up 500 shares the same commuter/cruiser hybrid role, but it's tuned for range instead of power. Expect a few more miles per charge, but expect to struggle more on hills. Included fenders and a rack keep the actual price down for commuter use.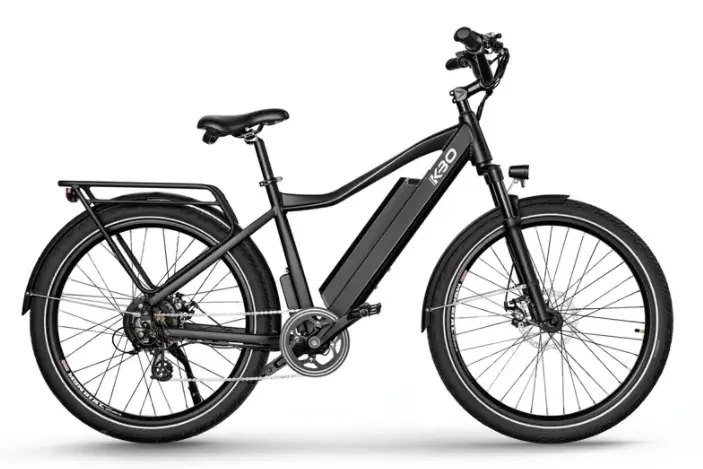 The KBO Breeze is extraordinarily similar to the Ride1Up 500, to the point where it's likely that they both use the same third-party frame manufacturer. A larger battery gives it more motor push per charge, but the added weight keeps things close to even in practice.
Weight, Design, Build Quality
The design of all three of these bikes is very similar. They have high, swept-back handlebars that feel quite similar to a cruiser-style bike and short reaches to help support an upright riding position. 
All three have frames with top tubes that are angled down towards the seat tube, helping riders step over the frames. Despite this concession, all three bikes are available in step-through variations as well. 
The battery is semi-enclosed on all of the bikes, resting on top of the down tube to keep the center of gravity low and central.
While these bikes are very similar, the biggest and most measurable difference is the weight. 
The Aventon Pace 500 weighs 49 lbs without any accessories, which are not included. The engineers have carefully stripped off as much weight as they can to help keep the bike feeling fun and responsive without sacrificing durability or quality. 
As you might expect, this makes the bike very slightly more expensive than the others, but only just. The lighter, smaller 11.6Ah battery helps here, too, but you'll probably find that the weight reduction ensures that you don't lose much range as a result of this.
The Aventon Pace 500 has a hard front fork, but it's got a comfortable seat and 2.2″ wide tires that you can underinflate to reduce shocks. You'll probably be riding this bike in the city on paved roads, so the lack of front suspension is unlikely to be an issue.
The Ride1Up 500 comes in at 57 lbs, which makes it feel a fair bit heavier when you ride it. It's well-engineered, but the bigger 13Ah battery contributes a few pounds of weight. The racks and fenders don't help here, either, but they're also very nice when it comes to commuting when it's wet or while carrying a briefcase. 
It's got a Suntour coil-spring fork with 100mm of travel, which is quite a lot for a bike like this, ensuring that you can tackle mildly bumpy pavement with no issues. 2.2″ tires give you plenty of stability and can be slightly underinflated for a smoother ride.
The frame on the Ride1Up 500 (and the KBO Breeze) is a bit more stylish than the Aventon Pace 500, which has a utilitarian, no-frills design. The Ride1Up 500 complements its bold, cruiser-inspired frame with accented leather handlebar grips and a colored seat, helping it stay classy.
As mentioned above, the KBO Breeze is virtually indistinguishable from the Ride1Up 500 to the casual observer. The 18Ah battery contributes to a higher weight of 62 lbs, while the front fork has slightly less travel. The 80mm provided is still more than enough for the type of riding this bike is meant for, especially when combined with the 2.4″ wide tires.
While the frame on the KBO Breeze looks similar to the Ride1Up 500 in shape, KBO's design team has made the bike available in some pretty bold colors. The black version isn't quite as classy as the Ride1Up 500, but the orange version is definitely an attention-grabber.
Components
The big difference between the components found on these bikes is the brakes. The Aventon Pace 500 somehow comes standard with hydraulic disc brakes, which is very unusual at this price point. 
Hydraulic brakes are a game-changer on e-bikes due to the added weight of the battery and motor and the high average speed you'll find yourself going at. The faster your bike comes to a stop, the better.
All three bikes use similar Shimano derailleurs, with the Aventon Pace 500 utilizing an Altus 8-speed system instead of the 7-speed Acera system found on the Ride1Up 500. 
The difference between 7 and 8 speeds is unlikely to make a difference here, especially with the 500W nominal hub motors in all three bikes helping you maintain your cadence.
KBO is a lot dicier about their component specs than the other two bike manufacturers, which makes it difficult to compare the bikes. 
It's very likely that they're reacting to continued supply line disruptions and they simply don't want to disappoint or confuse customers when they have to substitute between very similar components. The bike you'll get will still be of good quality, but you might receive a very slightly different derailleur. 
This sort of sudden substation might happen with any of the three bikes, but KBO seems to be the only one unwilling to advertise component specifics.
Range and Speed
Of the three bikes, the Aventon Pace 500 is the most noteworthy in this department due to its shockingly large range on the smallest battery. 
The Pace 500 gets something like 25 miles per charge on the max pedal assist and about 51 miles on the lowest pedal assist level. This is quite impressive, especially considering that the bike is likely to average well over 20 miles per hour on the highest assist level.
In terms of power, the lighter weight on the Pace 500 contributes to it feeling more powerful than the other two bikes, especially up hills on throttle only. 
Some combination of the weight reduction, the lack of accessories, and the controller's programming and power enables this bike to zoom up hills and speed along flats in ways that are quite impressive for its weight and range.
The Ride1Up 500, by contrast, gets about 28 miles out of a charge on the highest pedal assist level and nearly 70 miles on the lowest pedal assist level. 
The bike feels fantastically fast on higher pedal assist levels, but on throttle alone, it feels somewhat underpowered compared to the Aventon Pace 500. Expect to help the bike up hills. This shouldn't be a downside in practice. You'll still have a motor and a 7-speed derailleur taking much of the effort out of the task. 
The Ride1Up 500's overall motor and battery performance are great, and the bike is a blast to ride on any assist level.
The KBO Breeze is quite similar in terms of range and speed to the Ride1Up 500, to the point where it's unclear if the bigger battery is actually helping. You'll get about 26 miles out of a charge on the highest pedal assist, which is within rounding error of the Ride1Up's 28. 
If anything, the KBO Breeze's controller errs too much on the side of dumping out lots of power, giving you more assistance on lower pedal assist levels but draining the battery faster. Still, this means that the bike tends to perform notably better on hills on throttle-only than the Ride1Up 500.
All three bikes have big enough motors and generous enough controllers that your speed on flat ground is largely limited by laws concerning e-bike speed, not the bikes themselves.
Final Verdict
If you're after a cruiser/commuter hybrid e-bike for relaxed, comfortable city riding, all three of these bikes are very similar. There's nothing wrong with choosing between them based on price, color, or virtually any other factor.
The Aventon Pace 500 is lighter, lacks a front fork, fenders, or a rear rack, and seems to have the best-configured controller. It zooms up hills and manages to have incredible range despite the smaller battery. 
Hydraulic disc brakes help you stop faster, keeping both you and the people around you safe. While its design is somewhat bland compared to the other two, it's probably the best bike for light commuting in a dry area if you don't need a rack.
The Ride1Up 500 is a bit heavier and comes with racks, fenders, and a 100m travel front fork from a fairly good brand. 
The bigger battery seems to be offset by a stingier controller when it comes to hill climbs, but it can go a fair bit farther than the Pace 500 on lower pedal assist levels. The Ride1Up 500 is probably the best option for anyone who lives in an area where it's wet or anyone who wants to carry things on the rear rack.
The KBO Breeze is shockingly similar to the Ride1Up 500, but the tuning seems slightly worse. The controller is perfectly happy to dispense a lot more power in lower pedal assist levels, negating any range advantage that would have been gained by the bigger battery. 
This makes it faster to pedal around town and more fun to ride up hills, but it's also heavier and doesn't perform any better on longer commutes. KBO Breeze is a solid alternative to the Ride1Up 500 if you prefer power to range, especially if it's on sale.