The Rad Power Bikes RadMission and Ride1Up Roadster are affordable, fun, and simple commuter e-bikes. But what's the difference between these two bikes?
Both the RadMission and the Ride1Up Roadster are budget-friendly single-speed commuter bikes, however the former is a much heavier bike and has more battery range than the latter. The RadMission has a more leisurely riding style, while the Ride1Up Roadster has a more aggressive riding position.
With single-speed transmissions and stripped-down designs that keep both of these bikes lightweight, they're perfect for anyone who wants to go fast in an urban environment.
Unlike complicated e-bikes, these bikes allow you to enjoy cycling without having to worry about gears, suspension forks, and other distractions. Instead, it's just you and the road.
Let's take a deeper dive into the performance, parts, and quality of the RadMission and the Roadster so you can determine which of these e-bikes is right for you. While they're at about the same price point, these bikes are made with two very different sets of riders in mind, so you'll almost certainly prefer one bike over the other.
Summary Chart
| | | |
| --- | --- | --- |
| | RadMission | Ride1Up Roadster |
| Frame | Standard | Fixie-style |
| Riding position | Aggressive | More relaxed |
| Drive | Chain drive | Belt drive |
| Tires | 1.5" wide | 1.95" wide |
| Number of speeds | 1 | 1 |
| Weight | Just under 50lbs | 33lbs |
| Range (ideal conditions) | 35-40 miles on max pedal assist | 12-18 miles on max pedal assist |
| Suspension fork | None | None |
| Brakes | Mechanical disc brakes | Caliper rim brakes |
| Lights | Front and rear | None |
| Racks/fenders | None | None |
| Pedal assist controller | Indicator lights/basic buttons, no display | Display with speed and other statistics |
| Battery | 10.5 amp | 7 amp |
| Rear hub motor | 500W | 350W |
| Price | $1,199 | $1,095 |
Overview
The RadMission is a fairly lightweight, budget-friendly single-speed commuter e-bike. It's designed to keep riding simple, accessible, and fun, and a large battery ensures you've got the range to get to work and back on a single charge. The RadMission weighs a bit under 50 lbs, with the exact weight depending on the frame style you choose. 
The RadMission is available in two frame designs:
the mid-step version is for shorter riders, with a standover height of 28″ (71 cm) for riders with a leg length of 28-37.5″ (71-95 cm),
the high-step version is for taller ones with a standover height of 31″ (78.5 cm) for riders with a leg length of 31-39″ (78.5-99 cm).
RadMission
The RadMission is a slick, stylish single-speed electric metro bike for city riders craving more excitement and utility than your average fixie -- and at a price of $1,199, it's available at our lowest price point ever.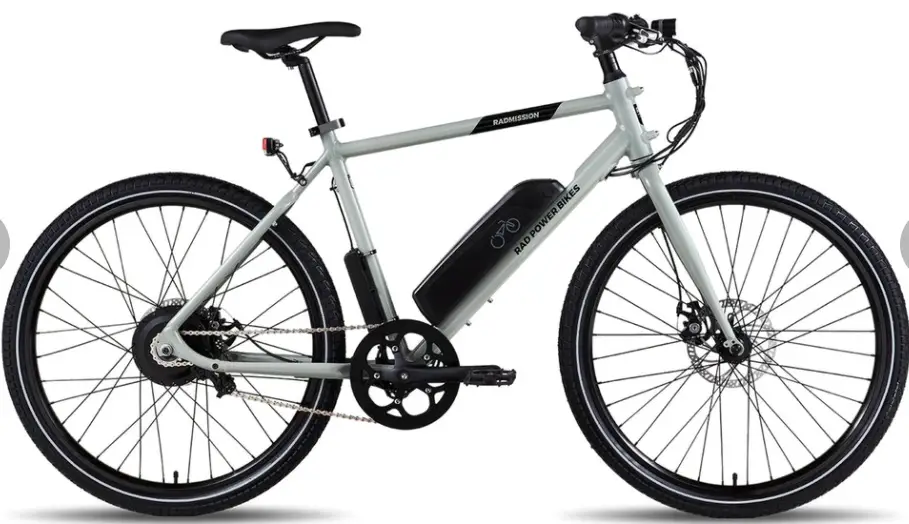 We earn a commission if you click this link and make a purchase at no additional cost to you.
The Ride1Up Roadster is an extraordinarily light, budget-friendly, single-speed commuter e-bike. It's designed for bikers who want a lighter, more responsive, and more aggressive bike. It features a more aggressive geometry, narrower handlebars, and road-bike-style tires, providing a fast and nimble ride that feels very different from the RadMission.
While it's got a similar belt drive, the battery and motor are both much smaller. Given how much lighter the bike is, you still get plenty of power, but the smaller battery does cost you some range. The Roadster weighs 33 lbs, which makes it one of the lightest consumer e-bikes you'll see.
While the Roadster has only one frame design, it comes in two different sizes.
The 52″ version is for 5.3-5.8″ (160-173 cm) riders,
the 58″ version is for 5.8-6.3″ (173-191 cm) riders.
Roadster v2
 Simple, fast, and fun, this electric bike is as clean as it gets. With a completely concealed battery and quiet motor, onlookers aren't going to understand how you pedal so fast. 
We earn a commission if you click this link and make a purchase at no additional cost to you.
Design and Build Quality
The RadMission utilizes a very standard frame with relaxed commuter-style geometry. The large battery sits on top of the down tube, looking somewhat like a lumpy, oversized water bottle.
The handlebars are about where you'd expect them on an entry-level commuter or hybrid bicycle, while the tires are similarly standard hybrid fare. While these choices aren't exciting, they help the bike feel familiar and accessible to riders of any skill level.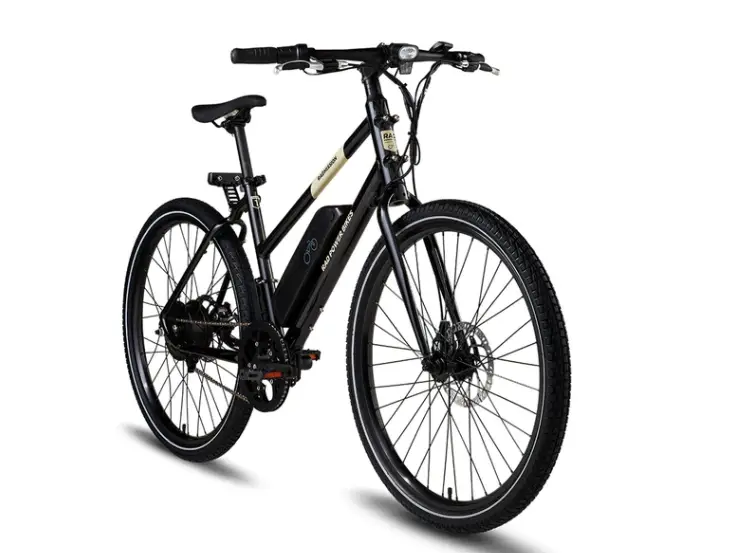 The Roadster, on the other hand, has a fixie-style frame with no visible battery at all. In fact, it's difficult to tell that it's an e-bike without spotting the digital display on the handlebars, and even that is small and inconspicuous enough to avoid casual detection.
The Roadster's geometry is noticeably aggressive, putting you in a more aerodynamic riding position than most other e-bikes. Geometry numbers don't always tell the full story, but they're quite illuminating here.
The Roadster has 26″ of reach, while the RadMission offers 15″.
The Roadster also features narrower handlebars, making it easier to fit through gaps in traffic, and the Kenda tires are 1.5″ wide compared to the 1.95″ tires you get on the RadMission.
As far as build quality goes, both Rad City Bikes and Ride1Up have a great record when it comes to part longevity and customer service. No matter which bike you choose, you'll get a well-built machine that will last for a while. If it doesn't, both companies will almost certainly be willing to work with you to fix any issues.
Components
With no gearing or suspension forks on these bikes, the biggest difference in terms of components comes from the brakes.
The Roadster features caliper rim brakes (not V-brakes, but the other kind), while the RadMission utilizes mechanical disc brakes. In practice, the reduced weight of the Roadster more than makes up for the older, less efficient style of brakes, enabling it to stop in about the same distance as the RadMission. You're not likely to encounter issues in terms of stopping power from either bike.
You will appreciate that the Roadster is equipped with a carbon belt drive, which is maintenance-free, quiet, and efficient and it lasts much longer than a bicycle with a chain drive.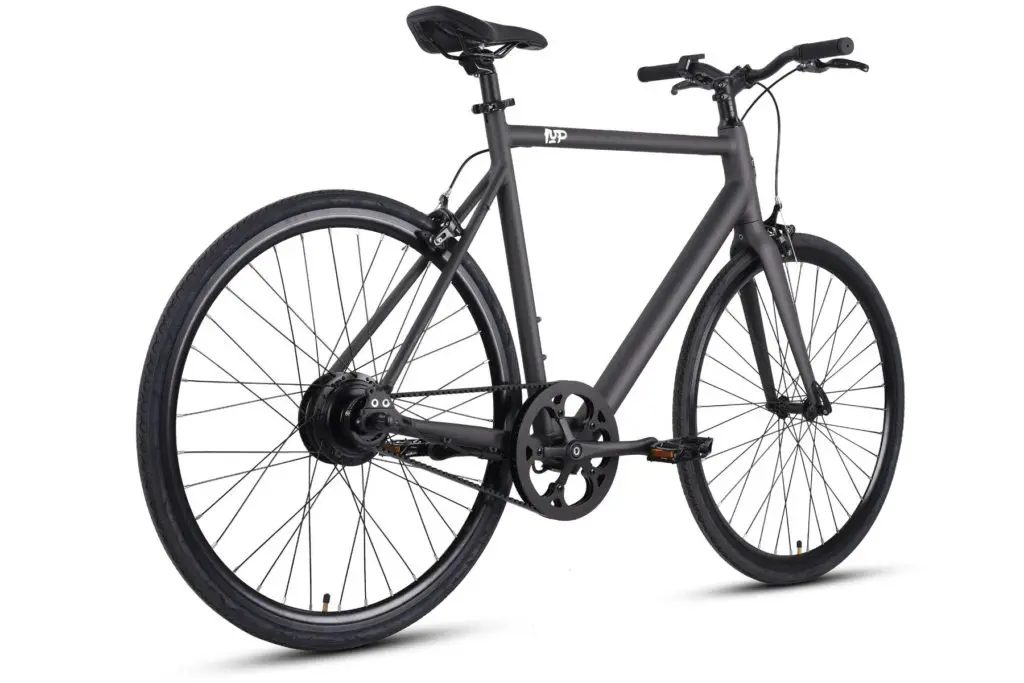 The RadMission does come with a front and rear light out of the box, which is very useful if you plan to do night riding. Its pedal assist controller is somewhat basic, featuring some indicator lights and basic buttons but no display screen of any sort. It does not come with racks or fenders.
The Roadster comes with no lights at all, nor does it come with racks and fenders. As mentioned earlier, the pedal assist controller is on an incredibly small (but quite usable) display, giving you your speed and a couple of other statistics while you ride.
Range and Speed
The RadMission has a 10.5 amp-hour battery, which isn't big for an e-bike but is a fair bit bigger than the battery on the Roadster. Its rear hub motor has 500W of nominal output, but there's a very long disclaimer added by Rad City Bikes which suggests that the motor outputs less power than this under real riding conditions.
In practice, the motor is more than enough to enable the single-speed belt drive to work for all sorts of normal city riding. You might struggle with long hills, but you can definitely help the bike out with a bit of old-fashioned human power to get up some pretty tough slopes. 
Testing suggests that practical range numbers for the RadMission are in the range of 35-40 miles out of a single charge on max pedal assist. These numbers will vary with your weight, the terrain you're riding on, and other factors.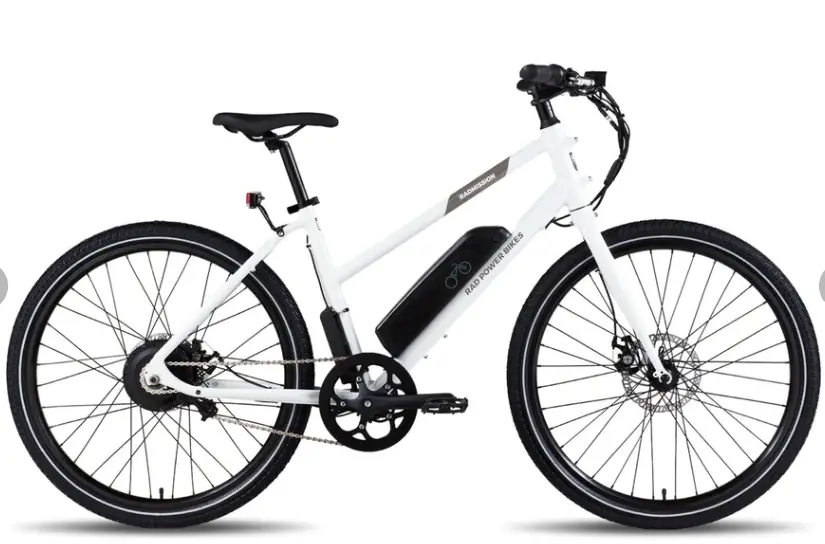 The Ride1Up Roadster has a 7 amp-hour battery, which is quite small for an e-bike. Its rear hub is rated for 500w of peak power, but it generally delivers something closer to 350W. The 540-watt controller seems to get a lot of power out of this motor, making the Roadster seem noticeably more powerful than the RadMission.
This might have something to do with the bike's lower weight, its more aggressive geometry, or its pedal assist settings, but the Roadster definitely climbs steep hills more gracefully and with less pedal effort than the RadMission. Neither bike is really designed for this sort of use case, but if you've got a big hill on your commute, you'll probably prefer the Roadster. If you've got more than one big hill, you may prefer a bike with gears.
Testing suggests that practical range numbers for the Roadster are in the range of 12-18 miles from each charge on max pedal assist. This is definitely a big cut from the RadMission's numbers, suggesting that the Roadster's controller is a lot less stingy than the RadMission's.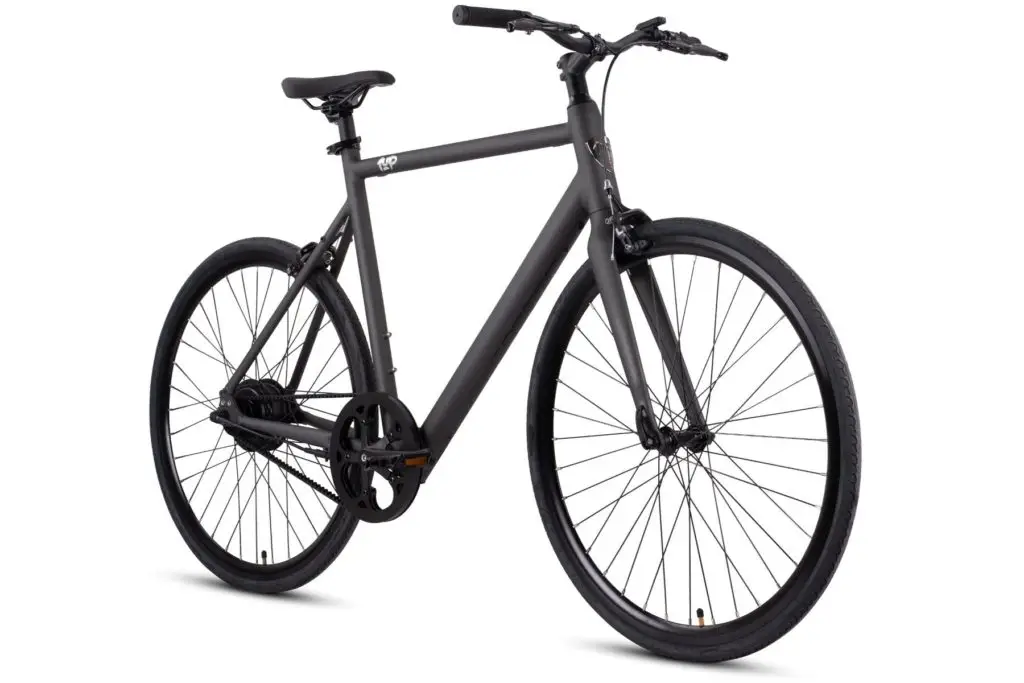 Notably, the battery on the Roadster cannot be removed quickly. This may cause issues when combined with the lack of range, especially if you're planning to go on a long commute to an office where you can't store your bike near an outlet.
If you can take your bike inside to charge it while you work, you'll be fine, but you can't pop the battery out and take it inside with you like you can on most e-bikes. The battery can be removed eventually, but the process is a bit too much of a pain to suggest doing it to charge the battery.
Final Verdict
The RadMission and the Ride1Up Roadster are similar bikes designed for two very different audiences.
Choose the RadMission if you want a relaxed, leisurely commute or you're not comfortable with an aggressive riding position.
Choose the Roadster if you want an aggressive, nimble bike that's built for reduced weight, not range, the Roadster is the better choice.
Both bikes perform admirably in their given roles. No matter which style of riding you choose, you'll enjoy the freedom and simplicity of these bikes. The single-speed belt drives might seem like an unconventional choice at first, but they do a wonderful job of removing distractions and complications from your riding experience, allowing you to concentrate on having fun.