I've had the opportunity to try out the brand-new Aventon Pace 500.3 for a bit more than a week now. I've been continually impressed by the design of the bike. The Pace 500.3 seems like it's been designed to be as simple and easy to ride as possible. Aventon's new torque sensor makes it easy to forget that this bike is electric – you just hop on, pedal, and go.
The Pace 500.3 is a relaxed, upright bike that's perfect for gentle (but fast) rides around the city. I'll give you a full breakdown of the bike's features, what my riding experience was like, and other factors that might influence your decision to buy the bike. We'll start with some quick numbers that you can use to get a feel for my thoughts and then dive into my experience in detail so you can compare the Pace with other options on the market.
The bike I reviewed was sent to us by Aventon. I'm generally a fan of their bikes. Nevertheless, I'm not under any obligation to write nice things about the bike. I won't hold back any criticism. I'll also do my best to present unbiased opinions and give direct comparisons to other bikes in order to give you the best information possible to inform your purchasing decision.
Aventon Pace 500.2
The Pace 500.2 ebike is an upgrade to its award-winning predecesor and still the ultimate balance of comfort and power. Features the upright cruiser frame geometry and handlebars that riders have come to love about the Pace plus
We earn a commission if you click this link and make a purchase at no additional cost to you.
| | |
| --- | --- |
| Avnton Pace 500.3 | |
| Max Speed | 25 mph |
| Motor | 500W |
| Battery | 17.8 Ah |
| Brake type | Hydraulic disc brakes |
| Range on Max Pedal Assist | 50+ miles |
| Class | Class 3 (comes with throttle) |
| Weight | |
| Carry Capacity | |
| Tire | |
| Price | $1,199 (for +$100 you can get fenders and a rear rack) |
| Included in the price | fenders, front, and tail lights, heavy duty kickstand |
If you're thinking about buying a Pace and you find this review helpful, it would help us out a lot if you could use our link below. If you find the review helpful in the *other* direction (if you decide that a Pace isn't for you) be sure to check out the rest of our reviews, articles, and resources on the site. We've spent a lot of time riding, researching, and reviewing e-bikes of all shapes and sizes, so there's a good chance we'll be able to help you find a bike that's perfect for you.
You can find the best electric bike for adults here
You can find the best 750W electric bikes here
So, how does the Pace 500.3 stack up? Here's my personal rating after several hours of riding time:
Aventon Pace 500.3: By the Numbers
Bike – 5 / 5
The Pace is all about simple, relaxed riding. It's a bike that's carefully removed all of the barriers and excuses that stand between you and a long ride. The battery lifts up, not down, making it incredibly easy to remove. The frame feels solid and stable, the upright riding position helps you feel casual and relaxed, and the wide tires mean that you'll have no problems on dirt roads or rough asphalt.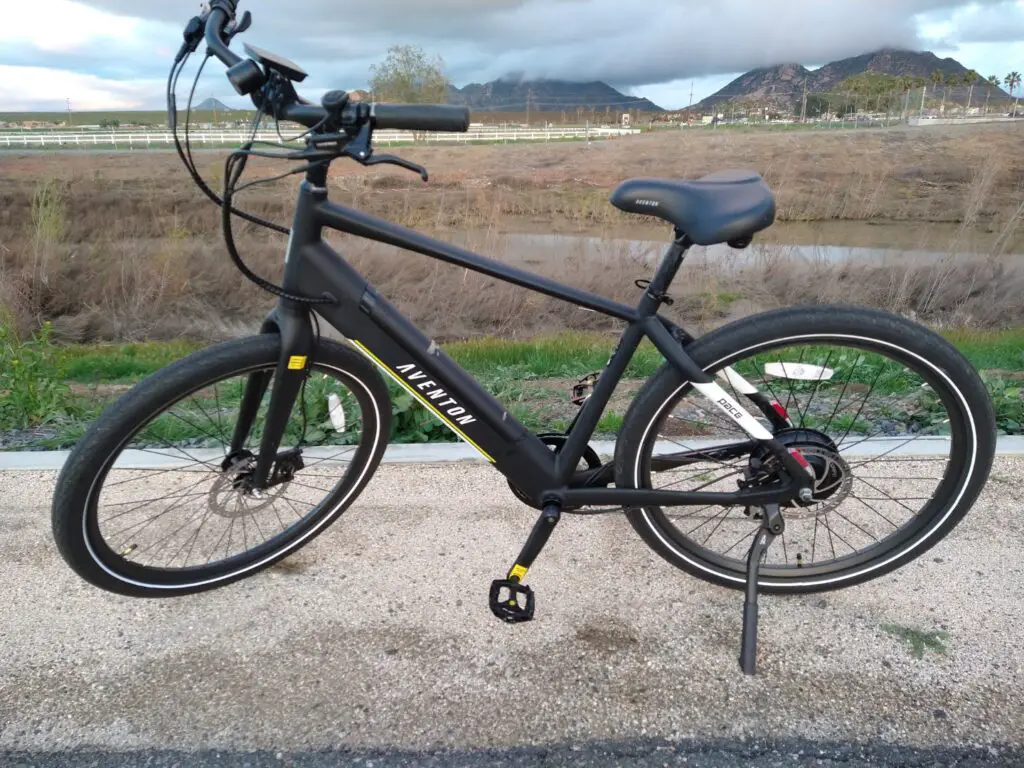 The torque sensor is a great addition to the bike. The way the sensor, controller, and drivetrain work together has a big impact on how an e-bike feels to ride, and the Pace feels great. I've been enjoying zipping along at around 20 miles an hour with minimal effort from my feet. 
Additionally, the fact that the bike is paying attention to my pedaling effort keeps me honest, enforcing a dynamic where the bike and I are working together, not separately. This means that the bike feels faster and more powerful than a bike with a cadence sensor. It boosts the effective range, too, by a LOT.
I stuck a few friends and family members on the Pace for group rides. The bike's simplicity and accessibility were big hits among both my athletic 30-something friends and my nearly 70-year-old parents. It's a bike that's easy and fun for anyone to ride, regardless of your level of fitness or cycling background.
Battery – 5 / 5
Aventon's first-party range estimates tend to be within 5% of the real-world data gathered by other sources. They think the Pace gets 60 miles per charge on the pedal assist. My experience puts this number at around 45, but I was also doing a lot of testing of the bike's throttle and gunning it up hills without helping with my feet.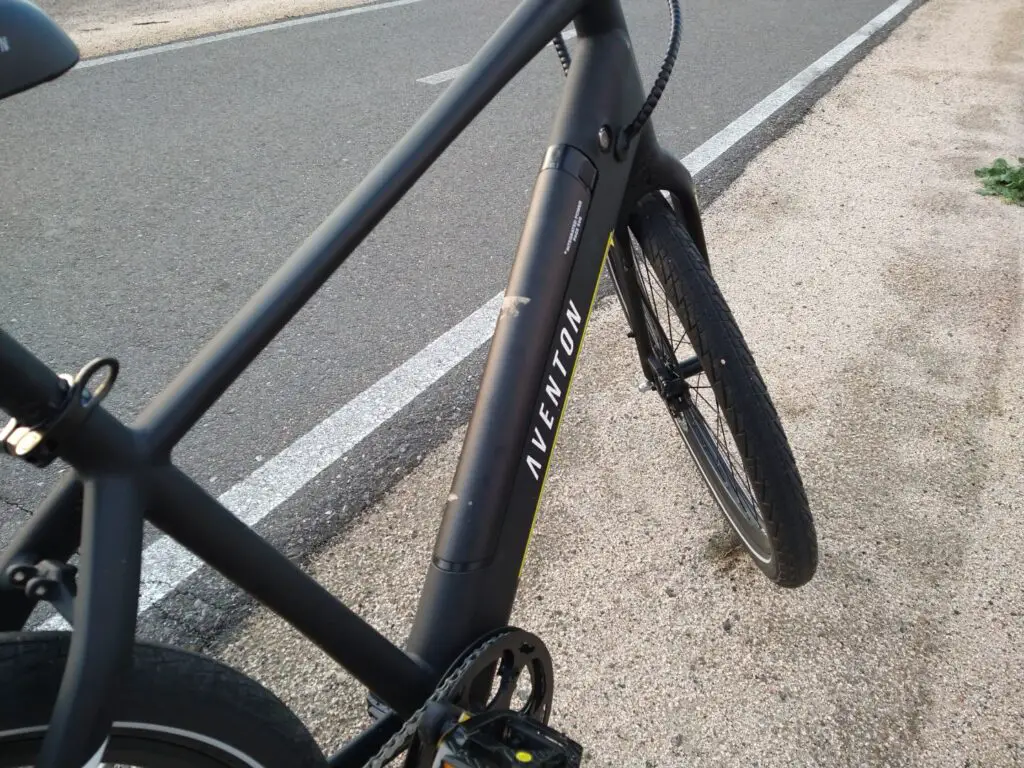 When I was just cruising around on pedal assist, it felt like the battery wasn't dropping at all.
The Pace's battery weighs 7.4 pounds, has 12.79 amp-hours of capacity, and lives in the down tube. Unlike most other e-bikes, the battery lifts up, making it especially easy to remove for storage, replacement, or maintenance.
Motor – 5 / 5
When using the throttle, I found the Pace's 500W motor to be hilariously overkill. The Pace destroyed all of the hill tests I threw its way, easily maintaining 20 miles an hour up hills that some of the 750W e-bikes I've tested struggled to hold 16 on. The bike has no problems zooming about with absolutely no help from you.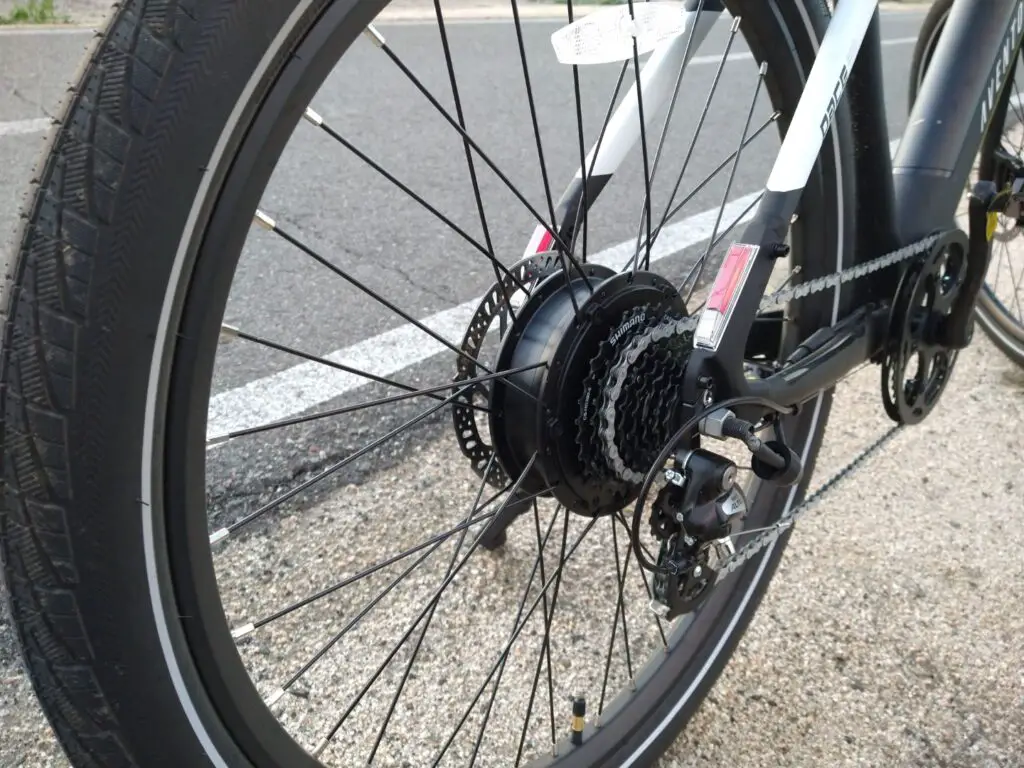 On lower pedal assists, the bike felt very smooth and controlled. The Pace's motor made it easy for me to reach speeds of between 20 and 25 miles an hour. It feels like the motor is programmed to stop helping at around 25 regardless of assist level, which is honestly fast enough for me. It feels a bit weird to be doing nearly 30 on a bike as upright and relaxed as the Pace.
Build Quality – 5 / 5
The Pace has a lot of little features that I wish other e-bikes had. The shifters, for example, are snappier and more responsive than the entry-level stuff you'll find on most e-bikes, while the wider tires help to increase traction without increasing rolling resistance. I had no issues with the frame or any of the components of the bike during my tests.
Comfort – 4 / 5
This one is a bit of a subjective opinion, but I'm generally a fan of more aggressive riding positions than the ones that the Pace is built to support. The Pace has high, narrow, swept-back handlebars and a wide, cushioned seat. It feels great when you're casually riding along a trail with minimal effort, but I found myself reluctant to pedal fast and hard on the Pace.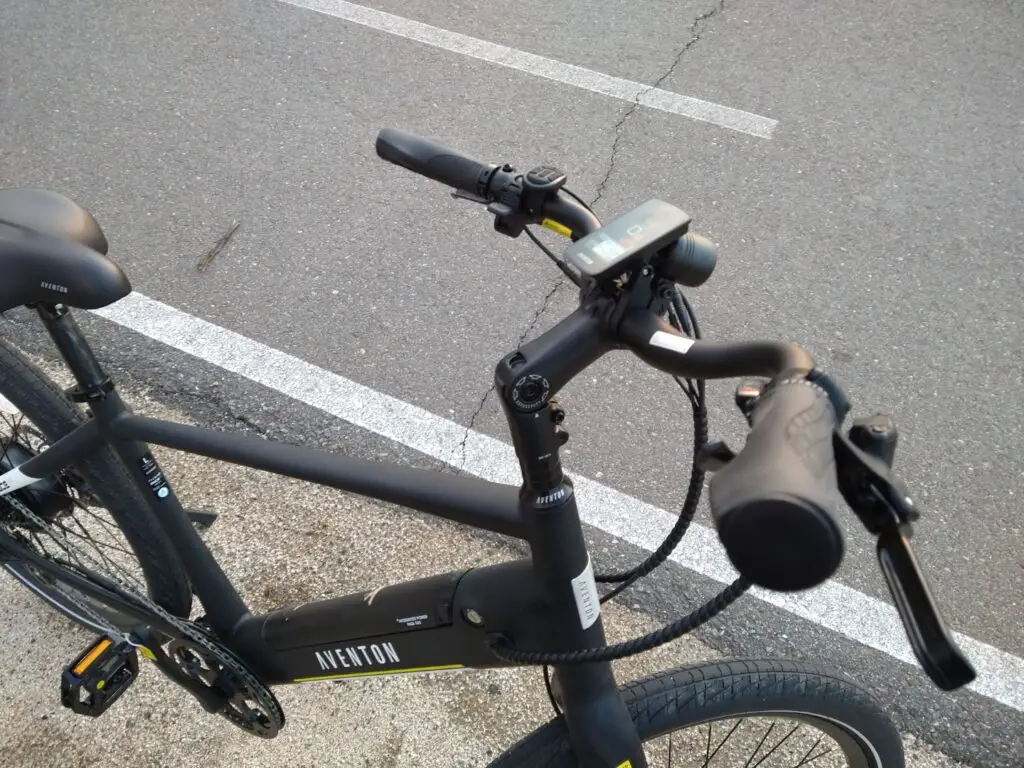 The Pace's design paradigm is very popular among cruisers and European city bikes (and a lot of other e-bikes these days). It's not my top choice. The other people who tried the Pace all loved it, though, so it might just be me.
I found the Pace's seat acceptable for rides of up to 90 minutes. It is definitely not my favorite seat. Seats are also very subjective and very easy to switch out. It would be trivial for me to take the seat off of another bike and slap it on the Pace if I so desired.
Practicality – 5 / 5
The Pace is perfect for no-frills, no-nonsense rides. As I mentioned above, it feels like the perfect bike for when you really don't want to ride. It's relaxed enough that you don't feel pressured to do anything other than sit on the seat, and the motor ensures that you can zip along no matter what your personal energy level is. This makes it incredibly practical for commuting, exercise, and scenic rides.
As far as amenities go, the Pace comes with no racks, fenders, suspension, or bells. This is great if you're looking to save money – you're not paying for any of this stuff. If you feel like you'd miss these options, Aventon sells many of them individually. Be sure to factor the price of these items into the cost of the bike when comparing it against other options.

As an aside, Aventon sells a city commuter bike called the Level that has all of these things out of the box. The Level is quite similar to the Pace in many ways, so do check that out if you want suspension, fenders, and cargo options.
Detailed, Hands-On Experience
Unboxing / Assembly
The Pace 500.3 is the most professionally packaged e-bike I've put together. Aventon has done their best to make unboxing a guided experience, with signs that direct you as you open the box. I had no problems getting the bike out, finding the provided tools, and putting the bike together.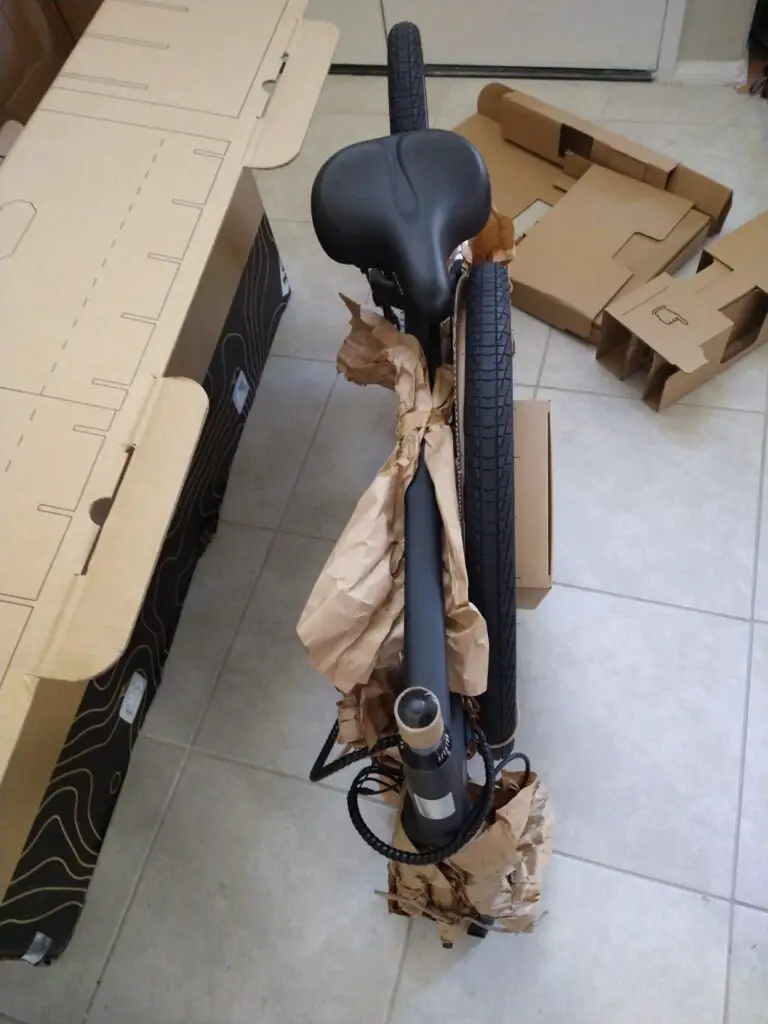 In order to assemble the Pace, I had to remove a lot of protective pieces, put on the front wheel, handlebars, and pedals. Beyond that, assembly was mostly just tightening and tuning things. I found that the front brake on the Pace was quite difficult to center, but that's not super out of the ordinary for shipped bikes.
Aventon included a wrench, an alan key set, some stickers, some bike grease, and a set of reflectors in the box. I did not need to use any outside tools while putting the bike together except for a pair of scissors.
While I'm becoming quite practiced at putting e-bikes together, I cannot emphasize strongly enough that you should budget for a professional tune-up for any bike that is shipped to you. Things get bent, damaged, or lost in the shipping process all the time. 
The Pace is fairly easy to assemble as bikes go, so there's a good chance that you won't need professional help, but it's very nice to have a backup plan if things don't go as planned. In the likely event that you don't need a tune-up immediately, you can save it for after you've ridden the bike for a while so that your bike remains in tip-top shape.
Quality and Components
I was quickly impressed by some of the small details on the Pace. It's got blinkers, for one, which is not something I expected, and the shifter is a very responsive midrange Shimano setup that's much nicer than the entry-level Tourney lever shifters I've seen on other e-bikes. The color display looks very nice and seems brighter than the one on my slightly older Soltera.
Most of the direct-to-consumer e-bikes I've reviewed have been very nice right out of the box, so the Pace isn't out of the ordinary in any way here.
Battery and Range
The Pace's battery lifts up out of the frame, not down. This is a subtle detail that seems like it was included for me personally. With drop-out batteries, it's a pain to fiddle with levers while you're trying to catch a 10-pound battery that's about to fall out of the frame – and that's if the front wheel is positioned in a way where it doesn't block the entire operation. The Pace's battery is much, much simpler to remove – simply turn the key and lift.
The battery weighs 7.4 pounds. It has 12.79 amp-hours of capacity. I've been charging my bike in between rides and doing all sorts of varied riding so I can't give you a hard number on the range, but my experience suggests about 45 miles on higher pedal assist levels with lots of throttle use or about 60 on Eco with modest throttle use. 
Aventon's first-party numbers are among the most accurate in the industry. In the past, they've lined up exactly with full battery drain tests on other bikes. Their number seem to support my data and math, meaning that you can expect that going from 100% to 0% charge on Eco should give you about 60 miles.
This number probably sounds a bit outlandish given the size of the battery. Remember that the Pace has a torque sensor, not a cadence sensor. In my experience, the Pace won't do anything at all unless you're also putting out a modest amount of energy. This means that you're always working with the motor. 
Electric motors are great at power but terrible at torque, so the fact that you're always helping the motor means that it works much less hard than it would on a bike with a cadence sensor. The result of this is a lot more practical range, even on higher pedal assist modes.
Riding
Powerful
All of the class-2 e-bikes I've tested have had no problems doing 20 miles an hour on flat ground with no human help. When it comes to hills, however, many of the bikes I've ridden have been inconsistent. 
The Pace 500.3 has been the fastest e-bike so far up my paved test hill. Starting from 0, it hit 20 with no problems and maintained that number exactly up the whole thing. At no point did the bike feel like it was struggling or losing power.
This is a remarkable performance from a 500 watt ebike. The 500W Pace seems a lot torquier than the Ride1up Turris while also outperforming Aventon's own 350w Soltera. 
While you're using pedal assist, the torque sensor means that you'll notice hills. Don't get me wrong, you'll zoom up them, but you may find that you need to push a little bit to get the motor to start working. Once it kicks in, you'll be right back to cruising along at your desired speed and level of effort, but it does feel like you need to push a little bit to get things going sometimes.
The Torque Sensor
There's a huge difference in the overall feel of a bike with a cadence sensor and a bike with a torque sensor. A bike with a cadence sensor relies on magnets to tell when you're spinning the pedals. There's a fairly big delay between when you pedal and when the power kicks in. You get power regardless of how fast you're pedaling or how hard you're pushing, meaning that you control the speed of the bike with the buttons on the controller rather than your feet.
With a torque sensor, however, the bike feels a lot more like a bike. You'll get power from the motor the instant you start to pedal. More importantly, the power is modulated by the amount of effort you're putting in with your feet. If you're spinning the pedals in low gear, the bike won't turn the motor on. If you're struggling to get up a hill, however, the bike will recognize your effort and respond accordingly. This means that you feel like you're riding a normal bike and you just happen to be super athletic and powerful.
I found the torque sensor in the Pace 500.3 to be a big improvement over the cadence sensors in other bikes I've ridden. The Pace 500 was much more fun to ride when I had to carefully control my speed, whether it was to take tight corners, share trails with other people, or slow down for bumps. 
It felt like I was in full control the whole time without ever having to touch the pedal assist level or the throttle – and the bike was ready to give me plenty of power instantly when I wanted it.
The Pace's torque sensor is not without its quirks. My experience was that the pedal assist levels all behaved basically identically below 20 miles an hour. "Turbo" (the highest mode) gave me a bit more power from the motor per unit of torque than "Eco" (the lowest mode),  but in both cases the bike's motor would quickly take the weight of the bike and propel me forward with ease. 
This meant that unless I adjusted my level of effort and shifted gears to compensate, the bike would stabilize at the same speed no matter what level I was on. When I shifted up and pedaled harder, the bike was happy to accelerate to a speed of 20+ miles an hour with a fairly small amount of effort from my legs in all pedal assist modes. The motor seemed a bit more active in higher modes, but not by enough to make a big difference.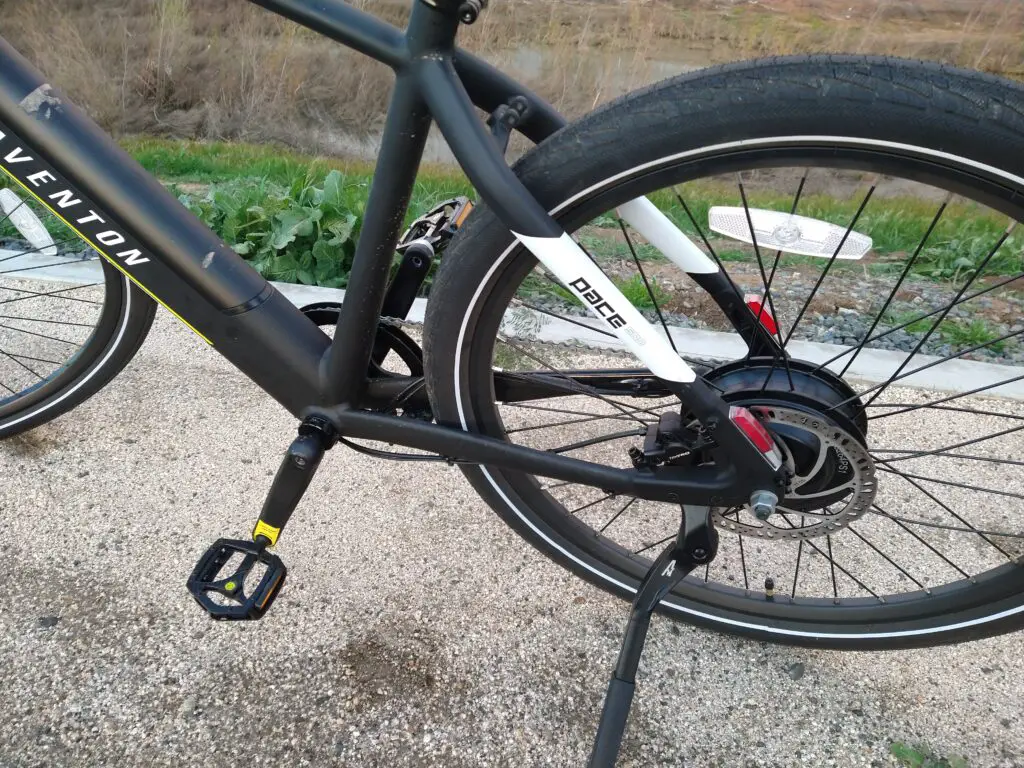 The real difference in pedal assist modes seemed to be the cutoff speed. 
With the minimum level of effort to trigger the sensor in Eco, the bike didn't want to do more than about 20 – usually. From a cold start, the Pace was sometimes happy to cruise at 24 miles an hour in Eco, but if you slow down, it usually wouldn't get back to that speed without some extra effort from my legs. 
In Turbo, by contrast, the Pace did about 25 with the same minimum level of effort. No matter what pedal assist mode the bike was in, the motor felt like it helped considerably less above 25 than it did below, even with substantial human effort added to the mix.
I do not have watt-measuring pedals on my Pace, so the above metrics are very subjective. The important part was that I concluded that I could leave the Pace in Eco for all of my riding. I was very happy in this mode. 
The motor gave me more than enough power to hit 20 with the bare minimum effort needed to trigger the torque sensor. By shifting gears, I had very good control over both my speed and my level of effort.
My only gripe with the Pace's torque sensor is that the minimum level of effort required to activate the motor is very, very slightly higher than I'd like it to be. 
The Pace is a relaxed, upright bike, and my preferred way of riding bikes in this style is to pedal quite gently. The Pace's torque sensor kicks in well within my preferred range, but a smidge above the floor. I wouldn't say that I was putting in more work than I wanted to, but I would say that I was putting in more work than I would have been putting in if the bike wasn't electric. In defense of the Pace, I also was going much faster.
The Package
The torque sensor on the Pace does not live in a vacuum. I was very impressed by how well it integrated into the bike overall. The controller felt very responsive, despite its quirks, and the bike behaved very predictably in terms of when and how it applied power. 
My favorite part of the package was how snappy and fun the 8-speed drivetrain felt. The levers on the shifters are quite nice, the extra gear gave me more control than I'm used to on an e-bike, and the fact that I could control the motor by shifting gears made the whole thing amazing.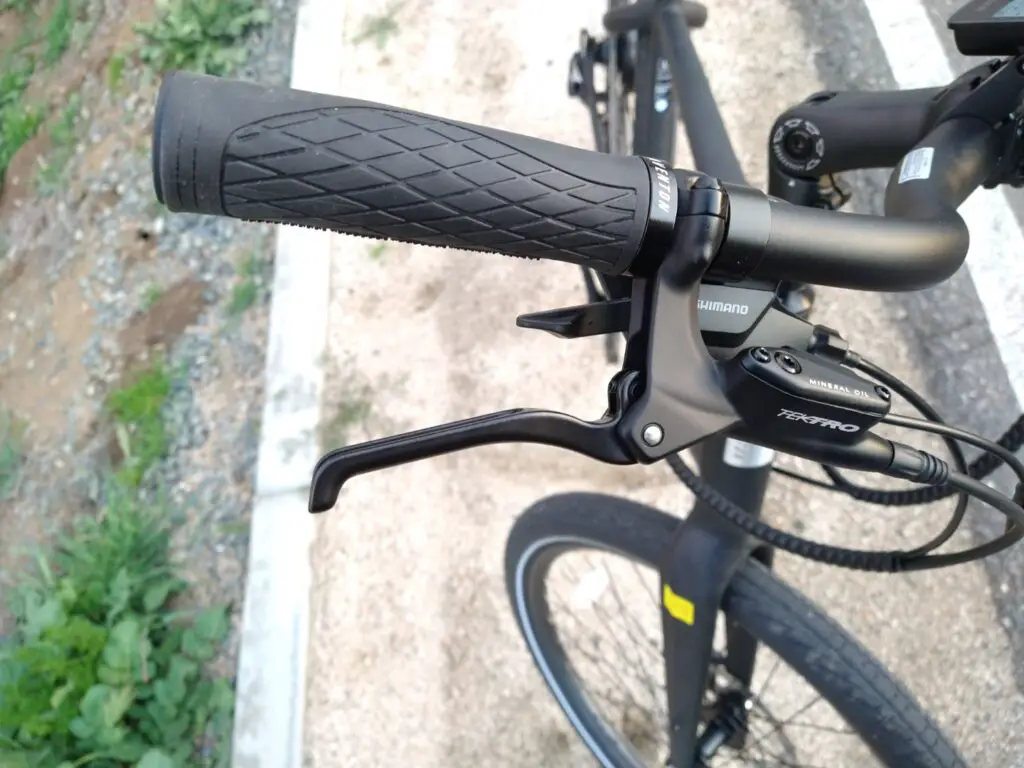 Electric motors are amazing, but they are not without their limitations. Part of the innovation behind e-bikes is the idea that your legs can cover the weaknesses of electric motors (torque) while playing to their strengths (high speed, low torque applications). 
I know I've said this before, but the fact that the Pace has a torque sensor means that the bike's motor is always working in tandem with you, helping it stay within its preferred power band. The effect that this has on range and power is HUGE.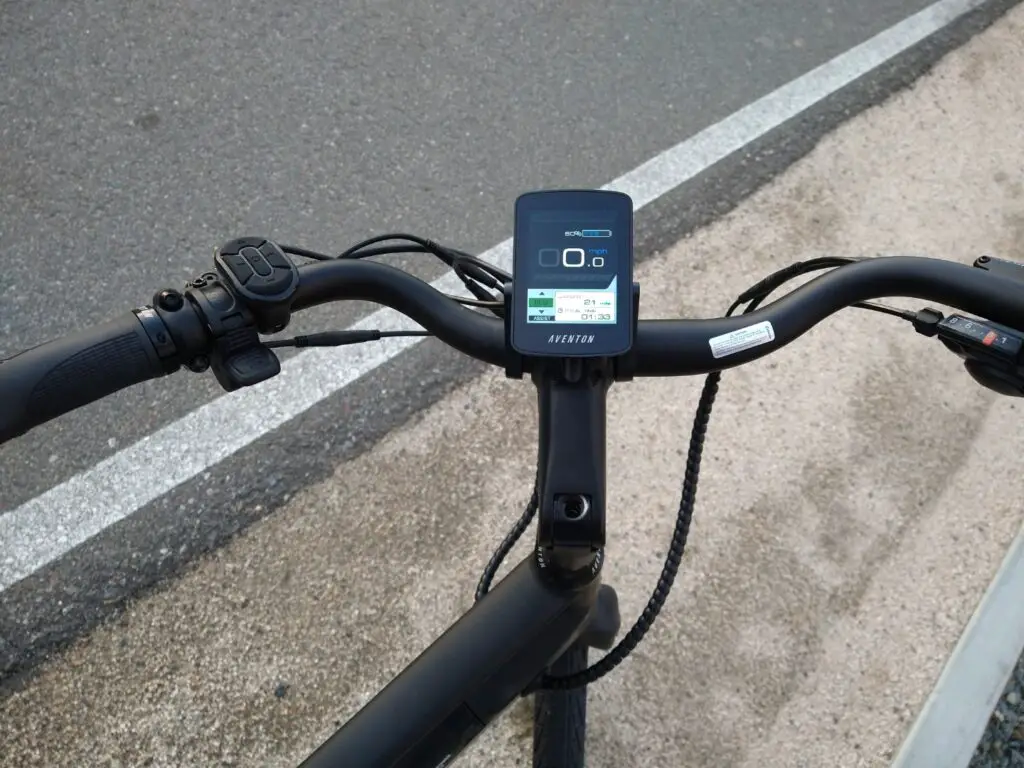 60 miles on a 13 amp-hour battery is basically unheard of. Not only can the Pace do this, but it can do it without demanding a lot of effort from you. The torque sensor means that as a package, the Pace excels on metrics that other bikes in its price range struggle with.
Suspension, Tires, Feel
The Pace 500.3 has no suspension. I definitely noticed the lack of a suspension fork while dropping off curbs and going over ruts in dirt trails, but the bike's tires are wide and stable enough that it doesn't feel like it needs one. Still, this is a bike designed for city riding on pavement. Don't expect it to feel smooth should you take it off-roading.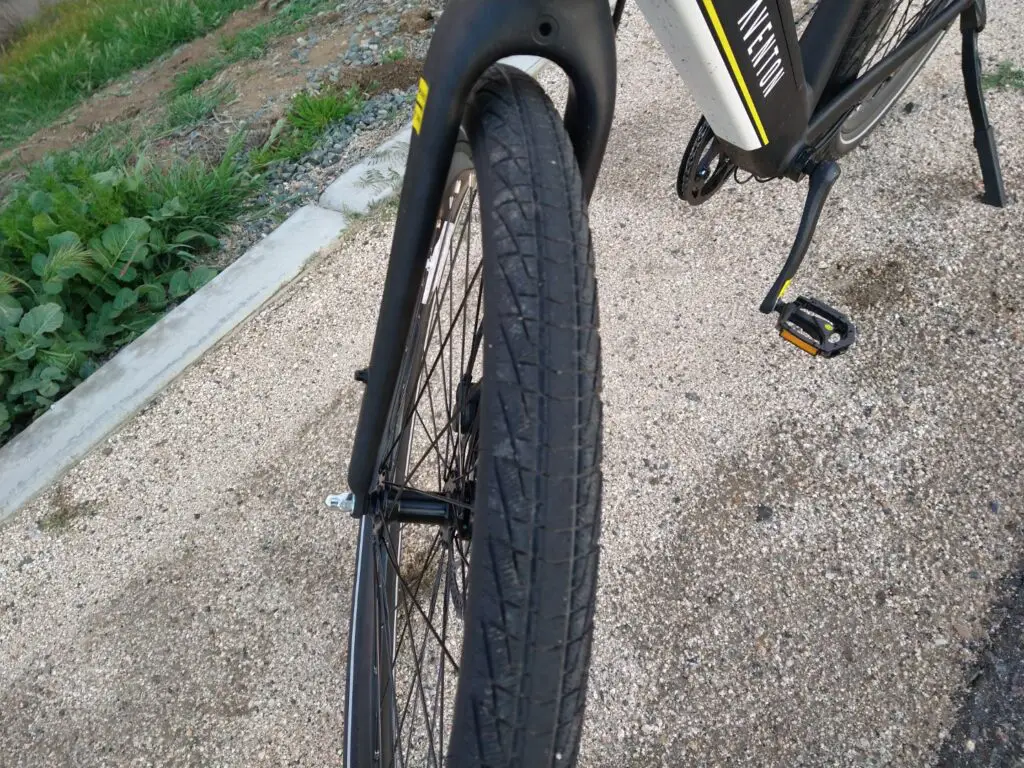 The Pace's tires are wider than road bike tires but narrower than mountain bike tires. They have smooth tread which felt very, very grippy on pavement. I did a modest amount of riding on soft dirt and slipped very slightly once, which was much better than I expected. While the Pace definitely felt best on pavement, I would have no issues riding this bike on dirt roads with some frequency.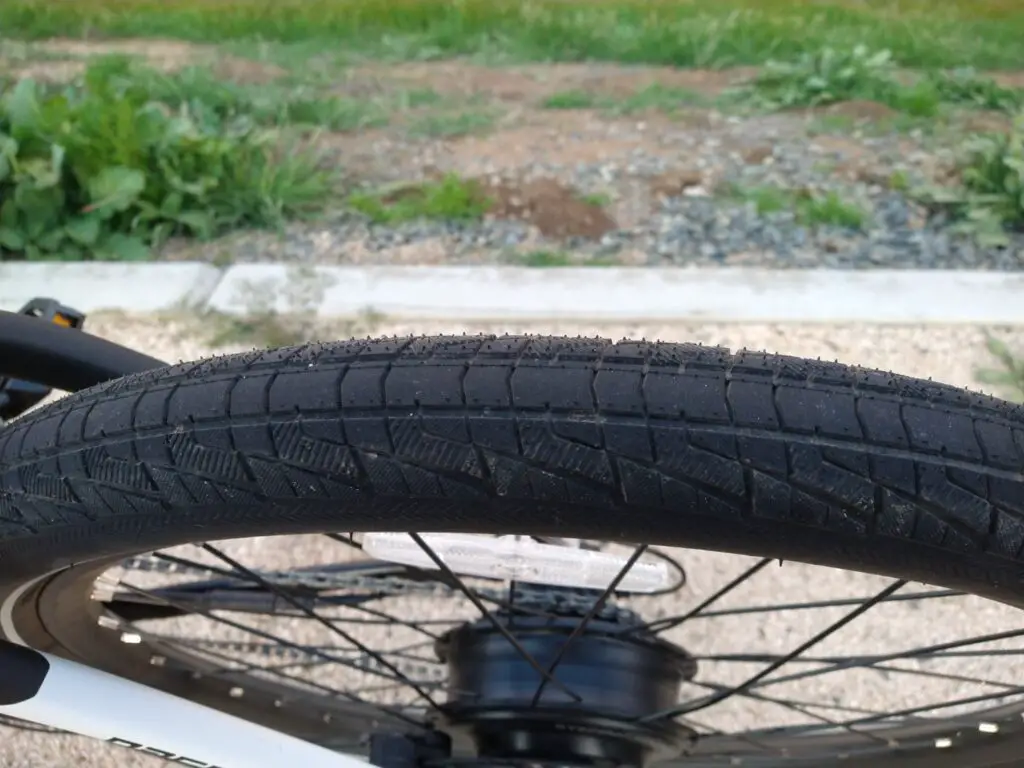 Grass felt a bit soft, however, so while I definitely took some shortcuts across grassy fields, if you expect to ride on grass for long periods of time regularly, you might want different tires.
Overall, the Pace felt very smooth and comfortable to ride. I only had two complaints. First, I feel very silly sitting fully upright while doing 28 miles an hour. Holding my torso up to the wind like a sail just feels weird. Second, the seat and I did not fully get along, as I'll explain below.
The Seat
The seat on the Pace is not my preferred style of seat. It's not my least favorite e-bike seat (I disliked the seat on the Himiway Zebra MUCH more), but wide and soft is not my thing. I find that hard, narrow seats let me move my legs around much more while still providing the support that I need.
A couple of my friends and family members tried the Pace. All of them found the seat quite comfortable, so it's very likely that I'm an outlier and not the rule here.
My gripe with the Pace's seat was not so much in how my butt sat on it or how it interacted with my legs as I pedaled but rather how it interacted with my dangly bits. I have never had issues with my genitals getting in the way on other bike seats. The Pace's seat infrequently caused some pretty serious discomfort that forced me to pop off the bike and readjust. I could not tell you why. 
In terms of magnitude, the discomfort was enough that I got off the bike and tried to adjust my riding position once or twice, but not enough that I had any pain that lasted once I got off the bike. While this happened more than once, after each occurrence I was able to compromise with the seat and find riding positions that let me stay on the bike for about an hour at a time.
I had some friends ride the bike and none of them reported these issues, so it might be a me problem. That said, I will reiterate that I have never had similar compatibility issues on any other bike seat, nor do I usually ride on a seat with a pressure relief channel (although I probably should; there's no downside).
Bike seats (or saddles) are trivial to swap out. I have refrained from swapping the seat out in order to continue to give an accurate review. You should not let the seat on the Pace be the big factor that drives your purchasing decision. Your local bike shop will be more than happy to help you find a saddle that's perfect for your anatomy so that you can enjoy the rest of the bike in comfort.
Conclusion
Easy and Accessible
I had a conversation with my dad during our group ride about exercise and hobbies. He said that in order for him to do something regularly, it had to be easy, available, and simple to hop into. In other words, the more setup or travel time was involved in an activity, the less likely he was to stick with it.
The Pace is a bike that seems perfect for solving that problem. It's super simple, it's designed for relaxed, minimum-effort riding, and it controls exactly like a normal bike. It's not the sportiest or most powerful bike in the world, but it's going to be the one that's steady to ride home from work when you're tired or when you're having doubts about continuing your exercise routine. 
Once you're on the bike, it feels super fun to ride, meaning that it'll be easy to finish your ride and get to where you're going.
When you're enthusiastic about riding, the Pace is even more fun. The torque sensor doesn't just simplify the controls. It helps you feel like you're the one in charge, meaning that the bike stays enjoyable no matter how much human power you plan on bringing to the table.
If you're looking for a relaxed bike to ride around town, take on trips, or cruise down the beach with, the Pace 500.3 is a great choice. If you're looking for a city commuter and you don't mind taking a backpack or purchasing a rack separately, it's brilliant. If you want to go fast on a fairly light bike with great range, it's definitely right up your alley. 
When To Consider Other Bikes
So who SHOULDN'T buy the Pace? For one, if you want a full set of commuting addons, you might want to check out the Aventon Level instead. It's got a slightly different frame but very similar specs overall and comes with racks, fenders, suspension, and other goodies by default.
Additionally, if you're a more serious cycling enthusiast and you prefer more aggressive riding positions, you might want to look at something more like the Aventon Soltera (hands-on review here) or Trek Domane. The Pace is definitely very relaxed, so while it might be good to keep around the house for group rides with others, it might not be the preferred daily ride of a hardcore cyclist.
Finally, the Pace is probably not the bike I would throw in my pickup truck for trips to the desert. It does dirt okay, but it does not do rocks and bumps great. I would look at something closer to the Himiway Zebra (hands-on review here), Lectric XPremium (review here), or Ride1up Revv1 for outdoor exploring.
You can find other electric bikes under the below links that might be a better fit:
You can find the best electric bike for adults here
You can find the best 750W electric bikes here
Final Verdict
The Pace's combination of power, speed, and simple accessibility is hard to match in its price range, let alone beat. I found the bike very fun to ride, and it's been very well-received among my friends. It's a great way of removing any and all barriers between you and cycling, allowing you to start commuting, exercising, or simply enjoying yourself on the regular without any hassle at all.