Road bikes and folding bikes are usually designed for completely different purposes and with different priorities in mind. Road bikes are built for speed while folding bikes are built to be compact and portable. But what if you need a road bike that can be folded up for transport or storage? 
Thankfully, there are some great bicycles that offer the best of both worlds, and allow you to unfold your bike and tear up the asphalt like a roadie.
Airnmail Chameleon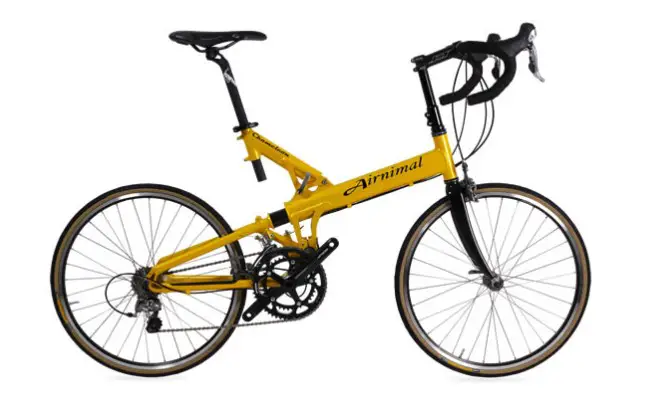 Airnmail is a UK-based bike manufacturer. They specialize in folding bikes. The Joey is their all-rounder model, still perfectly great for road riding, while the Chameleon is a dedicated folding road bike. 
The Chameleon is designed with the road cyclist and the adventurer, and not for the commuter in mind. They don't fold as fast or as small as most other folding bikes, but they offer great performance in return. 
Those who have tried it, report that it is difficult to notice the difference in the riding experience between a Chameleon and a dedicated road bike. 
The drop bar, the riding position, the 24" wheels, and the stiff frame all play part in giving the rider an authentic road bike experience.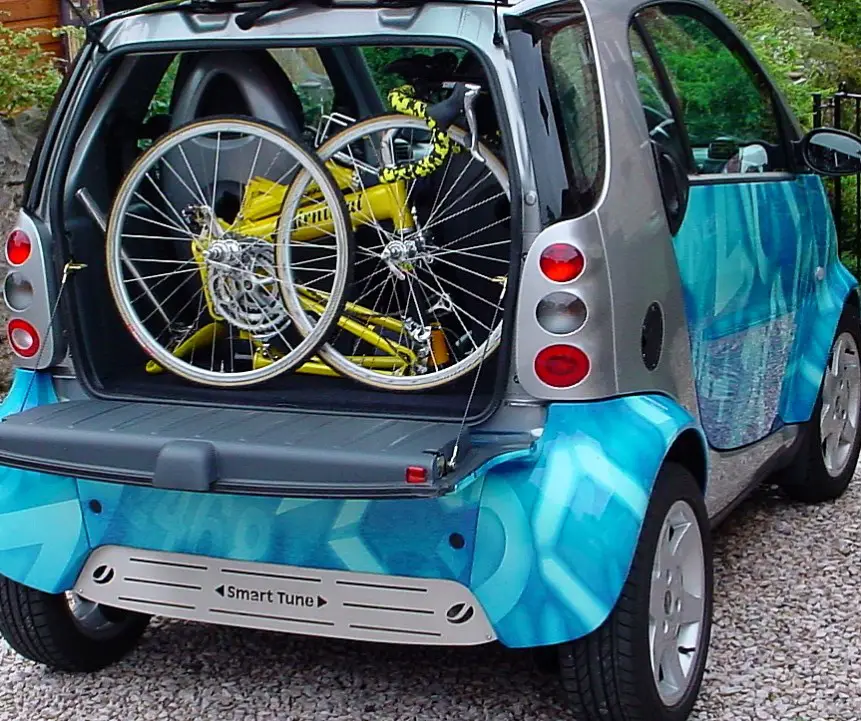 All of this comes at the expense of having a less foldable bike, which is why it's not for the urban commuter looking to quickly fold the bike and hop on public transport with it. If you're asking why it folds at all, the answer is: for easier transportation. If you want to take your bike with you on an airplane or in the trunk of your car, these bikes are very practical.
In a nutshell:
24" wheels
High-end groupset (mostly Shimano 105)
2 x 10 gears
Range of gear inches 34-104
Aluminim frame
Carbon fork
Weight 10 kg (22 lbs)
Price: from 2,450 GBP
Vello Speedster Titanium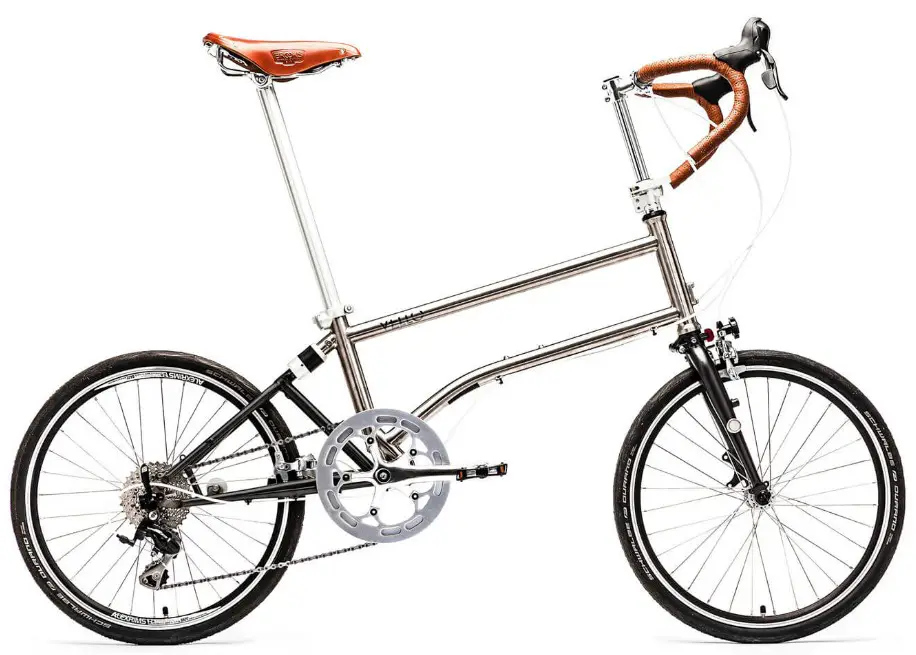 Vello is an Austrian brand that specializes in folding bikes. The Speedster Titanium is the brand's dedicated road bike. As the model name suggests, its frame material is titanium, which makes it a very light bicycle. 
Instead of a single main frame bar, it's equipped with two thinner bars, which make the bike look like a crossover between a folding bike and a regular bike, but more importantly, it results in a stiff frame with little flex.
The wheel size is 20", which is common for most folding bikes. It's probably not as close to feeling like a road bike as the Airnmail Chameleon is, but it results in a smaller package when folded.
The Speedster Titanium is equipped with Shimano 105 components, and the gear range is between 34 and 98.9 gear inches. It is equipped with caliper brakes to keep the weight to a minimum.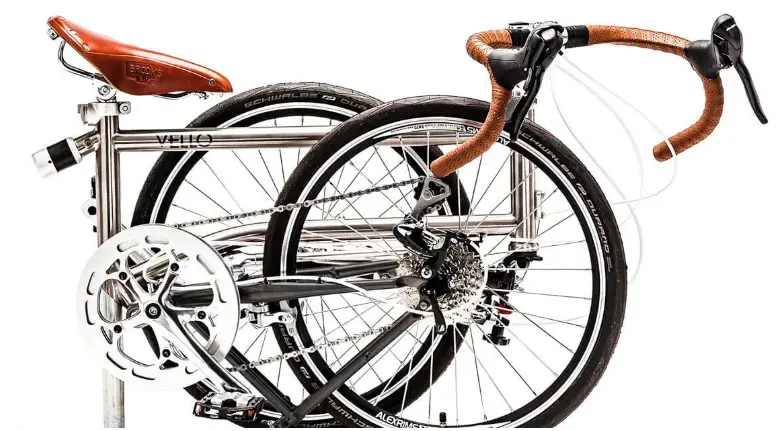 With the exception of the large wheel size, this bike is designed with speed in mind. 
Vello managed to keep the weight under 10 kg (22 lbs). This is a big deal in the folding bike world, especially in this compact size.
In a nutshell:
20" tires
Shimano 105 groupset
1 x 10 gears
Range of gear inches: 34-98.9
Titanium frame
Chromoly fork
Weight: under 10 kg (22 lbs)
Price: 2,990 EUR
Bike Friday Pocket Rocket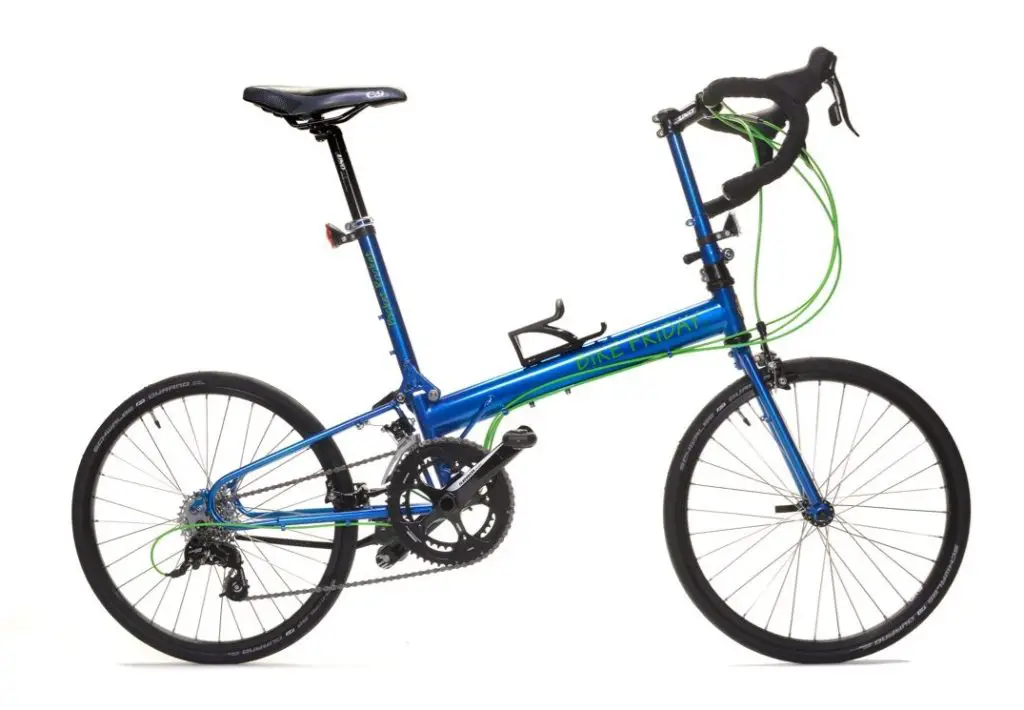 Bike Friday is a US company that designs and builds small wheel bikes and folding bikes. The Pocket Rocket is their road-specific folding bike designed for high speeds on paved roads, although it has a few more tricks up its sleeve. 
If you're on a tighter budget, you will appreciate that this starts retailing well under 2,000 USD, and it is among the most affordable folding road bikes with decent components. It can be fully customized and you can equip it with super high-end components if you have more money to spend.
Just like road bikes, it comes without fenders or racks, but unlike most road bikes, it has braze-ons for racks as well as fenders, which makes it a very useful bike for touring as well.
Another selling point of the Pocket Rocket is the fact that there is a version for heavy riders, which can carry riders up to 260 lbs (118 kg).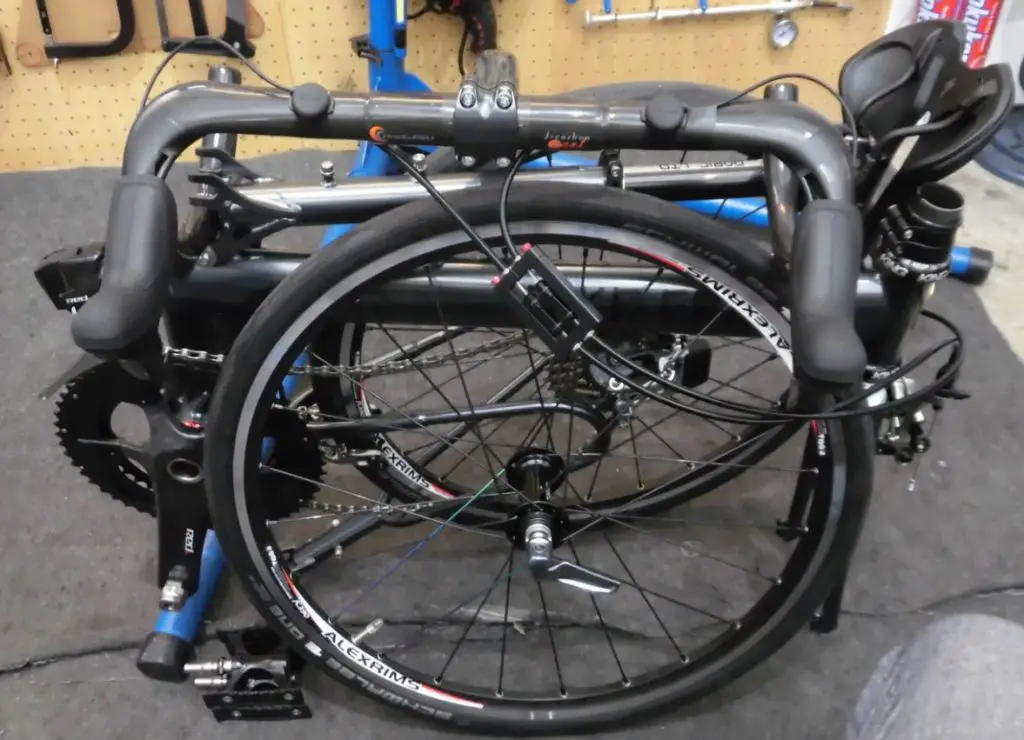 This bicycle doesn't fold very small, and it's not convenient to carry when folded because you need to take the handlebar off the bike. It's still attached by the brake and shifter cables, but it's no longer attached to the frame. The bike conveniently fits in a traveling suitcase or the trunk of a car, which makes it a great choice for adventure seekers who need a portable machine, but it's just too awkward and inconvenient for public transport.
In a nutshell:
20" wheels
16/20 gears (2 x 8 or 2 x 10)
Braze-ons for rack
Weight standard 22.5 lbs (10.2 kg) / pro 19.25 lbs (8.7 kg)
Price: starts at 1,798 USD
Change Bike 702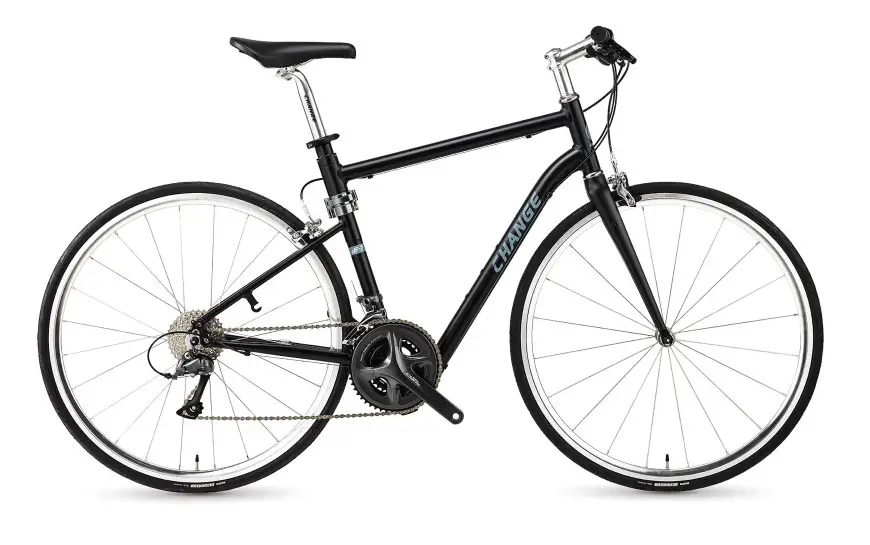 If you're after a full-size bicycle with 700c wheels, you can't look past the Change Bike brand. They offer folding hybrid bikes, mountain bikes as well as road bikes. The Change 702 is their folding road bike. 
700c wheels give you the same riding comfort as a road bike does, and it rolls over road imperfections and handles in corners and sharp turns identically.
In reality, this isn't truly a road bike since it lacks some features, such as drop handlebars, and it has a 3x crankset, which is typically found on entry-level mountain bikes and hybrids. On the other hand, you find 25 mm wide tires on it, which is very narrow indeed.
Change bikes are far from being the most compact folding bike in the market, but they can still be folded small enough to fit in a normal-size car's trunk or on its rear seats. This is very exciting for those who don't want to install a bike rack on their car, yet want to take their bike on weekend rides away from home.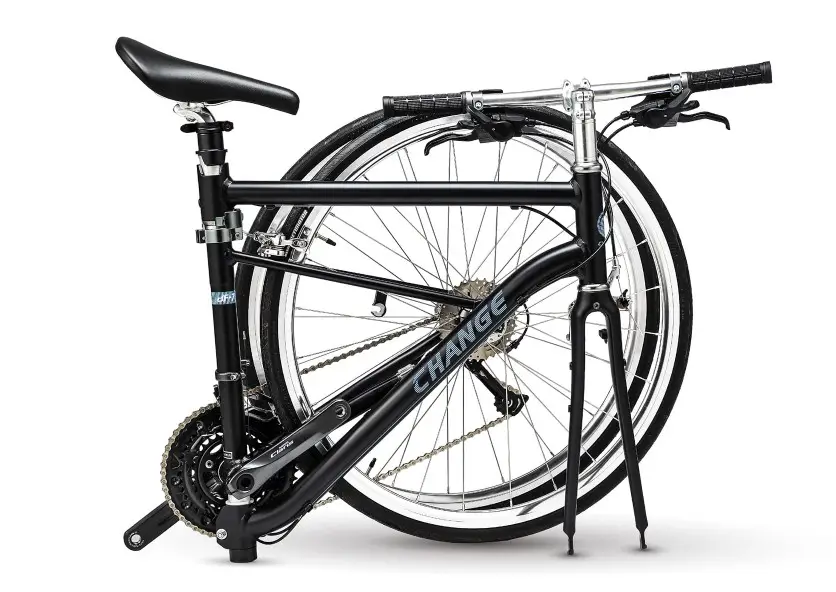 The best thing about it is that there is no difference between riding the DF-702 and a full size bike because it is a full size bike. The weight is also very respectable at 10.5 kg (23 lbs).
In a nutshell:
700c wheels
24 gears (3 x 8)
Weight: 10.5 kg (23 lbs)
Price: starts at 1,490 USD
Montague FIT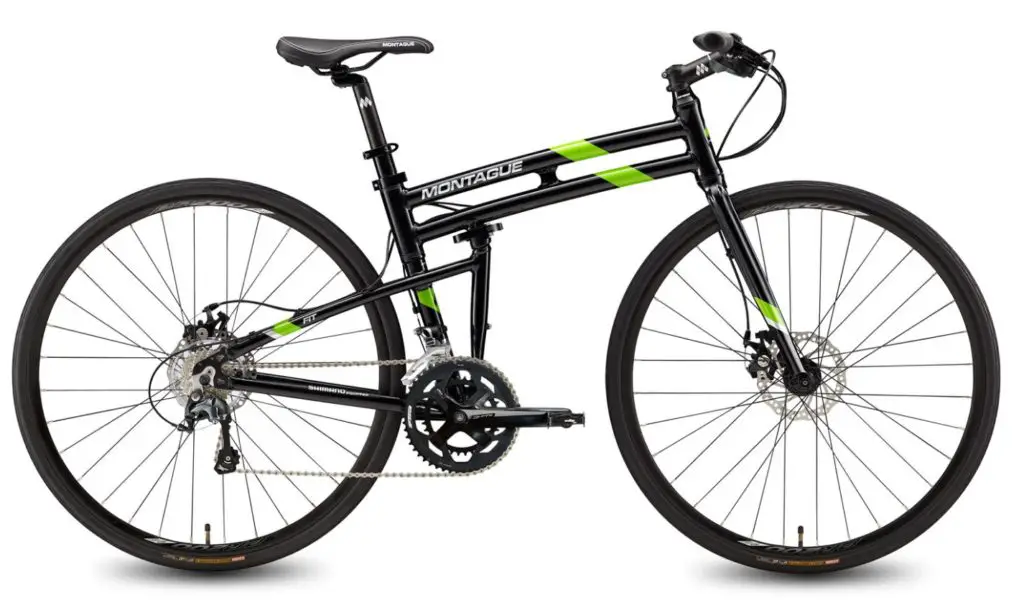 Montague is another manufacturer that specializes in full-size folding bicycles. They have been in business for a long time, and their approach to folding bikes is to make the conversion as seamless as possible..The Motague FIT is their performance-oriented model. Its distinctive design makes it look like a strange full-suspension mountain bike, but it all makes sense once you see how it folds and unfolds. 
The frame material is Aluminum while the fork is made of carbon. The weight is kept to 26.5 lbs (12 kg).
Since we're talking about full-size 700c wheels, the folded size is quite limited, but its profile is only slightly larger than the wheel diameter. The folding happens sideways around a single pivot point, and the front wheel needs to be removed to reach the most compact size. 
The FIT also comes with a flat handlebar stock, but it can be replaced for drop bars if you so desire.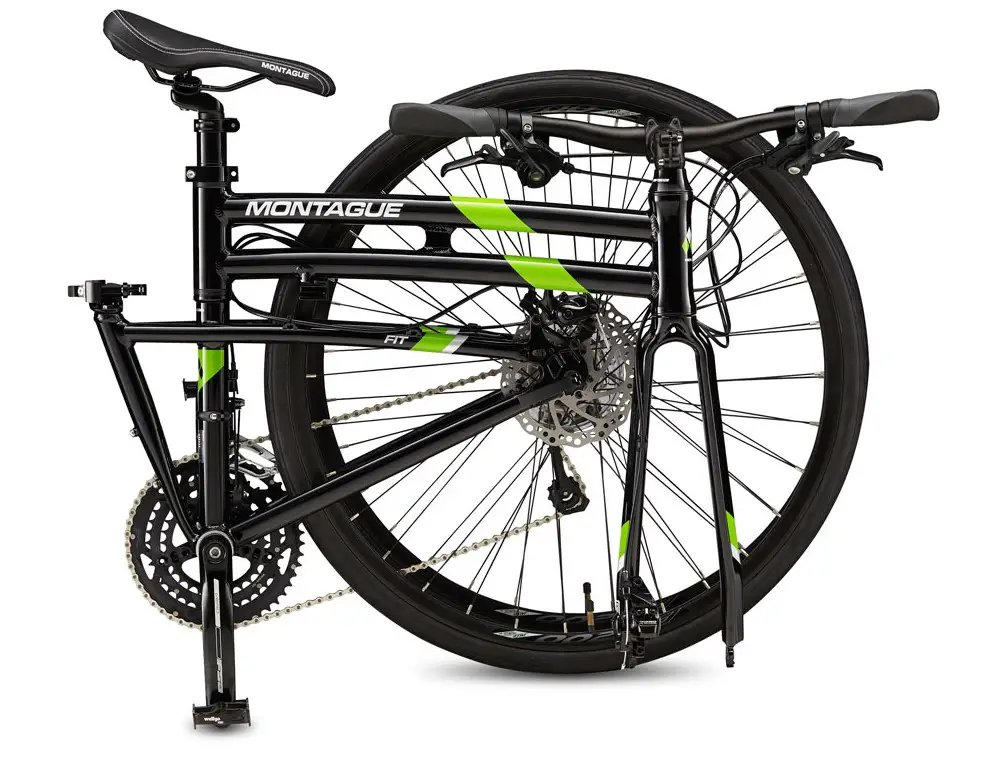 It's equipped with 28 mm wide tires, Tektro disc brakes as well a Shimano 20 speed 2x drivetrain, which is more commonly found on road bikes. The Tiagra rear derailleur is also among the higher-end models from Shimano: it offers precise shifting and it's going to last for a long time.
In a nutshell:
700c wheels
20 gears (2×10)
Weight: 26.5 lbs (12 kg)
Price: 1,495 USD
Moulton Speed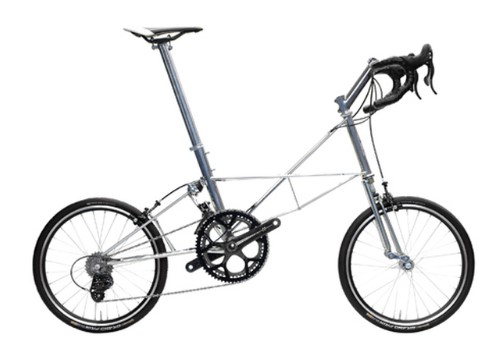 Moulton is a British company, that brings full-size cycling experience to the world of portable bikes. Properly speaking, Moultons aren't folding bikes since they lack a folding mechanism, but rather they are modular bicycles that can be disassembled very easily. For this reason, Moultons aren't the best commuters if you're looking for multi-modal commuting, but they are very useful if you want to pack your bike in a small suitcase to travel with.
Moulton as a company, have refined their design for over 50 years. They are constructed with thin steel tubes that support each other in a manner similar to the Eiffel tower and provide excellent stiffness. These bikes are equipped with very high-end components and they offer excellent riding comfort, which is why their price tag is so high. 
The Moulton Speed offers an identical riding position to a road bike. Its weight is kept to a very impressive 9 kg despite its steel construction. It comes with 20-inch wheels, a full Campagnolo groupset, including brakes, brake levers, shifters, and derailleurs. It has a Brooks saddle to make sure your butt travels as comfortably as possible.
And if all of that wasn't enough, the Moulton Speed also has front suspension to take your ride comfort to the next level.
In a nutshell:
20 inch wheels
Full Campagnolo groupset
20 gears (2×10)
Front suspension
Weight: 9 kg (19.8 lbs)
Price: 13,500+ USD
Helix Ultralight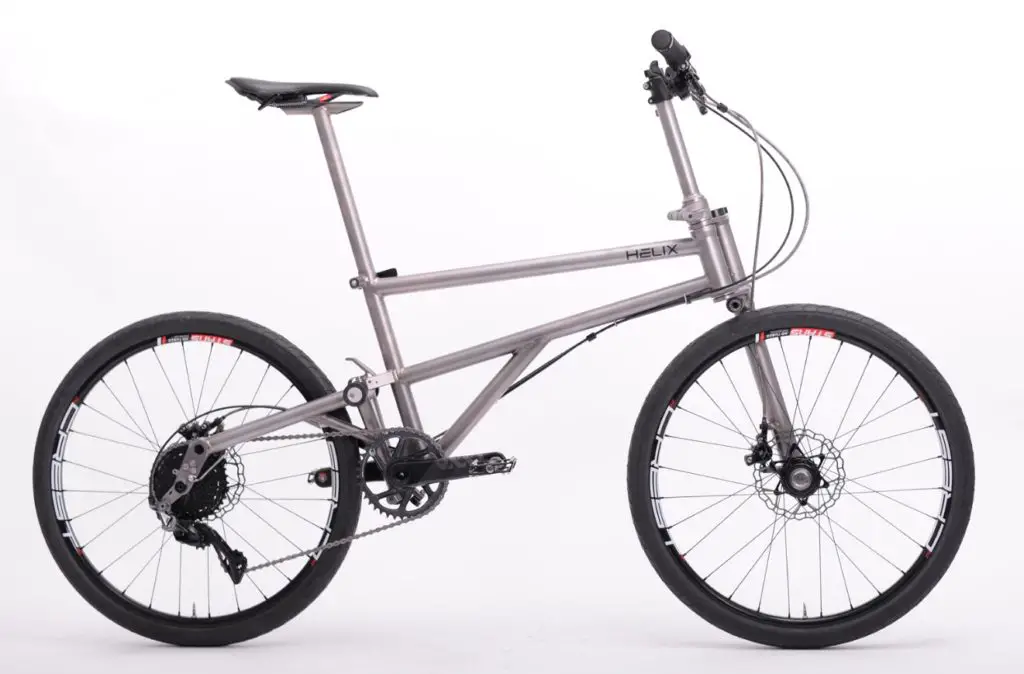 Helix is a Canadian company with a very unique spin on the folding bike design. It has 24" wheels, and it features a tri-fold mechanism, but very different from that of Bromptons. It doesn't match Brompton's compact size, but it folds very small indeed.
The Helix Ultralight's frame is made of titanium, and it saves weight on various components (such as brake levers, derailleur, etc), and it weighs merely 20.3lbs (9.2 kg).
Again, we're dealing with a bicycle that's more in the fitness bike or hybrid bike category, but the weight definitely puts it on par with road bikes. Those who own a Helix bike, sing its praises.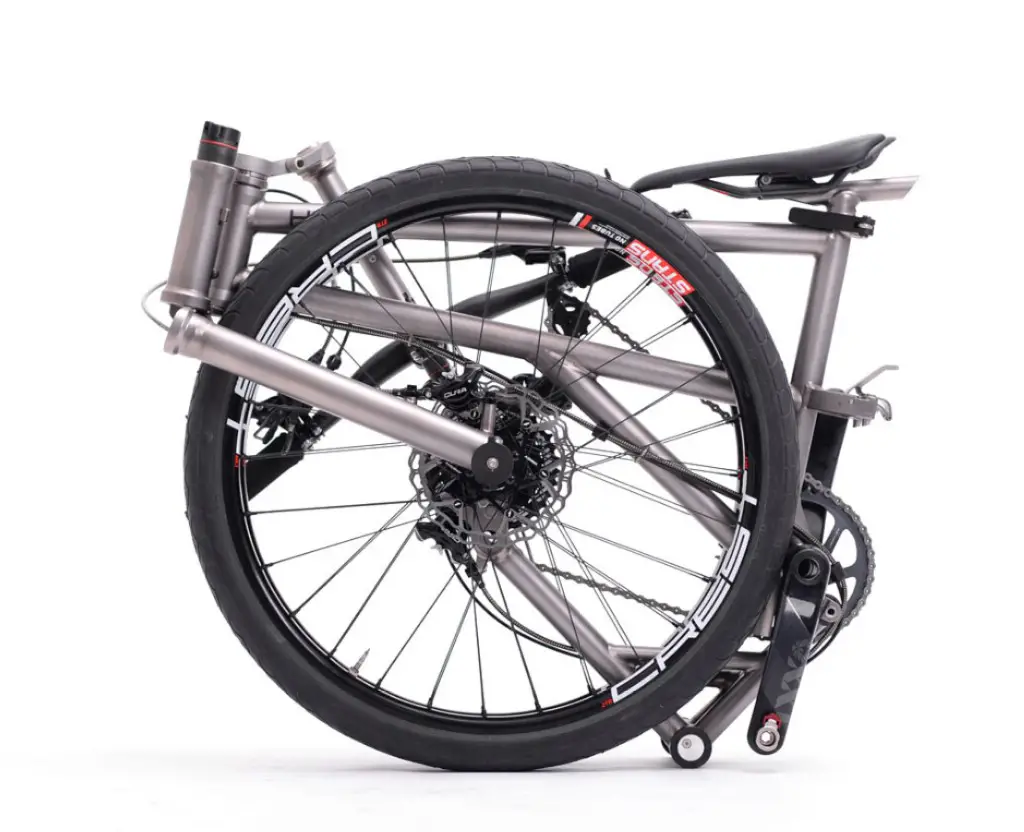 It's not a cheap bicycle, but when you consider the quality of materials used and the amount of engineering and design that went into making it, you understand why.
In a nutshell:
24 inch wheels
11 gears (1×11)
Titanium frame
Weight: 9.2 kg (20.8 lbs)
Price: 4,490 USD